Does Joey Chestnut Have a Job When He Isn't Jamming Hot Dogs Down His Throat?
Competitive eater Joey Chestnut has won the Nathan's Hot Dog eating contest 5 years in a row, but does he have another job?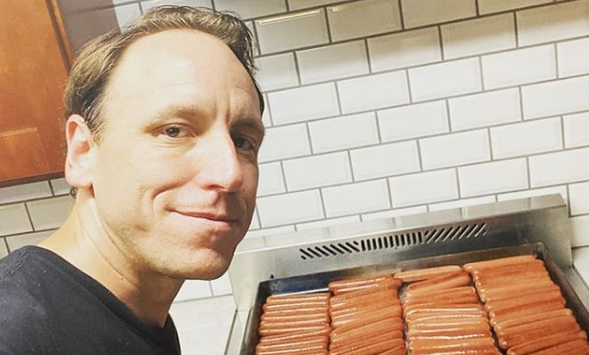 When it comes to competitive hot dog eating, one name stands tall above the rest, and it's Joey Chestnut. He's won the Nathan's Hot Dog Eating contest 13 times in 14 years, making him the most successful professional dog eater of all time.
And while Joey gets $10,000 every time he wins a hot dog eating exhibition and a decent amount of cash for the other food records he smashes, does he have another job?
Article continues below advertisement
What is Joey Chestnut's job besides competitive eating?
While Joey does have another profession, his primary source of income is competitive eating. The man makes about $150,000 from eating events alone and that doesn't include sponsorship deals and other TV appearances he's made, like the time he competed in The Amazing Race.
But Joey did go to school for a particular vocation, and it wasn't gargling hot dogs, it was actually civil engineering.
Joey attended San Jose University and graduated in 2005. While he was a Major League Eating competitor back then, in 2009 he scaled down his eating routines in order to focus more on his construction and civil engineering career on a full-time basis.
But the sweet siren's calling of eating seemingly inhuman amounts of food in short amounts of time kept beckoning to Joey and his construction career is now a part-time gig, with competitive eating being his prime-time vocation.
Article continues below advertisement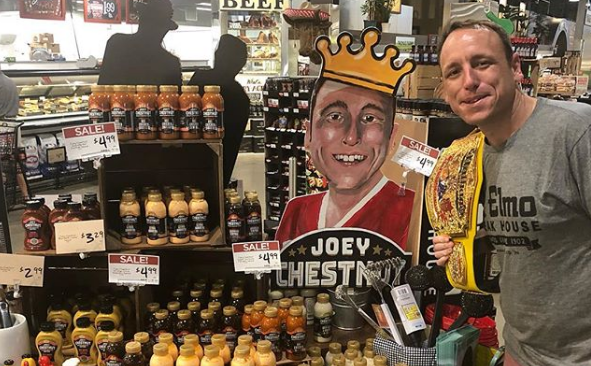 Joey Chestnut and Miki Sudo won the 2020 hot dog eating contest.
That's right, Joey maintained his status as the king of frankfurter, pounding 75 hot dogs in 10 minutes, taking home not only the Nathan's Championship belt but new bragging rights: he beat his own record of 74 dogs, which he set in 2018. The competition pool this year was much smaller than previous contests due to travel restrictions placed on folks due to the Coronavirus.
Article continues below advertisement
Matt Stonie, who came out on top with an upset victory over Joey back in 2015 couldn't make it. Darron Breedon came in second place and was blown out of the water by Joey as he consumed 42 hot dogs, still an incredible number, but it paled in comparison to the ridiculous amount of dogs Joey was able to scarf down.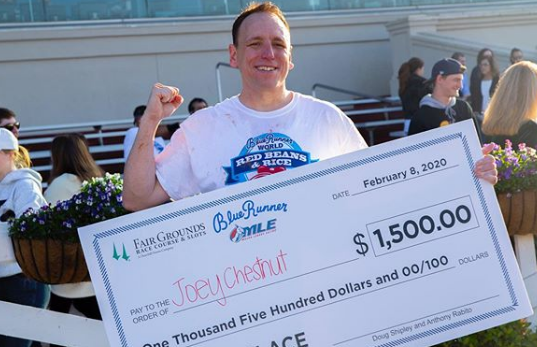 Article continues below advertisement
Miki Sudo won the woman's competition.
48.5 hot dogs and buns were consumed by the New York native which cemented her seventh straight win and a new women's world record. Miki managed to beat Sonya "Black Widow" Thomas' own world best of 45 hot dogs and buns. The gap between Miki and her second place competitor is as impressive as Chestnut's: Larell Marie Mele ate 16 hot dogs and buns in 10 minutes.
Miki, like Joey was awarded $10,000 for her efforts. Many who covered the sport were impressed at the fact that both top eaters had managed to set new world records in their respective categories despite the level of competition being severely mitigated.
The contest this year was held at a private location indoors and the number of attendees was strictly limited due to fears of spreading COVID-19; so no massive outdoor stage and crowds of people cheering the eaters on.
Article continues below advertisement
Miki Sudo's boyfriend, Nick Wehry, is also a top-ranked competitive eater.
The "Princess of Competitive Eating" is dating Nick Wehry, who's ridiculously jacked. In addition to being the 8th ranked Major League Eating competitor in the world, he's also a personal trainer and runs "The Hungry Couple" with Miki. The two post their training videos for competitive eating contests along with their daily routines and inventive, new massive food challenges.
Article continues below advertisement
Miki has a some 30.2k YouTube subscribers and Nick's featured regularly in a lot of her videos. How Nick stays as ripped as he does while eating all of that food is absolutely mind blowing, but he is also a bodybuilder in his spare time and has said that the sport breeds eating disorders.
Nick is training hard to raise in the Major League Eating ranks and if he can build a body that's better suited to fueling muscle mass with massive quantities of food, he may have a shot at pumping his numbers up.