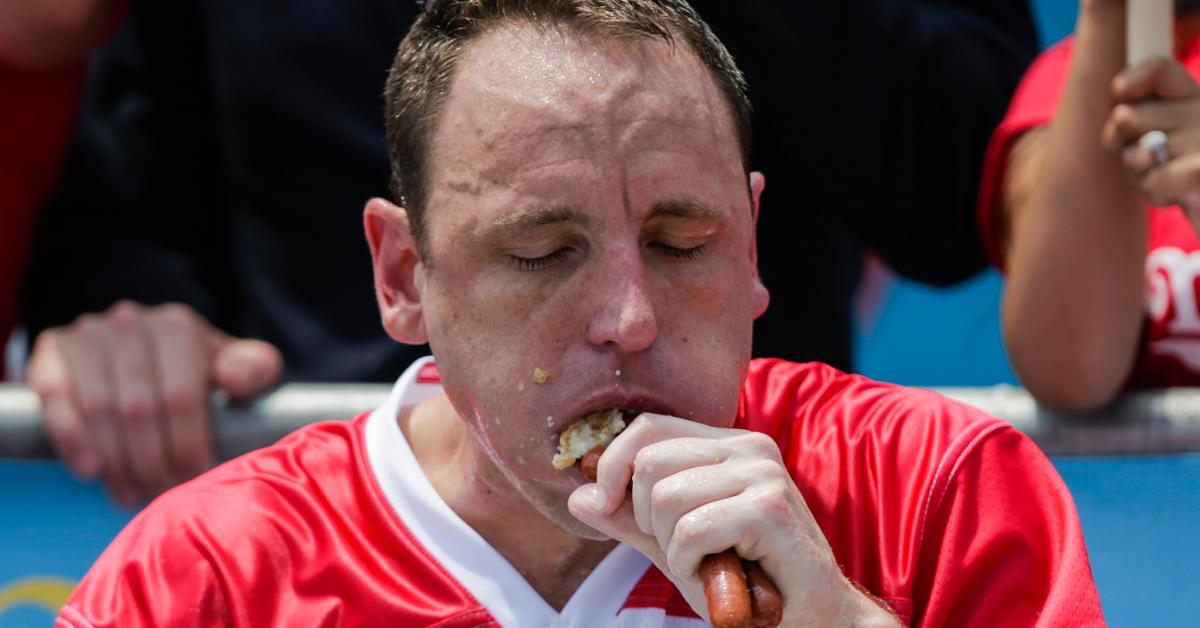 Joey Chestnut Broke His Own Nathan's Hot Dog Eating Contest Record Yet Again
By Mustafa Gatollari

Jul. 4 2021, Updated 1:10 p.m. ET
How many eating records does Joey Chestnut hold? The undisputed king of pounding down Nathan's hot dogs has been the man to beat when it comes to eating tons of processed meat products in a limited amount of time.
On July 4 2021, the repeat winner of the iconic Nathan's Hot Dog Eating Contest was looking to eat his way to victory and take home his 14th championship.
Article continues below advertisement
Spoiler alert: He did it!
Joey was able to eat 76 hot dogs and buns in 10 minutes, which means he secured his 14th Nathan's Hot Dog Eating Contest win and set a new world record.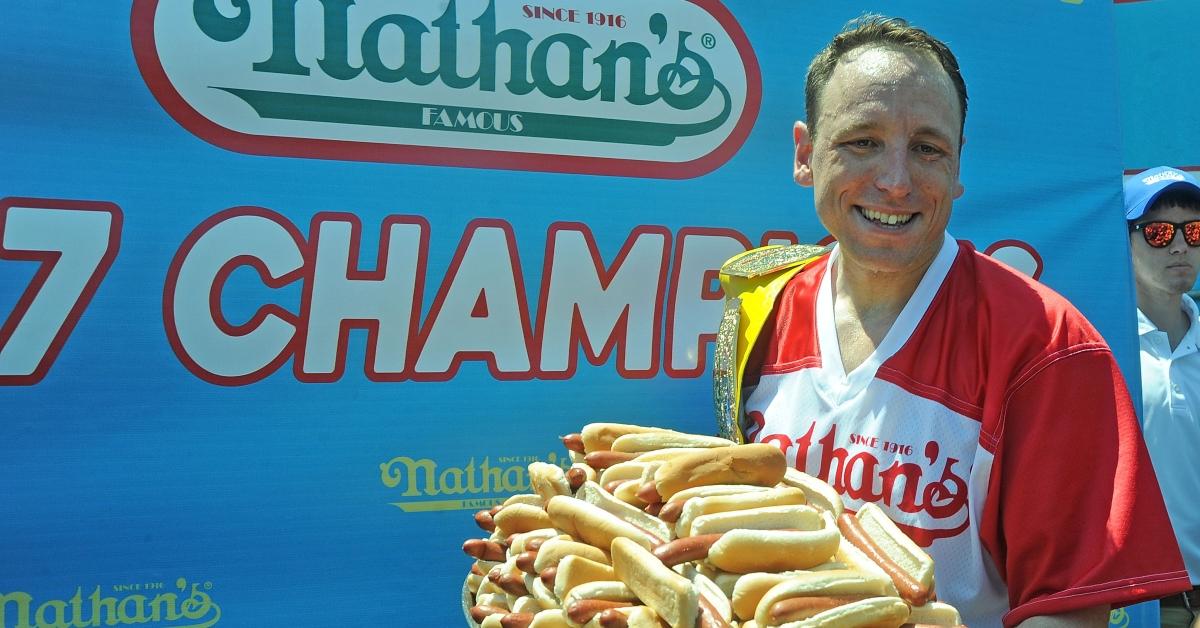 Article continues below advertisement
He continued: "There's a good chance that we might have better conditions for a world record and I'ma be pushing for it."
While many are familiar with the name, especially in the world of competitive eating, not many know just how much of a gluttonous pedigree the current champ holds outside of the Nathan's Hot Dog Eating Contest.
How many world records does Joey Chestnut have?
The professional eater currently holds roughly 50 world records. If that number doesn't mean much to you, allow Major League Eating to properly communicate the significance of this figure, especially in the world of competitive eating: "Joey Chestnut is the greatest eater in history. That is not empty editorializing or bloviating. That is empirical fact."
Article continues below advertisement
Probably the craziest part of Chestnut's eating record is that it spans a variety of different foods with different textures, flavor profiles, and nutritional compositions. The 6'1, 230 pound American eating phenom was the first to dethrone Takeru Kobayashi in 2007 at Nathan's famous Fourth of July hot dog eating contest. For eight years after that, he held the belt, then regained it again in 2016 after losing out to Matt Stonie.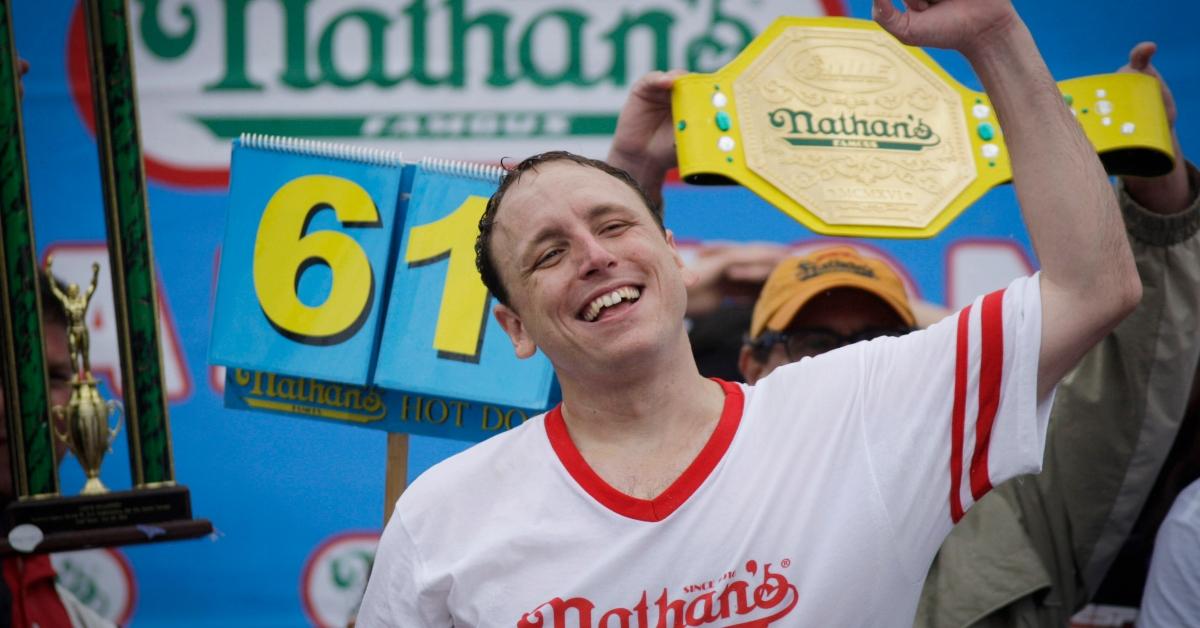 Article continues below advertisement
Here are some of the foods that Chestnut holds world records for:
Nathan's hot dogs: 76 dogs and buns in 10 minutes.
Hard-boiled eggs: 141 in 8 minutes.
Glazed donuts: 55 in 8 minutes.
Pulled pork sandwiches: 45 in 10 minutes.
Taco Bell soft shell beef tacos: 53 in 10 minutes
Chicken wings (long form): 182 in 30 minutes.
Krystals hamburgers: 103 in 8 minutes.
Shrimp wontons: 390 in 8 minutes.
Mutton Sandwiches (4 oz.): 81 sandwiches in 10 minutes.
Twinkies: 121 in 6 minutes.
Chicken wings: 413 in 12 hours
Big Mac sandwiches: 32 in 38 minutes.
Tamales: 102 in 12 minutes.
Grilled cheese sandwiches: 47 in 10 minutes.
Gyoza: 384 in 10 minutes.
Pastrami sandwiches, Katz, half portion: 25 7oz sandwiches in 10 minutes.
Ice-cream sandwiches: 25.5 in 6 minutes.
Hostess donettes: 257 in 6 minutes.
Pierogi: 165 in 8 minutes.
Sausage and cheese kolaches: 56 in 8 minutes.
Croquetas: 185 in 8 minutes.
Pepperoni rolls: 43 in 10 minutes.
Article continues below advertisement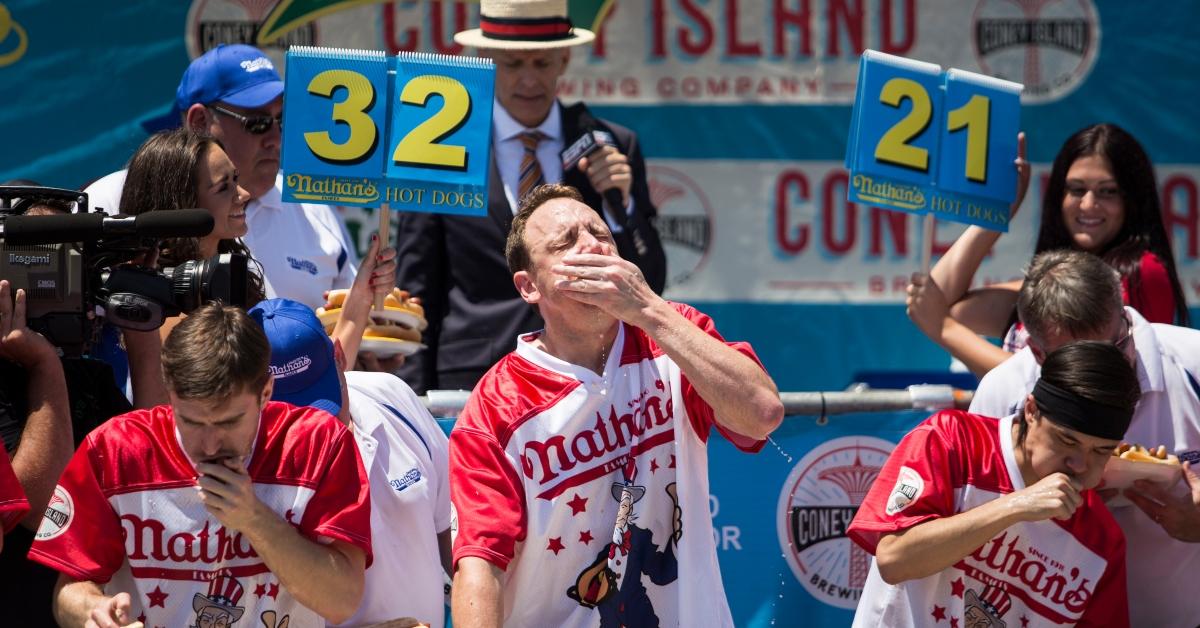 Probably the most impressive world record that Joey Chestnut holds is that he holds more world records than anyone. That's right, he's the world record world record holder. Granted, they're all for eating, but just because you can pound a lot of your grandmother's cooking during Thanksgiving doesn't mean you've got what it takes to be a competitive eater.
Article continues below advertisement
What inspired Chestnut to first go after Kobayashi was an episode of Man vs Beast where the former hot dog title holder from Japan tried to out-eat a Kodiak bear. After seeing Takeru lose to the animal, Chestnut got it in his head that there was some "quit" in Takeru and he kept driving forward to beat him. And beat him he did.
Article continues below advertisement
How much does Joey Chestnut make a year?
As it turns out, you can make a pretty penny from being a competitive eater and when you're as active as Joey Chestnut, it's a really pretty penny. As of 2021, the man holds a reported net worth of $2 million.
As far as career earnings go, Chestnut does fairly well for himself. In 2014 alone, he made $230,000. Nathan's pays $10k every July 4th, and he's won that contest a whopping 11 times. In 2019, Chestnut has already made $16,500 from eating contests alone, but many believe the real money he gets, again, are from the companies that sponsor him to engorge himself at these events.
The man's endorsements include: Hooters, Hostess, Coney Island IPA, and Pepto Bismol (appropriate). You'd figure the man would have a huge social media following, but it's pretty modest by most Influencer standards. If you compare the number of subscribers to his channel as opposed to someone like Matt Stonie, it's clear that Joey's more about that competition, than influencer/media personality life.
Overall, we certainly can't wait to keep tuning in to watch Joey attempt to set a new hot dog-eating record.