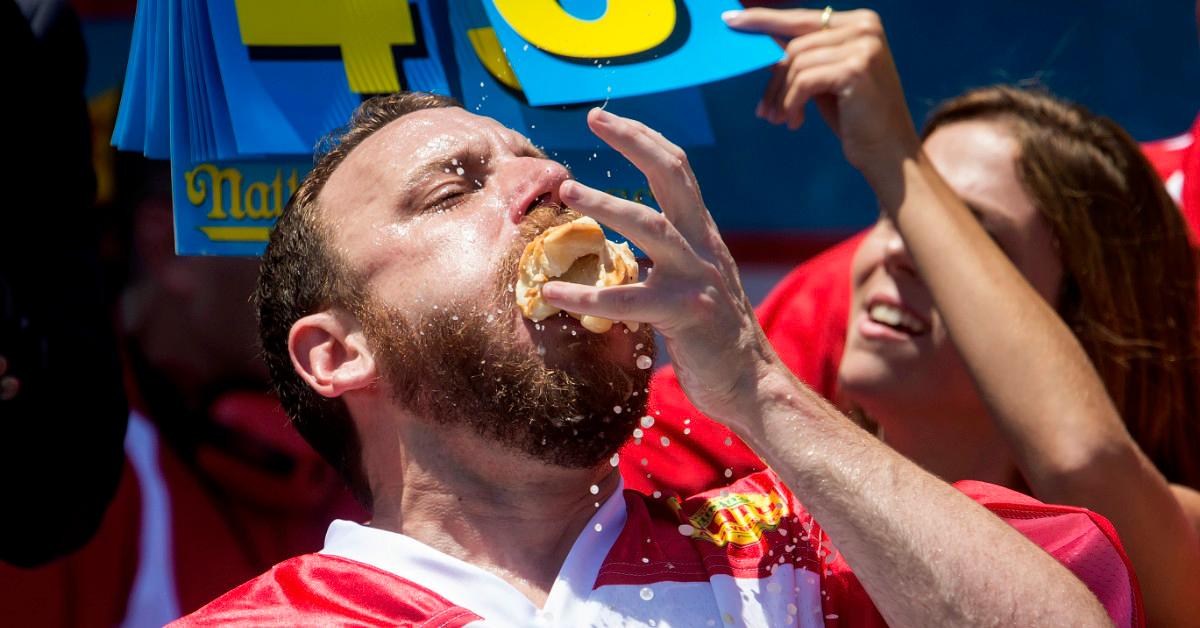 Competitive Eating Champ Joey Chestnut Has Earned Millions Scarfing Down Hot Dogs
Check in on Joey Chestnut's net worth before the competitive eating champion competes for a 14th win at the Nathan's Famous Hot Dog-Eating Contest.
Competitive eater Joey Chestnut could claim his 14th Mustard Belt and add another jackpot to his net worth on July 4, 2021, as he competes once again in the Nathan's Famous Hot Dog-Eating Contest.
Joey has won the men's competition 13 of the past 14 years. In 2020, he ranked first and set a world record by eating 75 hot dogs in 10 minutes. (Imagine eating one hot dog every 8 seconds for 10 minutes straight!) He also marked another milestone at the event: 1,000 hot dogs eaten during competition.
Article continues below advertisement
Now Joey is the favorite to win the 2021 Mustard Belt. In fact, his odds at Colorado's BetMGM stood at -5,000 on Friday, July 2, according to Yahoo! Sports, meaning one would have to bet $5,000 on Joey just to win $100.
"To put that bet into perspective, England is -250 to beat Ukraine on Saturday in Euro 2020, Clemson's football team is -900 to win the ACC in 2021, and the Tampa Bay Lightning are -1400 to win the Stanley Cup after winning the first two games against Montreal," the outlet added.
What is Joey Chestnut's net worth?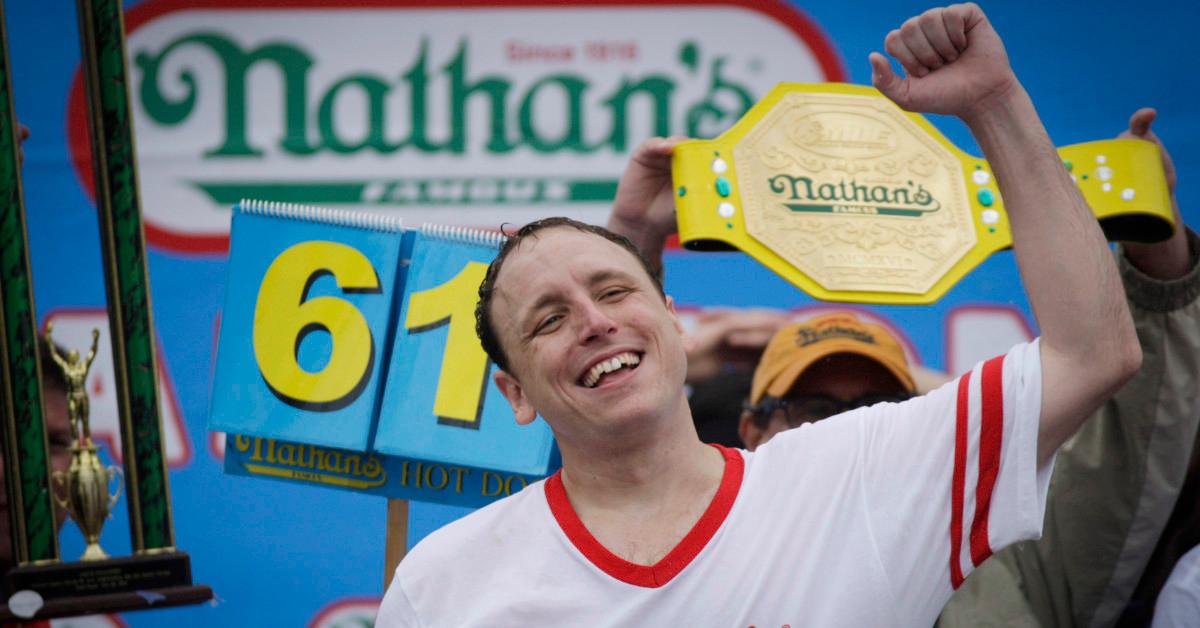 According to Celebrity Net Worth, Joey's fortune currently stands at $2 million. The site notes that the 37-year-old got started in competitive eating in 2005 as he matriculated at San Jose State. In one of his first events, he downed almost six and a half pounds of deep-fried asparagus in 11.5 minutes.
At the 2005 Nathan's Hot Dog-Eating Contest, Joey placed third in his debut outing at the competition. That same year, he reigned victorious at the Waffle House World Waffle Eating Championship.
Article continues below advertisement
The Major League Eating website lists some of Joey's other accomplishments. He ate 390 shrimp wontons at the 2012 CP Biggest Eater Competition, 20 eight-once corned beef sandwiches at the 2012 TooJay's World Class Corned Beef Eating Championship, a 9.35-pound turkey at the Foxwoods Turkey Eating Championship in 2014, 23 six-ounce meat pies at the 2016 Silver Slipper World Meat Pie Eating Championship, and 55 glazed donuts for Salvation Army National Donut Day in 2017.
How much does the hot dog eating champion make?
The first-place winner earns $10,000 at the Nathan's Famous Hot Dog-Eating Contest, according to Sporting News. Second place comes with a $5,000 prize, third place earns $2,500, fourth place earns $1,500, and fifth place earns $1,000.
Article continues below advertisement
And Celebrity Net Worth reports that a competitive eater can land $250,000 to $500,000 each year through prize money and sponsorship deals. And then there's the merchandise: Joey has his own line of condiments, including Spicy Brown Firecracker Mustard, Classic Boardwalk Coney Sauce, Orange Citrus Habanero Wing & Dipping Sauce, and Sweet Sriracha Teriyaki Wing & Finishing Sauce.
The 2021 Nathan's Famous Hot Dog-Eating Contest will air live on Sunday, July 4, at noon EST on ESPN. And competitive eating fans can also tune into ESPN3 at that time for a live feed of Joey's progress as he attempts to break his own world record.