Jordan Peele and Wife Chelsea Peretti Are a Match Made in Comedy Heaven
Chelsea Peretti is not only Jordan Peele's wife, she is a multi-talented comedian, writer and actor. Here is everything we know about her.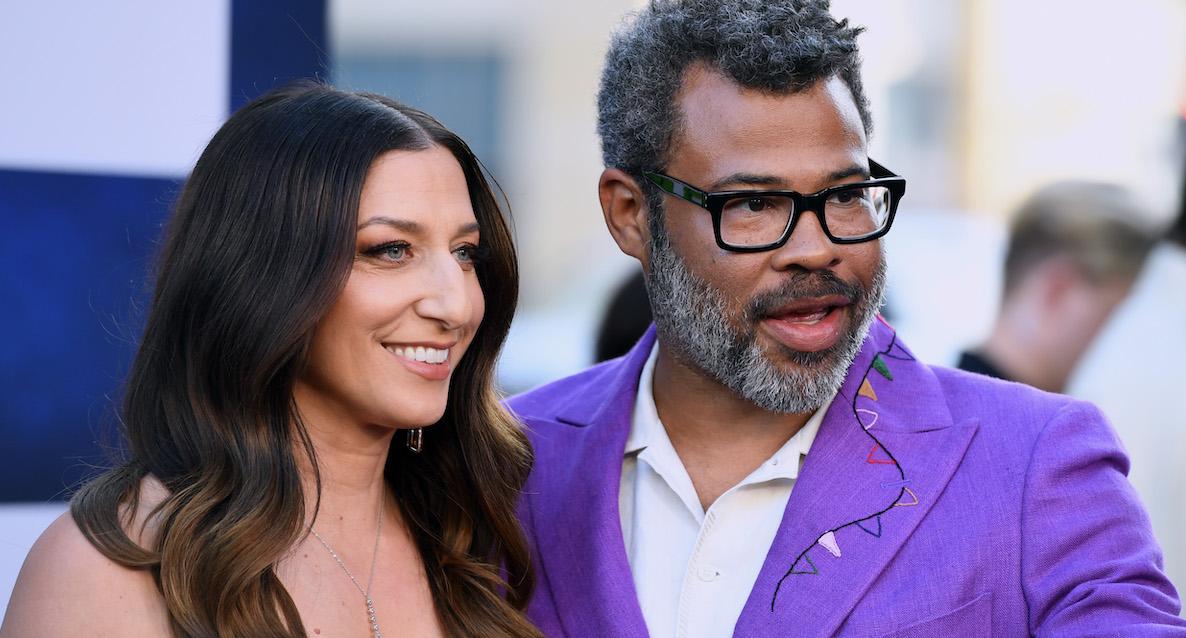 There is no denying that Chelsea Peretti is one of the most successful comedians working in Hollywood today.
From her popular role as Gina Linetti in Brooklyn Nine-Nine to her Netflix special, One of the Greats, many shows highlight Chelsea's comedic streak and star power.
Article continues below advertisement
Her comedy counterpart, Jordan Peele, has now cemented himself as one of the biggest names in horror following the massive success of his 2017 film, Get Out.
However, what many might not know is that Jordan and Chelsea are married! So, how did they meet and do they have kids? Keep reading to find out.
Comedy brought Jordan Peele and Chelsea Perretti together on Twitter.
In an interview with Entertainment Weekly, Chelsea shared that Jordan reached out to her on Twitter to compliment her work on a web series and the rest is history.
In November 2013, the couple went Instagram official, and one year later they made their first red carpet appearance as a couple.
Article continues below advertisement
In November 2015, Jordan and Chelsea took to Twitter to announce that they were engaged. Jordan announced the engagement by tweeting a diamond ring emoji, tagging Chelsea's Twitter account.
Shortly after, Chelsea confirmed the news by tweeting, "My fiancé (lololol) @JordanPeele proposed to me last night during the family talent show lolol."
Article continues below advertisement
Jordan and Chelsea got married in 2016 by eloping!
The couple opted for a very low-key wedding, eloping in Big Sur with only their dog as a witness, and their officiant named Soaring.
"We made these whole big photo books for everyone afterwards, and four out of four left them at our house," she told Conan O'Brien jokingly. "In retrospect, it's just photos of us having a good time at a party they weren't invited to. It's fair."
Article continues below advertisement
Today, Jordan and Chelsea are the proud parents of their son, Beaumont Gino Peele.
In February 2017, Chelsea announced that the couple was expecting their first child together, and he was born on July 1, 2017. Shortly before his first birthday, Jordan opened up about his son getting older, telling People magazine, "You just get a little bit more of the person. You meet a little bit more of the person. Seeing that smile or recognition is everything."
As expected, the low-profile couple does not share photos of their son on social media. However, Chelsea did hint that their son was with them to see his dad at the 2018 Oscars, where Jordan's movie Get Out was nominated for Best Picture, among other awards.
"It's very possible I was holding my son in a tiny tux," Chelsea tweeted alongside a photo of the couple ahead of the show. More recently, Chelsea tweeted, "My son just told me he wants to be a coffin for Halloween."
So, it's safe to say Beaumont has inherited his parents' sense of humor.