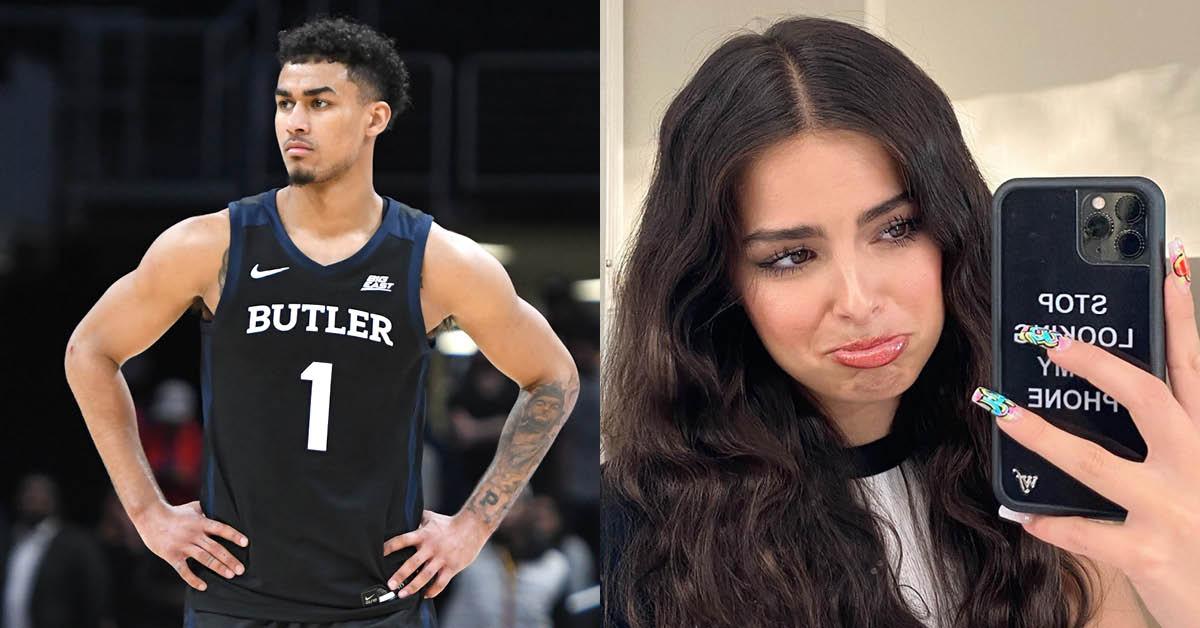 Butler Basketball Player Jordan Tucker Reportedly Ghosted Addison Rae
After publicly flirting for a while this spring, Jordan Tucker revealed that he actually ghosted popular TikTok creator Addison Rae.
TikToker Addison Rae is currently the app's second most-followed account, boasting over 52 million followers. Since she initially blew up on the video-sharing app, her personal life has been thrust into the spotlight and rumors about who the influencer might be dating began swirling.
Addison has had a very public on-again, off-again relationship with Sway House member Bryce Hall, but her most recent fling with Butler University basketball player Jordan Tucker has raised some fans' eyebrows.
Article continues below advertisement
Is Addison Rae dating Jordan Tucker?
Jordan made his first attempt to shoot his shot at Addison in April, dueting one of her TikToks. Her original video is just a lip-synch of the "Ooh Ahh" audio, but Jordan quickly turned up the heat.
"I can make ya oooh ahhhh alright," Jordan captioned his duet.
Fans quickly took notice of the TikTok, and rumors about their potential relationship took off. These speculations only intensified when Addison followed the basketball player on Instagram.
Article continues below advertisement
But not everyone was happy about Addison and Jordan's rumored romance — specifically Jordan's own fans. On his initial duet video, many of his followers who were hardcore crushing on the athlete voiced their disappointment that he might be off the market.
"What about the rest of us who actually want you?" one user commented with the sad-eyes emoji.
"She won life ladies it's done for us," another said.
Jordan and Addison let their fans continue to speculate, and Jordan made another flirty duet with Addison. Jordan shared a video of himself also in bed alongside Addison's "just me and my future bae staring at each other" video. Jordan shared his duet the same day Bryce did.
Article continues below advertisement
While some were ready to ship the couple, Jordan clarified not long after that he and Addison were no longer talking. According to Hollywood Wire, Jordan actually ghosted the influencer and spilled all of the details in a livestream.
"Right now, I'm chilling. Not trying to pursue anybody — not trying to pursue Addison Rae," he said, according to the outlet. "I'm just doing my own thing, that's it."
Article continues below advertisement
He said that some of the comments from his own fans made him reconsider his flirtationship, leading the two to end it.
"I think they want me back. You feel me? I'm for the people," he said.
Article continues below advertisement
Are Addison and Bryce back together?
Since Jordan and Addison were confirmed to be officially over in May, Addison's fans are back to shipping her with ex-boyfriend Bryce. And Bryce has been playing it up, putting it out on his social media accounts that he's still down to get back together with Addison.
Right now, it hasn't been confirmed whether or not they're seeing each other, though Hollywood Wire reports that when asked directly about her and Bryce, she replied "No comment."
Considering the many photos of them kissing in public, caught by drama Instagram account @tiktokroom, we're sure there's probably something more to that "no comment." But until then, it seems Addison is single.