Is Joy-Anna Duggar Getting a Divorce? Her Wedding Ring Is Suspiciously Missing
Rumors of Joy-Anna Duggar's impending divorce started swirling in October 2020. But is there any truth to the speculation about her and Austin?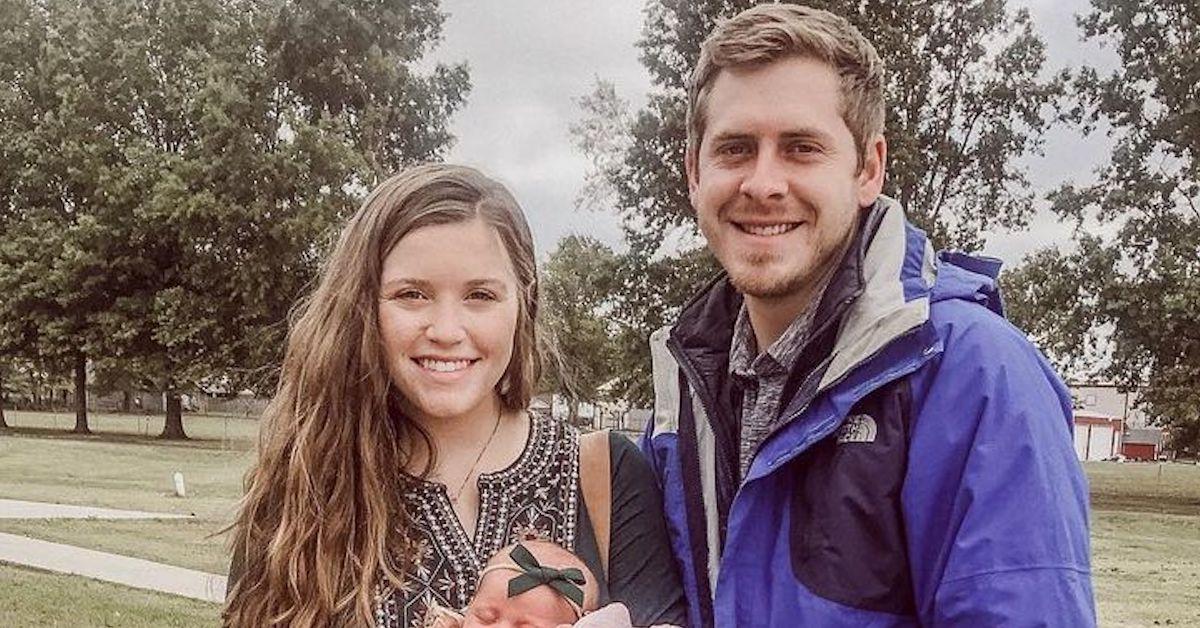 If you're familiar with the Duggar family, then it's pretty clear what Jim Bob and Michelle believe about divorce: it's not allowed. Marriage is a covenant with God, in their eyes, and couples must do everything within their power to make it work — even if cheating is involved, like with Josh Duggar's scandal in 2015. These days, however, rumors have been swirling around a different sibling. That's because Counting On fans think Joy-Anna Duggar and Austin Forsyth could be heading for divorce.
Article continues below advertisement
Are Joy-Anna Duggar and Austin Forsyth getting a divorce?
After Joy-Anna posted photos to her Instagram that showed the Counting On star without her wedding band, some followers started jumping to conclusions — mainly that she and Austin were heading for divorce. Joy-Anna was having none of it, though, and went ahead and nipped the speculation in the bud.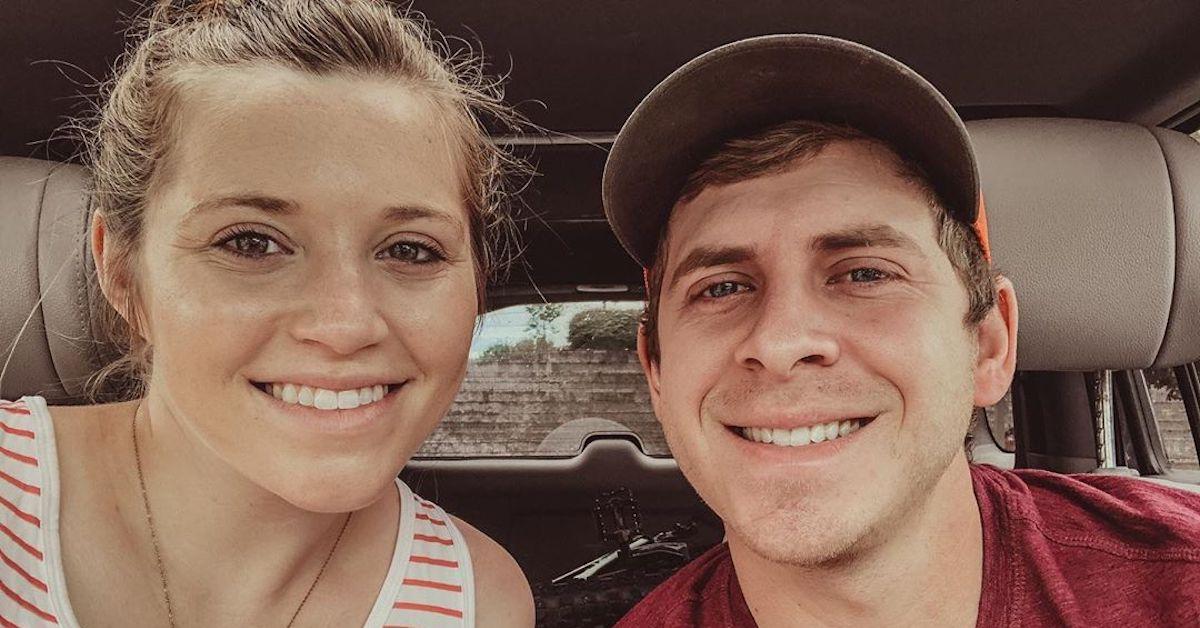 Article continues below advertisement
The Instagram post in question was shared on Oct. 25, and it featured photos of Austin and Joy-Anna. "'He just needs a companion.' Austin's mom told this to me when we were dating; It's so true. He just wants to have somebody with him and I love this about him! I'll be your companion any day, baby," she captioned the carousel of pictures.
Article continues below advertisement
One eagle-eyed follower pointed out, "So, do you just get an engagement ring in this belief? I didn't see a band with her ring."
To that, Joy-Anna replied, "No, my fingers were swollen during pregnancy and I haven't put my wedding band back on."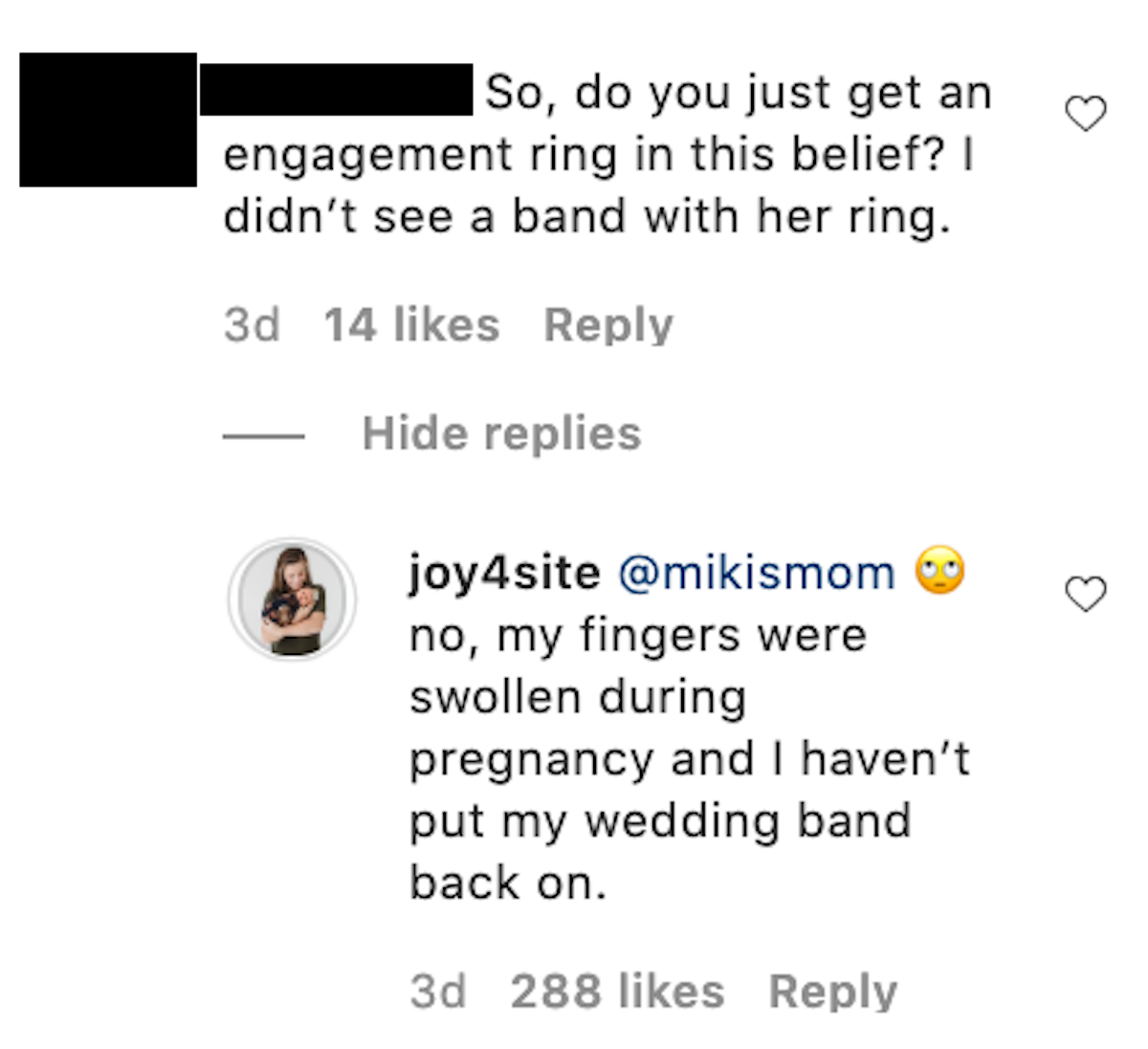 Article continues below advertisement
To really drive the point home, Joy-Anna later re-iterated in her Instagram Story that she and Austin were still very much in love and in no way considering getting a divorce. She shared a photo of a screenshot of someone DMing her asking if the rumors were true.
"If you follow our personal Instagram pages. You'll know these rumors are FAR from true!" Joy-Anna captioned a photo of herself and her husband embracing.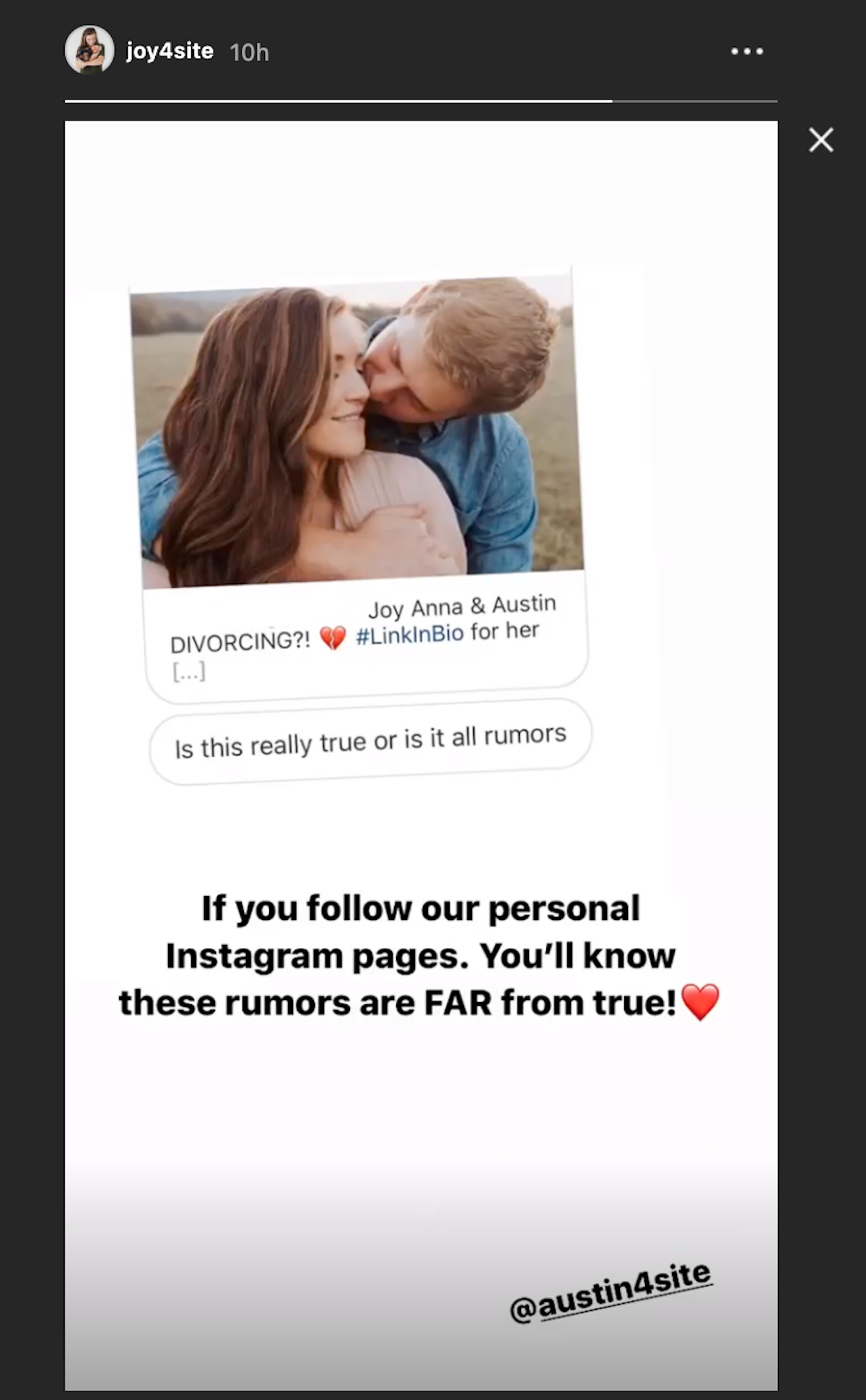 Article continues below advertisement
So, no, Joy-Anna and Austin don't seem to be heading toward a divorce anytime soon — or ever, likely. A Duggar divorce would be an even bigger scandal for Michelle and Jim Bob than Josh's two 2015 scandals combined. (The eldest Duggar sibling cheated on his wife Anna with the help of his Ashley Madison account, after all. And she still stuck by his side.)
Is Joy-Anna Duggar pregnant with her third child?
On the same set of photos in which Joy-Anna isn't wearing her wedding band, other Instagram followers wondered if the Counting On star was already expecting another child.
"Oh God she's not pregnant again," a different Instagram user commented, to which Joy-Anna expertly and simply pointed shot down, "I have a 9 week old."
Article continues below advertisement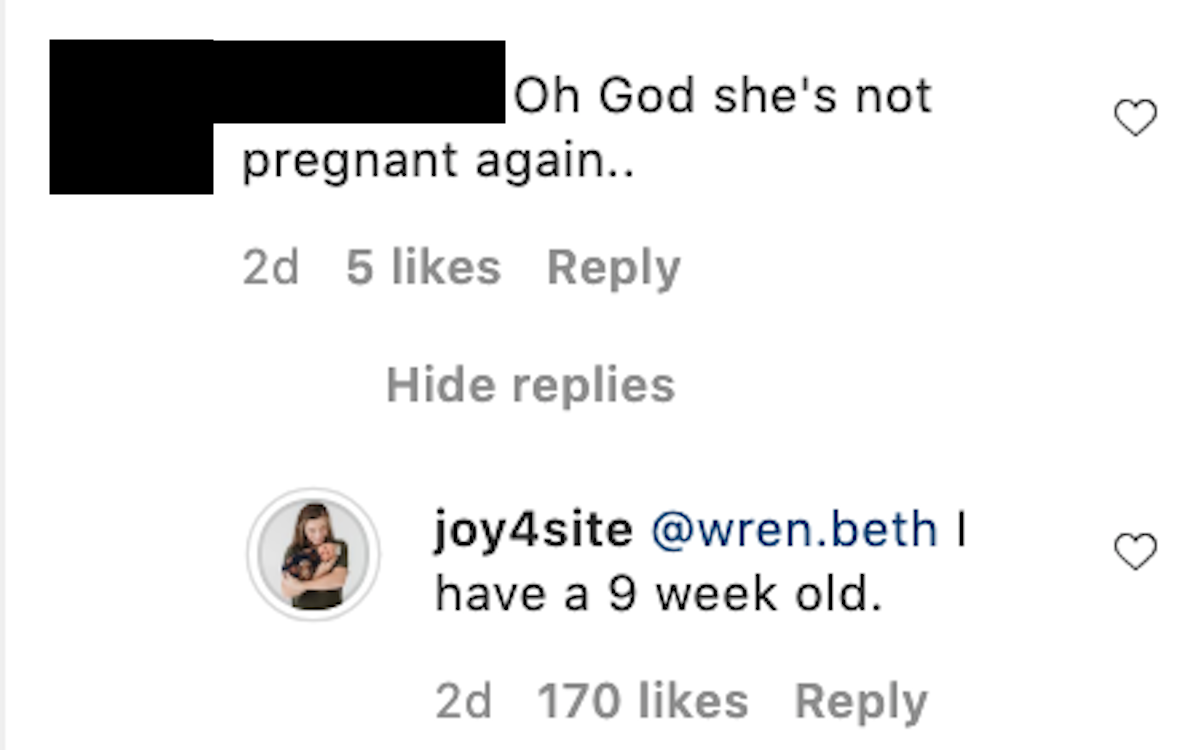 It's interesting how such two contrasting rumors can come from the same social media post, isn't it? But all signs and comments from Joy-Anna point to the truth: She is neither divorcing Austin nor expecting another baby with him at this point in time.
The Counting On star's followers might want to consider taking a chill pill — and maybe just tapping "like" every once in a while — instead of engaging in such intense speculation over a few sweet photos.