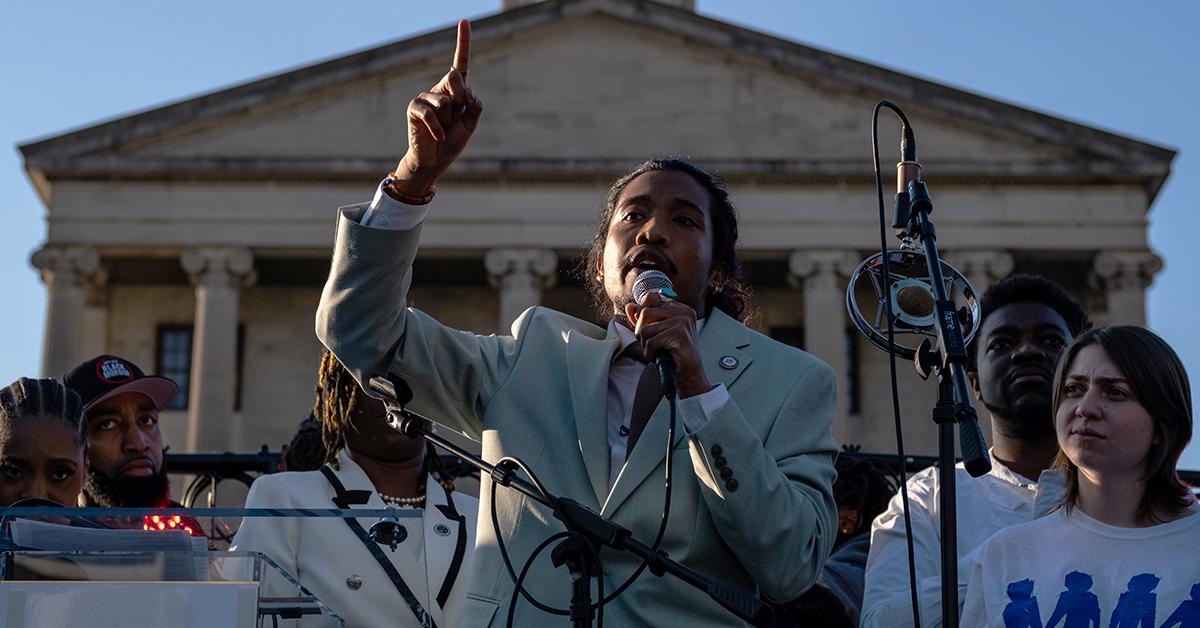 Justin Jones Is Making a Splash as a Tennessee Politician — Who Are His Parents?
Who are Justin Jones's parents? The Tennessee politician has made a splash in the ongoing fight for gun control in right wing states.
According to a report by the Associated Press published on April 10, 2023, there have been over 15 mass shootings throughout the year thus far that have resulted in multiple deaths. The most recent one took place in Louisville, Ky., when five people were killed at a downtown bank. Other tragedies include the Covenant School shooting in Nashville that claimed the lives of three students and a Monterey Park shooting that killed 11 at a Lunar New Year Party in late January.
Article continues below advertisement
As thoughts and prayers continue to prove their effectiveness in the wake of dozens of several deadly shootings in 2023 alone, activists are making even more fervent calls for tighter gun regulations to prevent further violence from occurring. One of them is Tennessee-based House of Representative member Justin Jones. Though his activism has landed him in hot water with GOP lawmakers, he continues to fight for change amid a blood-soaked, bullet-riddled America.
Below, we take a look at Justin Jones and his family.
Article continues below advertisement
Who are Justin Jones's parents? Let's meet the Tennessee politician's family.
Justin Jones's full name is Justin Shea Bautista-Jones. He was born on Aug. 25, 1995, and is currently 27 years old. His mother is a Filipina woman named Christine, according to his campaign website. She reportedly raised Justin and his sister in the East Bay in Oakland, Calif. His father is not identified, but he is described as "the grandson of Black, working-class grandparents from the South Side of Chicago and Filipino immigrants who migrated to California."
Justin holds his mother and grandparents in high regard, but he also has plenty of found parental figures in his life. On Instagram, he calls civil rights activist and Freedom Fighters veteran Dr. Ernest "Rip" Patton Jr. an "honorary grandfather" and spoke deeply on his passing in 2021.
It was he and many other role models in his life who informed Justin's calling as an activist from his early years. He has been arrested "over a dozen times" for nonviolent protests as he advocates for civil rights.
Article continues below advertisement
Even after becoming a House representative for the State of Tennessee, he continues to fight for equal rights for marginalized communities and has even called for more scrutiny for GOP lawmakers. Part of that includes his ongoing fight for gun control in the state, and indeed throughout the country.
To that end, he has received national attention for his gun law advocacy in the wake of the multiple mass shootings in 2023.
Article continues below advertisement
Justin Jones's expulsion has become a point of contention.
Justin was formally inaugurated as a member of the Tennessee House of Representatives in mid-January 2023. However, he was expelled only a few short months later on April 6 for what Republicans called "disorderly behavior," wherein he participated in a pro–gun control protest at the state capitol in response to the Covenant School shooting. His expulsion, along with the expulsion of representative Justin Pearson, was widely criticized as an openly racist gesture from Nashville's government.
However, sources like NPR reported that only a few days later on April 10, Justin was "unanimously" reinstated to his seat. Reportedly, the vote has restored his position on an "interim" basis with a special election pending.