Once an Eccentric Internet Sensation, Where Is Kai From 'The Hatchet Wielding Hitchhiker' Now?
Netflix's chilling documentary 'The Hatchet Wielding Hitchhiker' showcases the downfall of a former internet star named Kai. Where is he now?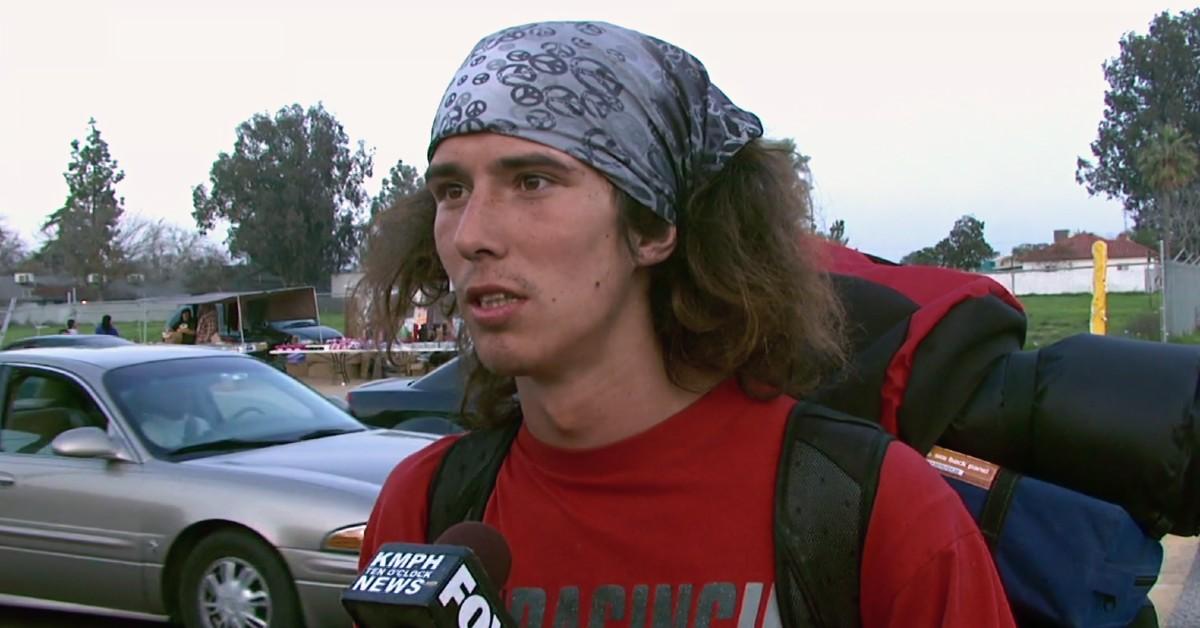 News interview memes are perhaps a thing of the past. From Antoine Dodson uttering the now-iconic words "Hide your kids, hide your wife, and hide your husband" in 2010, to Kimberly "Sweet Brown" Wilkins exclaiming "Ain't nobody got time for that" in 2012, news reporters often interview eccentric characters, ones the public grow to love (and meme-ify).
Article continues below advertisement
In 2013, a carefree man named Kai (born Caleb McGillvary) — a surfer-type dude wearing a peace sign-adorned bandana — was interviewed by a KMPH reporter after he saved an innocent woman from a man's wrathful bearhug-turned-chokehold by "smashing" him over the head with a hatchet. His meme-worthy words were "smash, smash, SMASH!" The latter "smash" was drawn out for emphasis, of course.
The homeless hero of sorts originally hitchhiked to Fresno, Calif., with the large man he eventually hit over the head with a hatchet. The 6-foot-4, 300-pound man, Jett McBride, was the driver. Not only did Jett confess to crimes, admit to being a racist, and claim to be the second coming of Christ (as one does), but he purposely hit a Black pedestrian, violently pinning them against a truck. When an onlooker ran over to the scene, the murderous man attempted to choke her, which was approximately when Kai stepped in. Luckily, the scrappy nomad had a hatchet sitting in his backpack.
Article continues below advertisement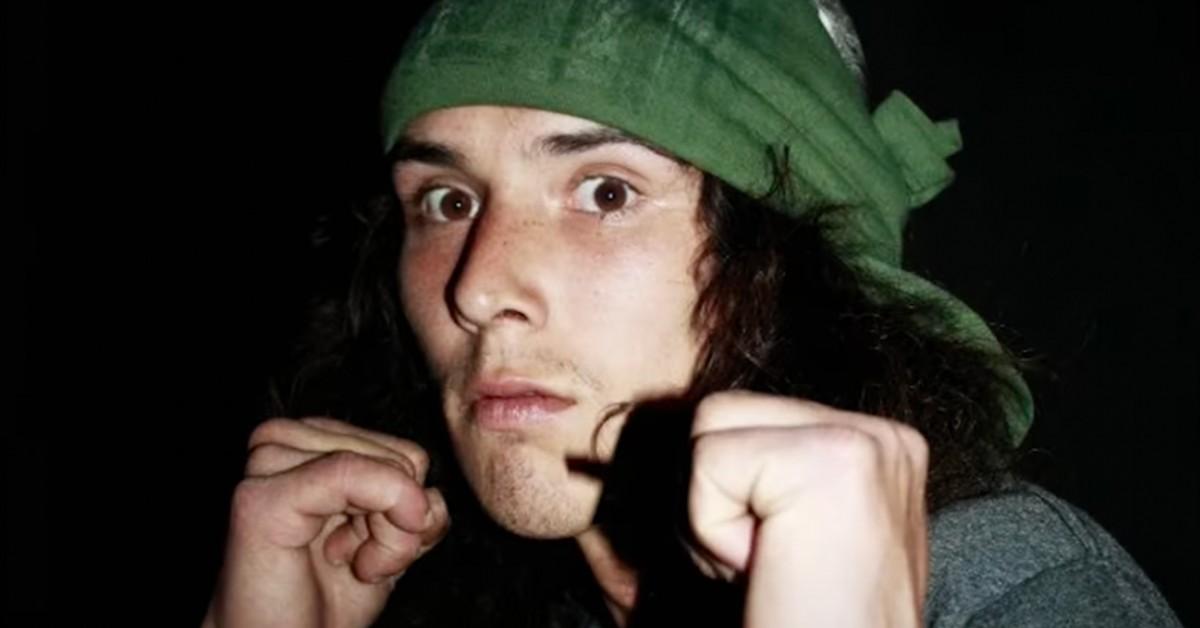 As mentioned, Kai is an internet figure of the past, but the lesser-known second half of his story is getting put under the microscope with Colette Camden's 2023 Netflix documentary, aptly titled The Hatchet Wielding Hitchhiker. "This shocking documentary chronicles a happy-go-lucky nomad's ascent to viral stardom and the steep downward spiral that resulted in his imprisonment," the official synopsis reads.
We're here to detail the events that led to his imprisonment, as well as where he is today.
Article continues below advertisement
Where is Caleb "Kai" McGillvary now?
"A pack of media vultures immediately descended on the 24-year-old drifter, ignoring all signs of his mental instability," Rolling Stone wrote, the key words being "mental instability." He even attracted the likes of Lisa Samsky, a reality TV brand manager known for her work on Keeping Up With the Kardashians. He was being eyed for a reality show at the time.
"We weren't exactly sure what the show was gonna be, but I think what people saw at my company was Kai could be a gateway to a world we never saw: homeless people living happily on the streets," Lisa states in the documentary (problematic, but ok), per Rolling Stone.
People were just drawn to Kai's spirit, but perhaps his "peace and love" attitude was only a mere piece of the convoluted puzzle. See, after Kai became a viral sensation — even attracting the attention of celebs like Justin Bieber — the Canadian backpacking traveler went down a dark path.
Article continues below advertisement
Before we take things to May 2013, more information about the viral incident was revealed. According to Rolling Stone, Fresno police officer Jeff Stricker relayed that Kai and Jett McBride "smoked a joint in the vehicle, prompting Kai to tell McBride that 'they were both ghosts,' adding, 'I bet we could drive through that truck right now and nobody could see us.'"
This tidbit changes the story immensely.
Article continues below advertisement
In May 2013, 73-year-old lawyer Joseph Galfy was found dead in his Clark, N.J., home. According to CBS News, authorities said Kai was with Joseph Galfy in Manhattan's Times Square just days before what appeared to be a murder. After hitchhiking across the country, Kai stayed at Joseph's home for two nights.
The victim's head was bashed in ... sound familiar? Deeming Kai a main suspect wasn't difficult, as police found a piece of paper with Kai's information on it as well as a train ticket receipt in Joseph's home. Authorities eventually tracked down surveillance footage of Joseph buying a train ticket for Kai at the station.
Article continues below advertisement
Within just a few days, Kai was arrested in Philadelphia. Though Kai alleged that Joseph's death was a result of self-defense, as he allegedly drugged and attempted to sexually assault the internet star, no one was buying it. Prosecutors said his story was inconsistent and Joseph's injuries were telling of something more sinister.
"The county medical examiner testified that the victim – 'who stood 5-foot-5, weighed 230 pounds, and had a stent in his chest due to a heart condition' – sustained numerous serious blunt-force injuries to his face, head, neck, chest, and arms, including three skull fractures, four broken ribs, and severe contusions, abrasions, and bleeding," CBS New York reported.
Article continues below advertisement
As for why he didn't call the police immediately, Kai told Inside Edition, "I'm an illegal immigrant, they're not gonna investigate."
During the 2020 (prison-based) interview, Inside Edition relayed that Kai insists he's innocent "and says that critical evidence that could have proved he was drugged was ignored and destroyed."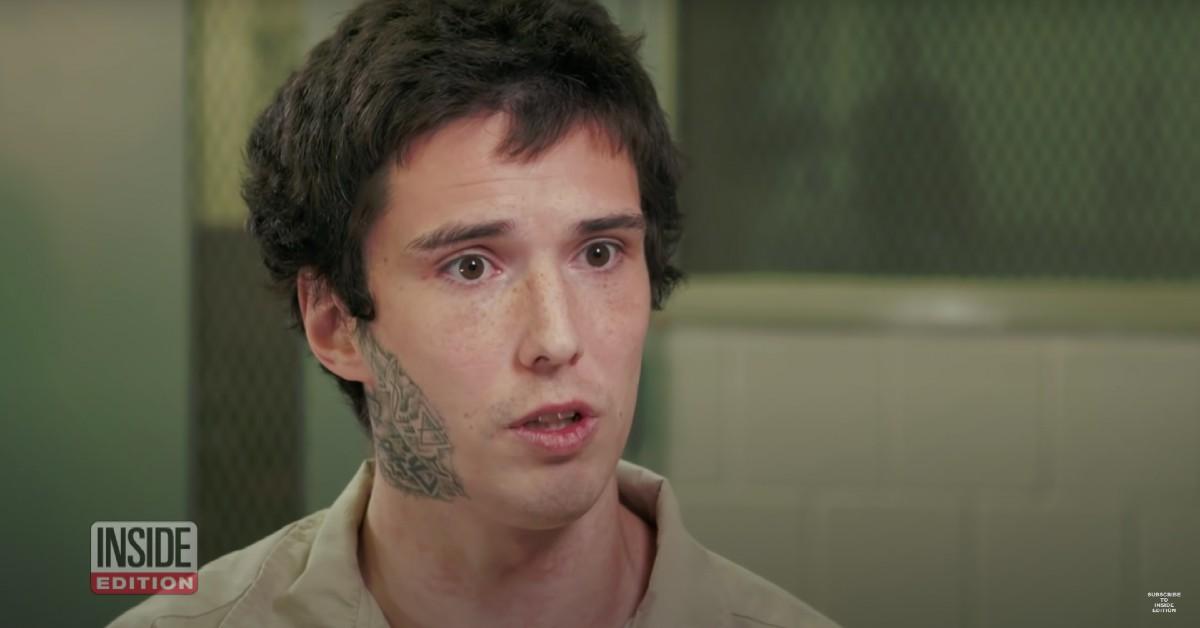 Article continues below advertisement
In May 2019, Kai was sentenced to 57 years in a maximum-security New Jersey State prison for first-degree murder. Public records state that Kai will be eligible for parole in October 2061.
His August 2021 appeal was denied.
Though the public's feelings about Kai the hitchhiker may be muddy, the judge's weren't. During his sentencing, the judge made this powerful statement: "You created this public image of a free spirit, but underneath that free spirit the jury saw another side of you: A cold-blooded, calculated, callous killer."
The Hatchet Wielding Hitchhiker is currently streaming on Netflix.