Meet '90 Day Fiancé' Star Kalani's New "Hall Pass" Boyfriend, Dallas Nuez
After a full season of '90 Day Fiance: The Last Resort', we all want to know, who is Kalani's "Hall Pass" boyfriend, and what makes him so special?
The Gist:
Asuelu has admitted to cheating on Kalani over a dozen times.
Asuelu's "hall pass" idea backfired.
Now Kalani is posting about the man of her dreams, Dallas Nuez.
Article continues below advertisement
Kalani Fagaata has "waited a year" to tell the world about her new boyfriend Dallas Nuez. Well, OK, almost a year. Filming for 90 Day Fiance: The Last Resort went down in January of 2023, so all the cast members had to wait until the last episode aired before they could start posting about their relationships.
Here is what you need to know about her new man and the current status of her divorce from ex Asuelu Pulaa.
After cheating, Asuelu's idea to give Kalani a "hall pass" backfired.
Whether it was arguments with the in-laws or too many nights spent at the volleyball court, we know that Kalani's marriage to Asuelu has had low points.
However, nothing was lower than when we discovered that Asuelu had cheated on Kalani over a dozen times! After being caught in his most recent moment of infidelity, Asuelu attempted to balance the scales.
Article continues below advertisement
He offered Kalani a "hall pass," allowing her free range to cheat.
Asuelu admitted that he only gave Kalani this opportunity because he believed she wouldn't take it. Well, in Asuelu's case, this wasn't such a great idea. Kalani decided to give Asuelu a taste of his own medicine, and she used her "hall pass" to kiss another man.
Article continues below advertisement
That kiss became so much more than an act of frustration or revenge. In it, Kalani found intimacy and tender care that she was missing from her relationship with Asuelu. After years of fighting for her marriage, Kalani realized she had to fight for herself instead.
So, who is her new boyfriend Dallas Nuez?
With the final episode airing on October 30, 2023, Kalani wasn't wasting any time with her post. The following day, she released an Instagram story of her new beau, Dallas Nuez.
Now, die-hard 90 Day Fiance fans know that this moment has been teased by two posts dating back to December 2022 and January 2023, where a tattooed hand was spotted in the corner of a couple of photos.
Article continues below advertisement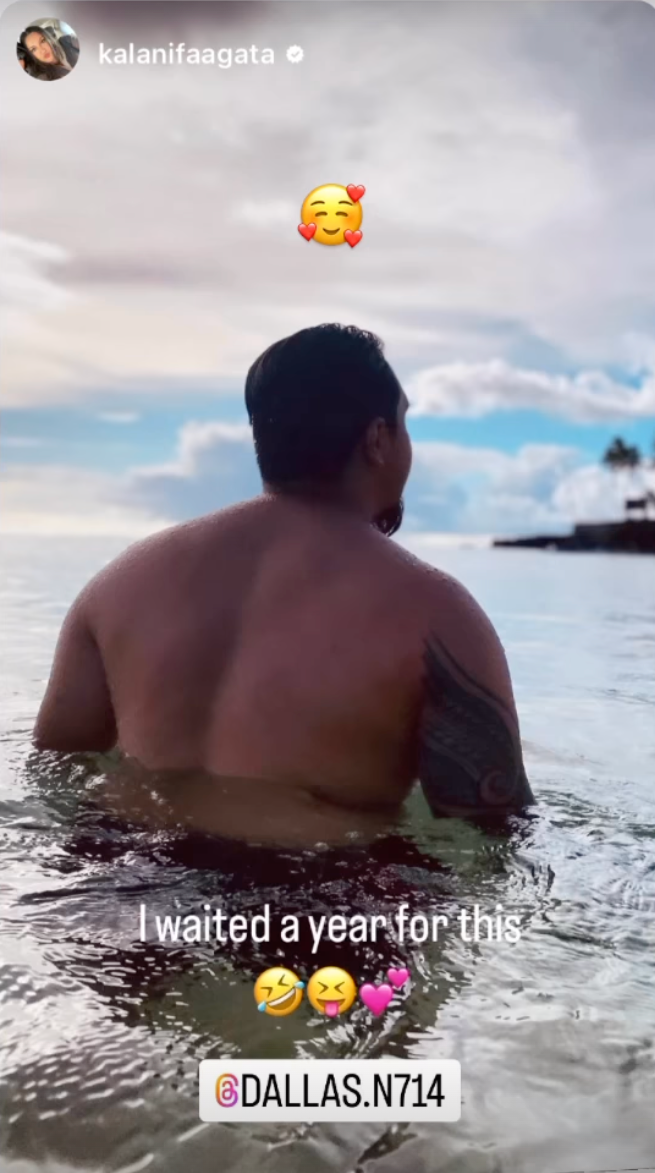 And —in a since-deleted selfie— posted in August of 2023, you could even catch a glimpse of this mystery man's face. But this is the first time Kalani purposely posted a full picture of Dallas—which makes sense since their relationship is getting pretty serious.
Article continues below advertisement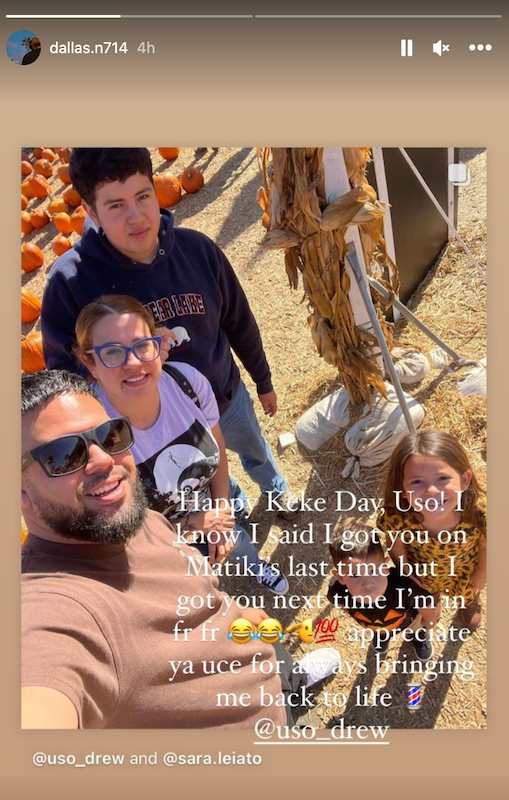 Dallas is 28 years old and works for a private security company in California. Based on an Instagram story he posted where he mentions "keke" and "matiki," we are thinking he may be Samoan.
According to The Sun, Dallas has introduced Kalani to his family, and he has plans to move in with Kalani and her two children.
Article continues below advertisement
Are Kalani and Asuelu offiicially divorced?
On the second to last episode of 90 Day Fiance: The Last Resort, Kalani revealed that she wanted to end her five-year marriage with Asuelu.
It's been nine months since filming, and the burning question on many fans' minds is, did Kalani and Asuelu actually part ways? If Kalani and Asuelu have signed divorce papers, they haven't made it public. However, they definitely have ended their relationship.
Article continues below advertisement
During the season finale of the show, Kalani and Asuelu partook in a beautiful ceremony where they committed to a respectful co-parenting relationship.
"I want to co-parent the best I can with you so we can still have a very good, strong family." Kalani told Asuelu. She went on to say, "I just want to make sure that we always put our kids first and just help each other out."
In a heartfelt reply, Asuelu said, "I just wanna apologize for everything that I treat[ed] you and done bad to you and hurt your feelings. I just hope that you forgive what I did and all the past that we have."
Based on the Instagram photos of Asuelu and his two boys enjoying Legoland, it looks like they have made good on their promise to co-parent and put their kids first.
We're so happy that Kalini found her dream man. She fought hard for a happy and peaceful life, and now she's getting it.