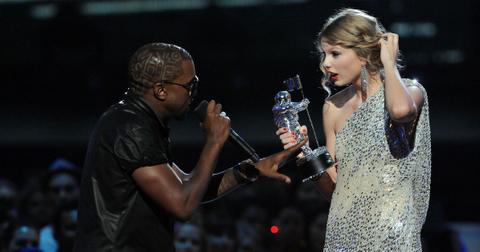 Leaked Video of Taylor Swift and Kanye West's Call Prompts #KanyeWestIsOverParty
By Michelle Stein

Updated
As fans already know, the bad blood between Kanye West and Taylor Swift has been going on for years — starting with that infamous, "Imma let you finish" moment during the 2009 VMAs. It's been an ongoing snub fest between the "Famous" rapper and the "Lover" singer ever since — and with Taylor often on the losing end. Until recently, that is. Because #KanyeWestIsOverParty started trending after the unedited Taylor Swift/Kanye West phone call leaked.
Kanye reportedly called Taylor to get permission for lyrics in his song 'Famous.'
In 2016, Kanye released his song "Famous," which includes the lyrics: "For all my Southside n------s that know me best. I feel like me and Taylor might still have sex/Why? I made that b---h famous."
Kanye insisted Taylor knew about about the name-calling ahead of time — and that she even gave him permission to degrade her like that. At the time, Kim also posted a video from Kanye's phone call with Taylor, which showed them discussing the "me and Taylor might still have sex" part.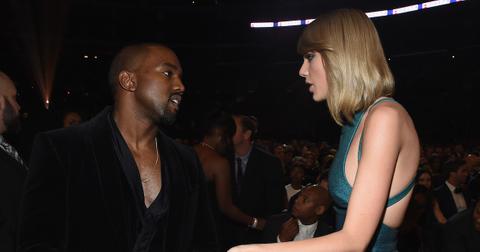 "I mean go with whatever line you think is better. It's obviously very tongue in cheek either way," Taylor can be heard telling Kanye. She also thanked him for giving her a heads-up. "I just had a responsibility to you as a friend," Kanye told her.
Later, Taylor was adamant that Kanye never got her permission to call her a "b---h" during that call. But because of the video "evidence" for the sex part, the overwhelming consensus was that Taylor was lying.
Even after sharing her side of the story, Taylor was on the receiving end of an overwhelming wave of hate — during which was was relentless called a liar and a snake. As Taylor revealed on her Netflix documentary Miss Americana, this prompted her to basically drop off the gird for a whole year.
Leaked video from Kanye West and Taylor Swift's call video shows she was telling the truth.
On March 20, another portion of the conversation between Kanye and Taylor during that infamous phone call leaked online. And during it, there was zero mention of Kanye calling her the b-word. It turns out, Taylor was telling the truth all along.
The leaked video shows Kanye telling Taylor the line will be, "To all my Southside n-----s that know me best. I feel like Taylor Swift might owe me sex." Taylor laughs before replying, "That's not mean!"
Kayne went on to explain, "If you felt it's funny and cool and hip-hop and felt like just the college drop-out and Ye that you love, then people will be way into it."
To that, Taylor added, "I mean, I need to think about it … Because it is absolutely crazy."
Basically, the whole phone call leaked, revealing Taylor Swift never consented to being called "that bitch."

She never lied or was a "snake."

She was recorded illegally and manipulated by Kanye West and everyone owes her an apology.pic.twitter.com/nTZXrJo7yS

— Ryan Schocket (@RyanSchocket) March 21, 2020
Source: Twitter
Another part of the video showed West asking Swift how she would feel if he included a line saying, "I made her famous." It was pretty clear that although Taylor wasn't crazy about the idea, she understood that Kanye was simply sharing his perspective.
"Did you say that? Oh God, well, what am I going to do about it at this point. It's just kind of, like, whatever at this point, but I mean, you gotta tell the story the way it happened to you and the way that you experienced it," she responded.
Taylor added, "You honestly didn't know who I was before that. It doesn't matter if I sold 7 million of that album before you did that, which is what happened. You didn't know who I was before that and that's fine. Yeah, I can't wait to hear it."
Nowhere in the latest clips does Kanye say anything about the "b---h" line — proving that Taylor wasn't lying and that Kanye is indeed the a-hole in this situation. One Twitter user summed it up perfectly, writing, "She was recorded illegally and manipulated by Kanye West and everyone owes her an apology." Amen.
#CancelKanyeWestParty started trending on Twitter.
For Swifties, justice has been served at long last — and they're not keeping quiet about it. They've taken to Twitter in droves, armed with a couple of hashtags: #TaylorToldTheTruth and #CancelKanyeWestParty. And it's glorious.
My, how the tables have turned. I can just imagine Taylor celebrating by clinking a glass of wine with her boyfriend, Joe Alwyn, while surrounded by her cats — and just soaking it all in.
it's funny because kanye stans always say that he made taylor famous but kanye will go down in history as the moron who interrupted taylor swift #KanyeWestIsOverParty

— tien (@bigreputatien) March 21, 2020
Source: Twitter
So far, neither Taylor nor Kanye have responded to the rest of the video leaking. But I have a feeling a huge weight has been lifted off Taylor's shoulders— and that Kanye and his team are planning to lie low in damage-control mode for a while.
Hopefully, fans on both sides can take in all of the available information, acknowledge that Taylor wasn't lying this whole time, admit what Kanye did was pretty shady — and finally move on from it all. Just, you know, not before using the hashtag #KanyeWestIsCanceled. Because #TaylorToldTheTruth.