Katy Perry's Minister Parents Are Under Scrutiny for Their "Lavish" Retreats
Katy Perry's parents, Keith and Mary Hudson, work as traveling ministers for a charity whose 2019 expenses are now under scrutiny.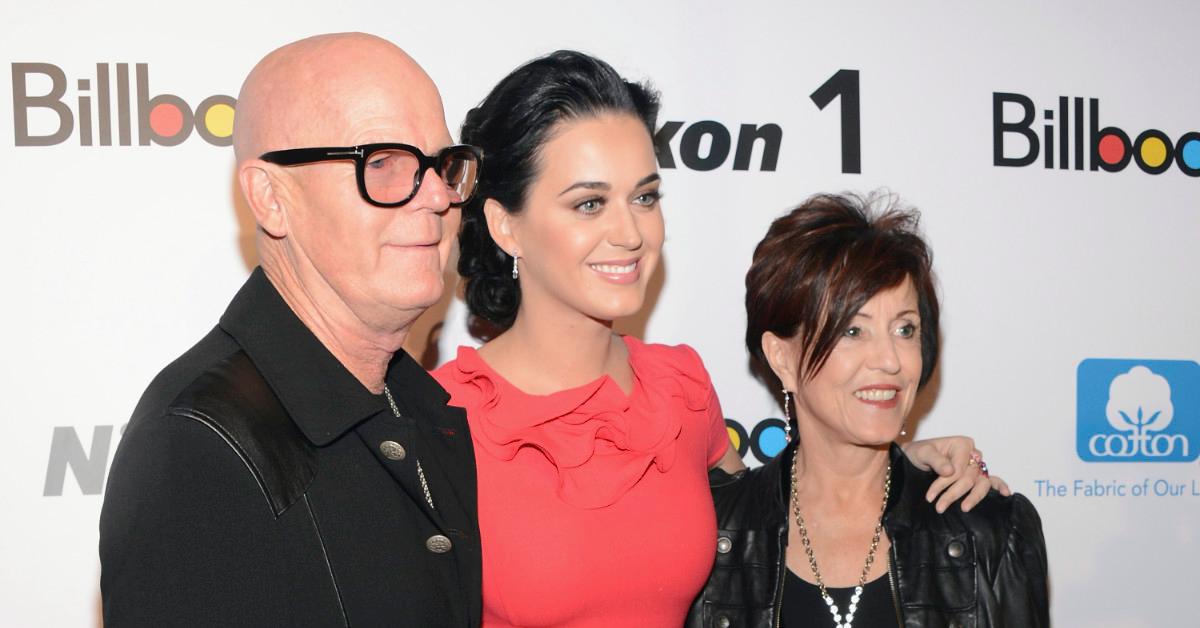 Pop star Katy Perry's parents are in the news these days after a report raised questions about their "lavish" retreats — but the cultural clash between their devout religious views and their daughter's pop career has made headlines for years now.
Article continues below advertisement
Mary and Keith Hudson, the American Idol judge's mom and dad, are Pentecostal ministers who started a church in Santa Barbara, Calif., in 1980 before becoming "traveling ministers" in 1987, according to their website. Here's more info on the couple and their career so far.
Katy Perry's parents say they got a message from the Lord on their honeymoon.
The website also explains the origin story of their current career: "Keith and Mary have always had a strong prophetic ministry. The Lord spoke to them during a marriage conference on their honeymoon in 1979 that they would flow together in the gifts for the rest of their lives. The Hudsons travel throughout the U.S.A. and the world encouraging people through preaching and the prophetic to reach for a deeper relationship with the Lord."
Article continues below advertisement
Katy has spoken out about her parents' religion.
In various remarks over the years, Katy has discussed her religious upbringing — saying, for example, that she was taught to "pray the gay away at Jesus camp" and that her parents banned her from saying the term "deviled eggs," according to the Daily Mail.
Article continues below advertisement
"My mom has prayed for me my entire life, hoping I'd come back to God," the singer told Vogue in 2018. "I never left Him, I was just a little bit secular, I was more materialistic and more career-driven. But now that I'm in my 30s, it's more about spirituality and heart wholeness."
Article continues below advertisement
In fact, Katy started her career singing religious music, as heard on "Katy Hudson," her 2001 debut studio album.
"When I started out in my gospel music, my perspective then was a bit enclosed and very strict, and everything I had in my life at that time was very church-related," she told The Scotsman in 2009.
She continued, "I didn't know there was another world that existed beyond that. So when I left home and saw all of that, it was like, 'Oh my gosh, I fell down the rabbit hole and there's this whole Alice in Wonderland right there!'"
Article continues below advertisement
Mary gets flak about her daughter's pop career.
In a 2018 God TV interview, Mary said she gets "a lot of negative vibes" over Katy's music. "People ask us, 'How could you have a daughter like that?'" she added.
God TV also reported that Mary was "devastated" by Katy's 2009 song "I Kissed a Girl." Reflecting on that time, Mary said, "I felt like I was flattened to the wall."
Article continues below advertisement
Keith and Mary's ministry reportedly spent almost all of its earnings in 2019.
According to The Mercury News, Keith and Mary Hudson are facing questions about their ministry — specifically about why 96 percent of their revenue goes toward expenses like retreats at luxury resorts in places like Hawaii, Malaysia, and France.
IRS documents obtained by Daily Mail show that Keith Hudson Ministries spent $178,046 of the $185,679 it raised in 2019 on expenses — including $19,448 for "tithes and offerings," $6,900 for "occupancy," $8,799 for "travel," $5,516 for "auto expenses," $7,620 on "meals." After all the expenses, the charity had just $7,633 left over.
The outlet also reported that Mary hosted a conference in 2020 at Hawaii's Kaua'i Marriott Resort — where rooms go for $309 per night plus taxes — and that they raised eyebrows that year by selling $20 face masks to help fund their travels.