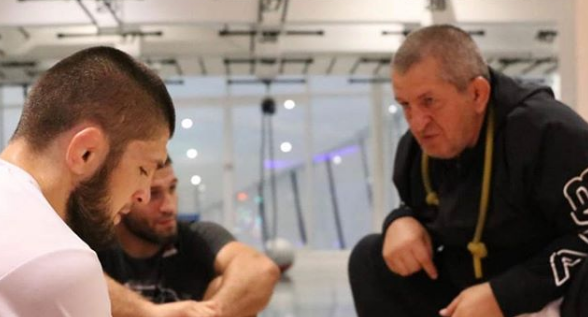 The Father and Coach of UFC's Greatest Champion Dies of COVID-19 Related Illness
The UFC's greatest champion of all time, Khabib Nurmagomdeov is now in the biggest fight of his career: struggling with the death of his father.
Abdulmanap has passed away following COVID-19 related complications. The Dagestani martial artist coach was an influential figure in not just Russia, but all over the MMA world and he helped shape a stable of fighters into combat sports powerhouses.
Article continues below advertisement
The news of Abdulmanap Nurmagomedov's death comes after weeks of health updates.
He was hospitalized in Moscow back in May, which was an immediate cause of concern for those close to the man. Abdulmanap suffered from a pre-existing heart condition that was most likely exacerbated by the fact he contracted COVID-19.
The news of his death was confirmed by Khabib's manager, Ali Abdelaziz, who tweeted about the news in Arabic, offering his condolences in the form of an Islamic prayer that is offered whenever someone passes.
Article continues below advertisement
In June, Ali told ESPN that Abdulmanap's condition appeared as if it was improving. "He opened his eyes, responding a little bit -- good sign. Allah is in control. We have faith he will be better, but at the end of the day, it's completely up to his health whether it progresses or not. But he's progressing, and we're very happy about this."
The martial arts world has been unanimous in offering up its condolences and best wishes to Abdulmanap's surviving family and friends, including John Kavanagh, who coached Khabib's infamous rival, Conor McGregor: "Very sorry to hear of the passing of Abdulmanap Nurmagomedov. A genius of combat sports and absolute inspiration to so many up and coming fighters. Sadly only entering his prime of coaching, such a loss and tragedy. RIP and best wishes to his family during this difficult time
Article continues below advertisement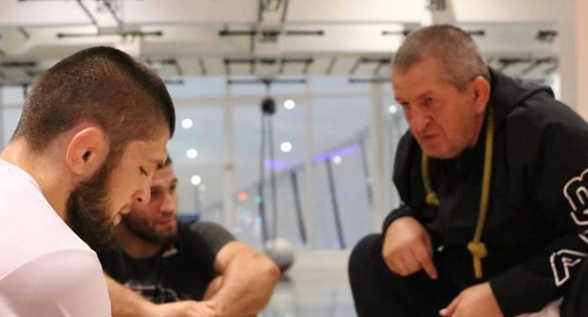 Calling Abdulmanap a "genius" of combat sports could very well be an understatement. There are several Dagestani fighters under his tutelage who are finding success in mixed martial arts promotions all over the world, chief among them the UFC. Not only is his son, Khabib, undefeated with a 28-0 record, he has looked almost otherworldly in his performances and has garnered nothing but respect and admiration from MMA fans all over the world.
Article continues below advertisement
Other "dominant" UFC champions have almost always been in danger or faced an opponent that has given them some amount of trouble, but Khabib has seemingly never even been in that position once in his career. Arguably he didn't have his best performance against Gleison Tibau early on in his tenure with the UFC, but that's still a fight he controlled handily.
Georges St. Pierre has not only been defeated but was "gifted" a decision victory against Johny Hendricks.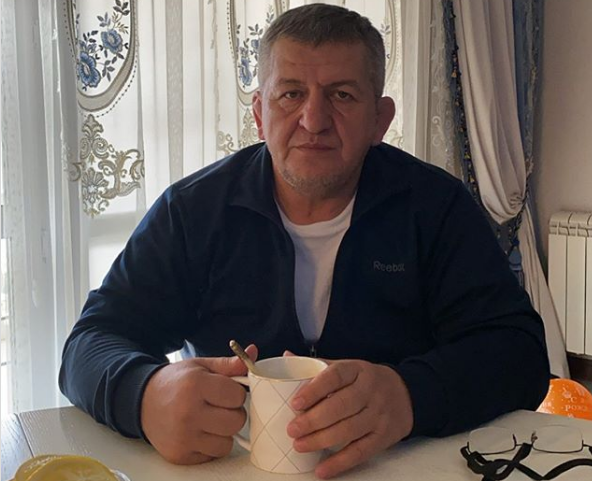 Article continues below advertisement
Anderson Silva was dropped by a wrestler, Chael Sonnen and had holes in his game exposed. Jose Aldo, Max Holloway, even Jon Jones have all encountered opponents who made them look human and gave them trouble. However, Khabib manages to thrive in the UFC's most stacked and talent-rich division for 15+ years, lightweight, and still manages to make every contest look like a completely one-sided affair. He was last seen beating Dustin Poirier in September 2019.
Abdulmanap's elite MMA training comes from his world class fighting experience. He earned over 20 world championships in combat Sambo, a form of mixed martial arts itself. Sambo practitioners found success early on in MMA, like Fedor Emelianenko. The sport combats Muay Thai and Judo, with ground fighting elements incorporated too.
Article continues below advertisement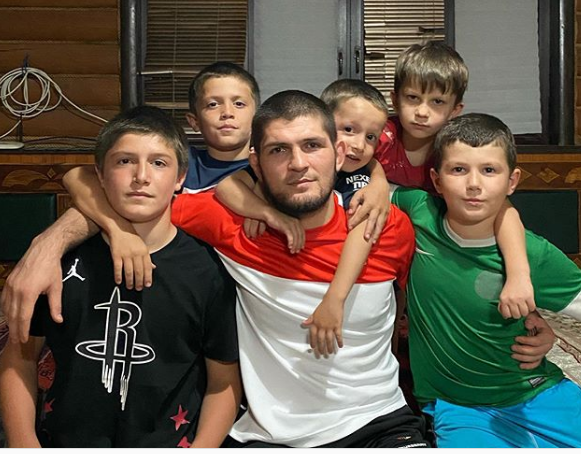 In addition to Khabib, Adbulmanap trained his nephews Abubakr and Omar Nurmagomedov, and other Dagestani standouts like Islam Mamedov, Islam Makhachev, and Zubaira Tukhugov, among many others in his Eagles MMA fight camp.
This puts the UFC lightweight title in an interesting position.
This September it will be a year since Khabib's last fight, who has been criticized in the past for not being as active as other pugilists on the roster.
Justin Gaethje was next in line for a shot at the title ever since winning the "interim" belt against Tony Ferguson in a mostly one-sided affair that saw "El Cucuy" brutalized. Gaethje was dropped near the end of the second round with a monstrous uppercut but managed to walk back to his stool after the bell sounded. He regained his composure and landed pretty much at will against Tony.