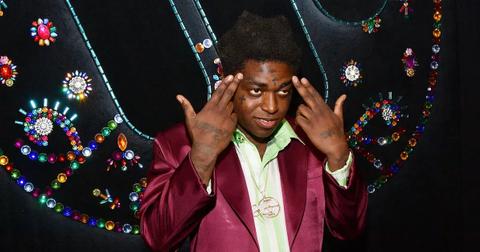 Kodak Black's Trouble With the Law Goes Beyond His Federal Prison Sentence
By Chrissy Bobic

Updated
After pleading guilty to illegal firearms possession in early 2020, Kodak Black began serving out a 46-month sentence in federal prison. He had been found guilty of both lying on federal paperwork and bringing an unregistered gun over the United States border from Canada and both cases are said to run concurrently with one another, meaning his federal prison sentence is likely to be for both charges.
Article continues below advertisement
But because Kodak is also a rapper with a far reach in terms of his fan base and music, his fans have been trying to figure out when he will be released. In some cases, you almost expect celebrities to be given lighter jail time sentences, especially if history tells you anything about claims of overcrowded cells. But in Kodak's case, there were no excuses to let him off lightly and he is still serving out his full sentence in federal prison.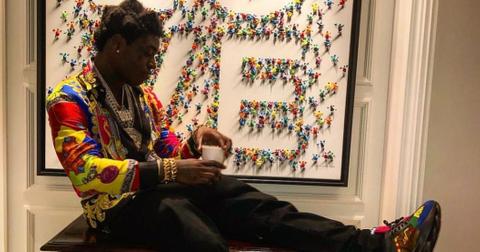 Article continues below advertisement
What is Kodak Black's release date?
Kodak's release date is set for Aug. 14, 2022. Apparently, his release could come a few days earlier than that since the date lands on a weekend, but right now, Kodak is scheduled to be released from prison in the summer of 2022. When Kodak pleaded guilty to second-degree criminal possession of a weapon in March 2020, he faced two to seven years in prison.
Before that, he had been sentenced to 46 months in federal prison for lying on federal documents to purchase four firearms in Miami, Fla. It looks like those 46 months will include the charges stemming from the Canada / U.S. border gun case. So even though Kodak faced more than three years in prison, it could have been even worse.
Article continues below advertisement
Kodak Black is now suing the Federal Bureau of Prisons.
Just because he's locked up, though, it doesn't mean you've heard the last of Kodak. Even if he can't continue making music from behind bars (at least for now), he is still making waves with his voice. After being transferred to a high-security federal prison in Kentucky, Kodak and his team launched a lawsuit against the Federal Bureau of Prisons, alleging mistreatment to the degree of torture.
Article continues below advertisement
According to documents obtained by TMZ, Kodak said that he has endured beatings, prison guard-sanctioned gang violence, and torture. Such torture, according to the documents, includes being physically reprimanded for no actual lawful reason while in the prison, as well as being forced to wear a paper gown and be put into four-point restraints for hours at a time. In light of Kodak's allegations, he wants to be moved to a lower-security level prison.
When Kodak black said "they don't wanna see you winnin they wanna see u in a penitentiary" I felt that 💔

— SKUBA BABY🏄🏻‍♀️ (@shininonyou1) September 11, 2020
The rapper has served jail time before.
Although Kodak's federal prison sentence is arguably the most extreme he has ever faced, he has dealt with the legal system before. Over the years, he has been arrested for marijuana possession, robbery, and possession of a weapon by a convicted felon.
He's also still facing charges relating to a 2016 sexual assault case. While fans expect Kodak to be released on time for his August 2022 release, it's still unclear what the result of this pending case will be.