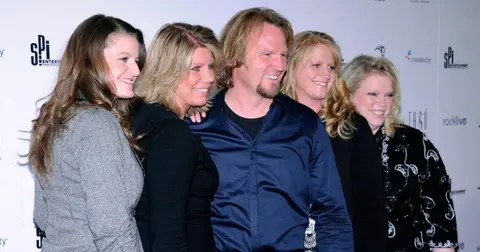 Does Kody Brown Have a Fifth Wife? Rumors Have Been Swirling About the 'Sister Wives' Star
By Michelle Stein

Updated
Thanks to the TLC series Sister Wives, Kody Brown has become something of a household name. The series follows Kody's polygamous family — which currently consists of himself, his four wives, and 18 children between them all.
Article continues below advertisement
When the series started airing in 2010, Kody only had three wives: Meri, Janelle, and Christine. Viewers soon watched the family dynamic change as Robyn came into the picture, along with three children from her previous marriage. Ultimately, Kody and his first wife, Meri, legally divorced in 2015 so that he and Robyn could legally marry. This then allowed Kody to adopt Robyn's children. (Don't worry; Kody remains "spiritually" married to his other three wives.)
It's been about 10 years now since Kody, Meri, Janelle, and Christine have welcomed Robyn as a sister wife into their polygamous lifestyle. And fans have often wondered: Does Kody ever plan on taking a fifth wife? Or has he already?
Article continues below advertisement