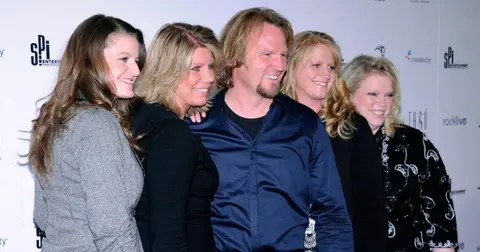 Does Kody Brown Have a Fifth Wife? Rumors Have Been Swirling About the 'Sister Wives' Star
By Michelle Stein
Thanks to the TLC series Sister Wives, Kody Brown has become something of a household name. The series follows Kody's polygamous family — which currently consists of himself, his four wives, and 18 children between them all.
When the series started airing in 2010, Kody only had three wives: Meri, Janelle, and Christine. Viewers soon watched the family dynamic change as Robyn came into the picture, along with three children from her previous marriage. Ultimately, Kody and his first wife, Meri, legally divorced in 2015 so that he and Robyn could legally marry. This then allowed Kody to adopt Robyn's children. (Don't worry; Kody remains "spiritually" married to his other three wives.)
It's been about 10 years now since Kody, Meri, Janelle, and Christine have welcomed Robyn as a sister wife into their polygamous lifestyle. And fans have often wondered: Does Kody ever plan on taking a fifth wife? Or has he already?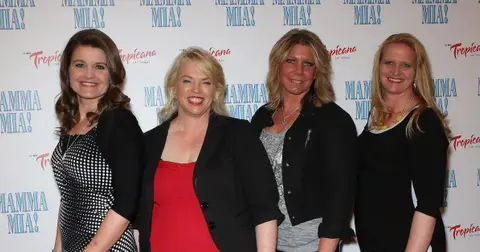 Kody has shut down the possibility of a fifth wife before.
Back in 2012, Meri pointed out that a woman named Natalie was "cute" to her husband — but Kody immediately shut it down. "Well, she's cute!" Meri insisted to Kody in the TLC clip.
"Well she is cute ... But what does that mean?" Kody replied.
As Kody and Meri were looking back at their conversation, Kody shared, "It just was like a flashback — 'Wait a second, that's what you said about Robyn.' This is not an option and you need to stop being open this way."
Kody's three other wives, meanwhile, agreed with their husband: no more wives. "Again?!" Christine exclaimed, in reaction to hearing about the conversation. "She has got to be reigned in. That woman is insane."
Turning to Robyn, Christine added, "I'm glad she got you and everything, but she needs to be done brining in those women."
Janelle chimed in with, "I think it's just that she sees somebody that she really wants to get to know, and in her mind it automatically jumps to sister wife."
Thankfully for them, Kody insisted that he has no intentions of bringing in a fifth sister wife. "This is not an open marriage. I am honestly not open to anybody else being in the family," he said.
Rumors of a fifth wife have come and gone since Kody married Robyn.
In March 2018, Life & Style magazine reported that Kody had started courting a younger, divorced mother of two. "She's beautiful and Kody liked her tomboy spirit," an insider told the publication. "She told him, 'Let me know if you ever want a young, hot wife.' He was over the moon."
The insider went on to say that Kody reportedly cut back on visiting his new love interest to avoid upsetting Robyn. Still, the Sister Wives star evidently went as far as proposing to this mystery woman, according to Life & Style magazine. "The woman told him she didn't like the way Robyn controlled him so much and said she could no longer see a future with him," the insider told the publication.
And then there's fifth sister wife rumor that won't die.
For years now, a photo of a woman reportedly named Leah has been circulating in connection to Kody Brown. The name Leah Marie Brown was even briefly added to a Wikipedia entry about the Sister Wives stars — although it has since been taken down. There doesn't seem to be much evidence supporting this particular rumor. Moving on ...
This is probably as close to a "fifth wife" Kody is going to get.
Although Meri, Janelle, Christine, and Robyn all love Kody's long her, it's a bit of a running joke that Kody's mane is his "fifth wife."
"You guys think that this is my fifth wife," he said in a TLC clip while grabbing his hair during a sit-down with his sister wives. "My sports car is my fifth wife."
And there you have it! It seems Kody has zero desire to bring in a fifth sister wife into his family. In fact, it looks like his sports car is as close as Kody's getting to another sister wife. Or, you know, his hair, However you want to look at it.