'Sister Wives' Star Kody Brown Has Three Beautiful Grandkids — and More on the Way
Season 17 of Sister Wives kicks off on Sept. 11, 2022, capturing the latest challenges Kody Brown and his partners, Meri, Janelle, Robyn, and his now-ex, Christine, have to face. The episodes capture the unique issues the polygamous family has to deal with in the process of bringing the various branches closer together.
Article continues below advertisement
Kody Brown has a total of 18 children with his three wives (and one ex-wife).
Raised by traditional Mormon parents, Kody was likely eager to lead his life in accord with the belief system from the get-go. In a 2012 interview with Today, he firmly denied the claim that he is a "womanizer," insisting that he was attracted to polygamy for intellectual and spiritual reasons.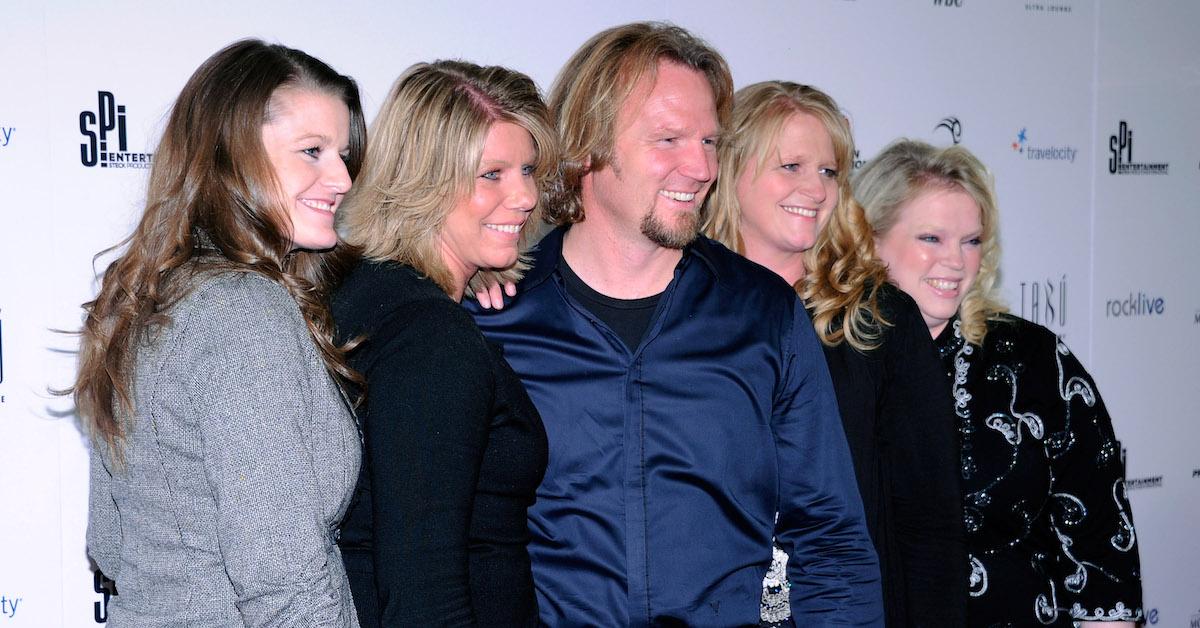 Article continues below advertisement
"My parents were struggling with the dichotomy within the Mormon faith over plural marriage," Kody told Las Vegas Sun in 2012. "When I got married at age 22, this was a choice we came by out of true conviction and seeking knowledge from the All-Mighty."
Thanks, in part, to his insistence on building a large family with several wives, Kody is looking to become the proud grandfather of many kids.
Kody married his first wife, Meri, in 1990. He and Janelle spiritually married in 1993, while Kody and his now ex-partner, Christine, held their spiritual union in 1994. In total, they have 18 children.
Article continues below advertisement
Kody and Meri Brown don't yet share any grandchildren.
Kody and Meri share one adult child, Leon Brown, who announced their engagement to Audrey Kriss in 2019. Currently, Leon and Audrey do not have any children.
Article continues below advertisement
'Sister Wives' stars Kody and Janelle Brown have two grandchildren (and one on the way) so far.
Kody and Janelle share six kids: Logan, Madison, Hunter, Garrison, Gabriel, and Savanah.
Logan started dating Michelle Petty in 2015, and they got engaged in September 2017. Their wedding is planned for Oct. 22, 2022.
Kody and Janelle's second-oldest, Maddie, tied the knot with longtime partner Caleb Brush in 2016. A family-oriented couple, they wasted no time starting a family. Maddie and Caleb welcomed son Axel, in May 2017 and daughter Evangalynn in August 2019. Currently, they're expecting baby No. three in February 2022.
Article continues below advertisement
For a while, Garrison was said to be dating a young woman named Kylie Marshall. A talented businessman, Garrison (whose first name is actually Robert) is the owner of Bob's Floral, a fashion brand specializing in Hawaiian shirts with a modern feel. It's unclear if the shop is still in business. A keen traveler, he rarely ever shares details about his love life on Instagram.
Kody and Christine Brown have one grandchild and two on the way.
Kody shares six kids with his ex, Christine: Aspyn, Mykelti, Paedon, Gwendlyn, Ysabel, and Truely.
Aspyn and Mitch Thompson tied the knot on June 17, 2018. Childhood friends, they reconnected later on in their early adulthood, and they have been inseparable ever since.
Article continues below advertisement
In April 2021, Mykelti and her husband of almost five years, Antonio Padron, welcomed their daughter Avalon Asa in April 2021. Mykelti and Tony revealed in June that they're expecting twins in December 2022.
Article continues below advertisement
Kody and Robyn don't have any grandkids yet.
Kody is also the adoptive father of Dayton, Aurora, and Breanna, Robyn's kids from a previous marriage. Additionally, Kody and Robyn share Solomon and Ariella.
So what's the running total of 'Sister Wives' grandchildren?
Sister Wives star Kody Brown currently has three grandchildren. However, there are currently three on the way — and likely even more in future!
Season 17 of Sister Wives premieres on Sept. 11, 2022, on TLC.