Kristen Kish and Bianca Dusic Are the Foodie Power Couple of Our Dreams
'Top Chef' winner and host Kristen Kish married wife Bianca Dusic in April 2021. Details on the adorable couple and Kristen Kish's booming career.
Article continues below advertisement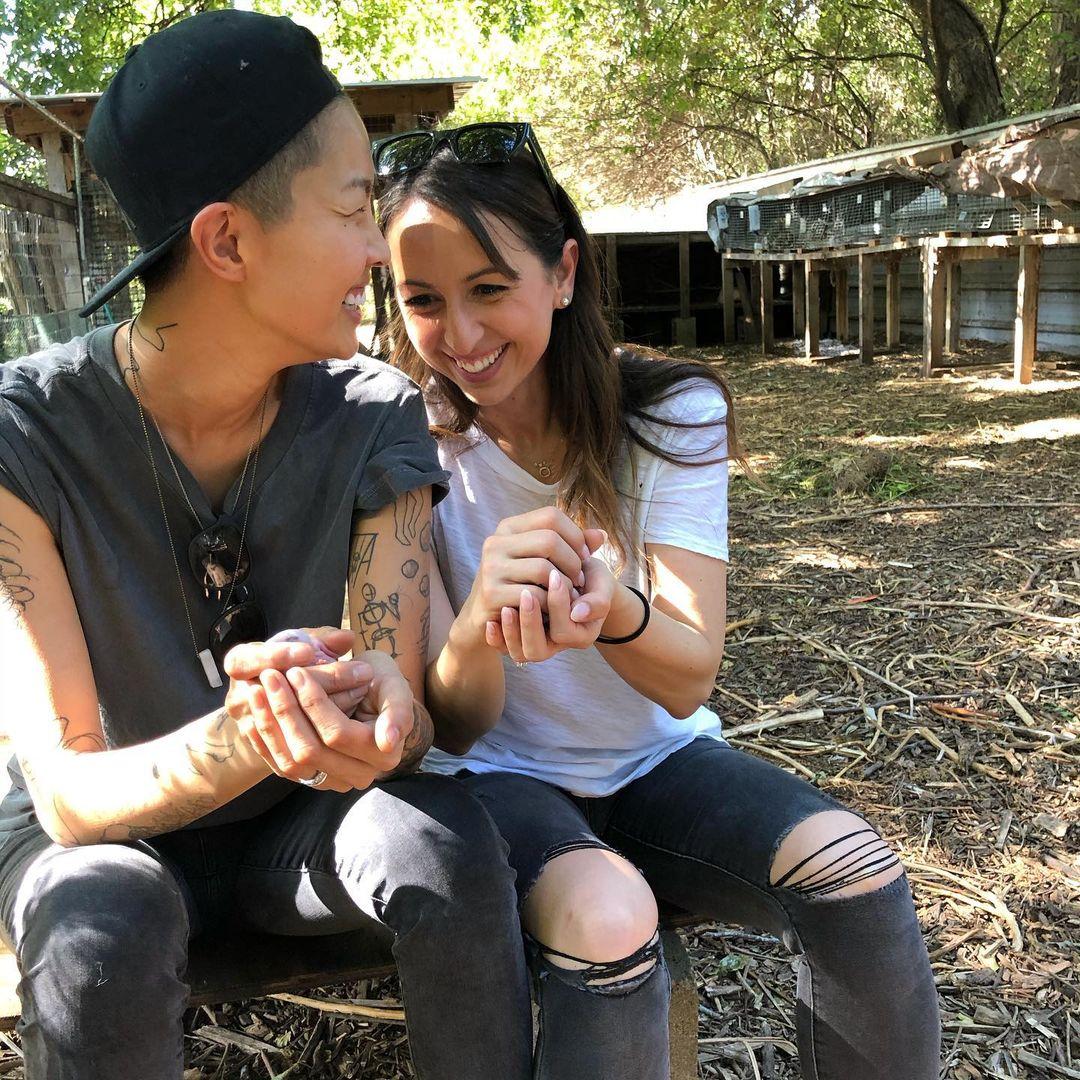 Article continues below advertisement
Is Kristen Kish married? Meet Bianca Dusic.
Chef Kirsten Kish got engaged to Bianca Dusic, who also works in the hospitality industry as the VP of Food and Beverage for The Standard Hotels, back in 2019.
In late September, Kristen posted an adorable Instagram of the beautiful couple and their new diamond rings. "She said YES to a lifetime of Sunday morning coffee dates and bed head," the Top Chef Season 10 champion wrote.
The pair got hitched on April 18, 2021, in an intimate backyard celebration. "Threw on some nice clothes, headed to our backyard with our own written vows in hand, had our family with us (virtually), got all sappy, and WE DID THE DAMN THING," Kristen wrote in an adorable Facebook post announcing their wedding.
Article continues below advertisement
Though the ongoing pandemic forced them to host a Zoom wedding, Kristen and Bianca didn't mind the coziness of the event.
"Ultimately, we had our family [and were] doing what was the most important to us in our home. Small and intimate is our style; this was just even smaller, yet more perfect than we could have ever imagined," Kristen told Today Food.
Article continues below advertisement
Bianca, who hails from Australia, seems to share her wife's love of food, and the two have appeared together on a number of spreads, including a pandemic-themed story about their favorite comfort foods on InStyle.
While Bianca's social media accounts are private, Kristen doesn't shy away from the opportunity to gush about her love on Instagram. "To have met you was circumstance, to have gotten to know you was a privilege, and for you to have chosen me is an honor. Bianca, I am the most joyfully proud being your wife," Kristen wrote in a June 2022 Instagram post.
Article continues below advertisement
As showcased by Kristen's Instagram page, the two foodies' relationship has continued to blossom since becoming wives. "Simply said, life with you is just better," Kristen wrote in January 2023. We're not crying, you're crying.
Article continues below advertisement
Where else can you catch Kristen Kish?
In the event you don't live in Austin, where Kristen's restaurant, Arlo Grey, is located (at The Line Hotel), there are many other projects in which you can catch this insanely talented chef.
Premiering in 2021, TruTV's competition series Fast Foodies features Top Chef's Kristen Kish and Jeremy Ford, and Iron Chef winner Justin Sutherland. According to executive producer Michael Rucker, it's "a cooking show where the food is relatable and inspirational while also being hilarious and not full of itself."
Additionally, Kristen was a judge on both Dishmantles and Guy's Grocery Games in 2020 and has appeared three times in Food Network's The Best Thing I Ever Ate.
We are especially fans of 36 Hours, a TV show adapted from the famous New York Times column, which Kristen co-hosted, and Restaurants at the End of the World on Nat Geo.
Article continues below advertisement
In July 2023, 'Top Chef' announced Kristen Kish would be the show's new host.
A fitting choice, it was announced in July 2023 that Kristen would take over for Padma Lakshmi as the host of Top Chef. Kristen won Season 10 of the cooking competition show, so she knows the ins and outs of the Bravo staple.
"Top Chef is where I started my journey — first as a competing chef, then a guest judge, and now as host, I have the honor of helping to continue to build this brand," Kristen said in a statement. "I'm thrilled to sit alongside Gail and Tom as we get to know new incredible chefs and see what they cook up. It feels like coming home."