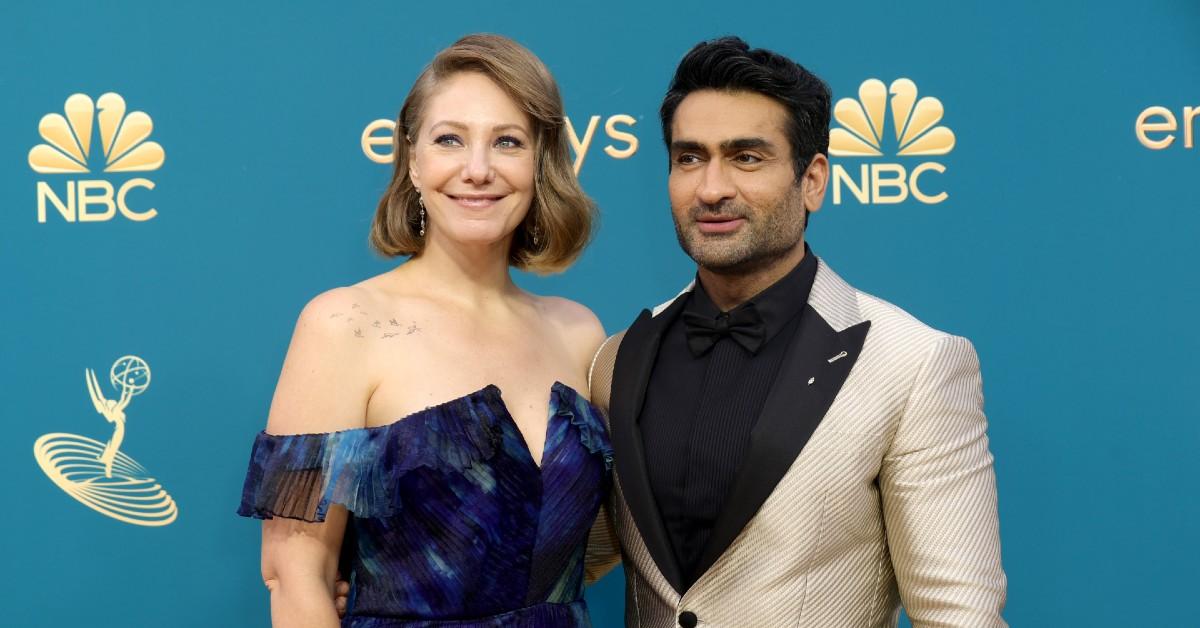 Kumail Nanjiani and Wife Emily V. Gordon Live Life to the Fullest While Immunocompromised (EXCLUSIVE)
Whether you know him as the awkward Uber driver in 2019's buddy action flick Stuber or as cosmic-powered, quasi-immortal Bollywood star Kingo in Marvel's 2021 film Eternals (which he got astonishingly ripped for), actor, producer, and Academy Award–nominated writer Kumail Nanjiani is one of Hollywood's most likable and talented men. We'll even dare to call him an "It" boy. And yes, his résumé is quite well-rounded genre-wise.
Article continues below advertisement
And usually behind every dashing Hollywood heartthrob (is our crush on Kumail that obvious?) is an equally fierce partner.
Boasting a breezy chemistry that lends itself to both creativity and romance, Kumail and his wife, writer-producer Emily V. Gordon (Little America), are the brilliant scribes behind director Michael Showalter's well-received 2017 romcom The Big Sick. For co-writing its screenplay, Emily is, too, an Oscar nominee.
The premise sees Pakistan-born stand-up comedian Kumail (Kumail Nanjiani) fall for snarky grad student Emily (Zoe Kazan), only to be shell-shocked when she winds up in a medically induced coma. Despite the diverse obstacles ahead of them, love ultimately wins. Incredibly, The Big Sick is a take on their real-life love story.
Flash-forward to 2022, and the duo is still sharing their inspiring story, this time with the deadly COVID-19 pandemic in mind.
Article continues below advertisement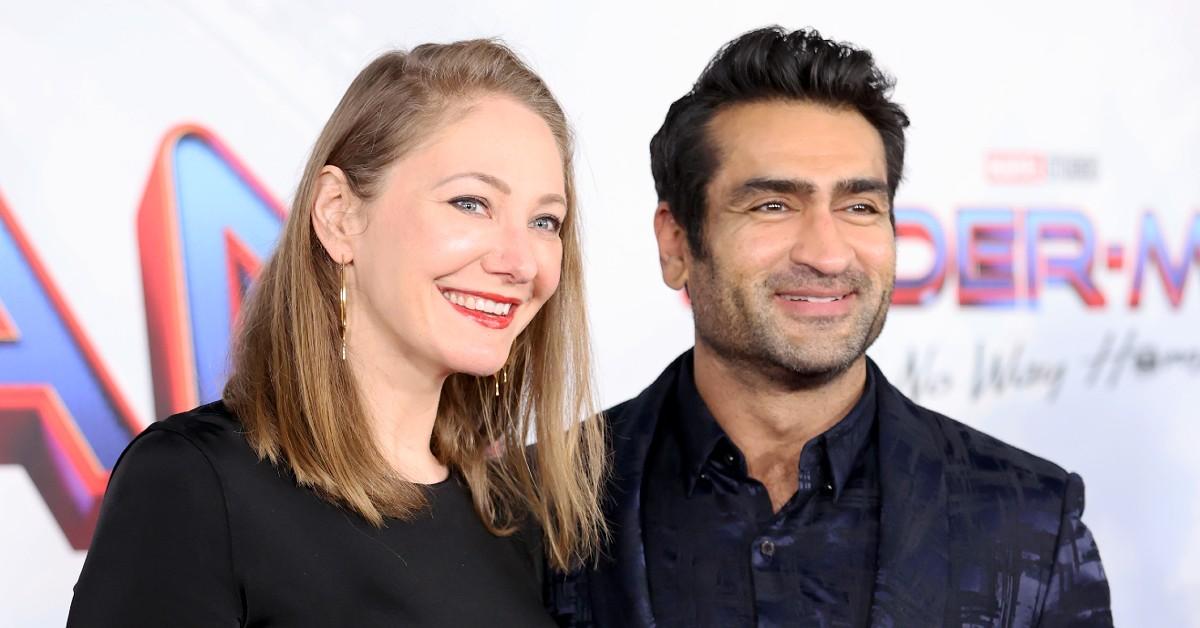 In an exclusive interview with Distractify, Emily V. Gordon — who in 2006 was diagnosed with adult-onset Still's disease (a rare kind of inflammatory arthritis) — and Kumail Nanjiani got candid about the realities of being a patient-and-caregiver team during a somewhat post-COVID world, feeling like an asterisk, and exploring their own boundaries during these unprecedented times.
Article continues below advertisement
Kumail Nanjiani and his wife Emily V. Gordon want to shed a light on the lives of the immunocompromised community.
Living with a primary immunodeficiency disorder like Emily's can make life and its universal joys — like parties, weddings, dinners, and community events — difficult in the year 2022, even if non-immunocompromised folk have fully returned to "normal" life. During pandemic times, these types of crowded gatherings often don't keep immunocompromised people in mind.
Together, Emily and Kumail participated in the Up the Antibodies campaign with AstraZeneca, which gives immunocompromised individuals access to information about steps they can take to protect themselves against COVID-19 — including a long-acting monoclonal antibody therapy. It's all about educating immunocompromised individuals and their loved ones. There are options.
Article continues below advertisement
"I've been very open about being immunocompromised. And I think we have always been the asterisk. Since this pandemic started it's always been 'oh, this is going to be great for everybody,' except for immunocompromised people," Emily told Distractify.
"We have felt a little adrift and a little left out and a little in the dark in a lot of ways. And what I really liked about this campaign was that it was seeking to turn on a light."
Article continues below advertisement
And though the couple aims to spread awareness and take on a Rosie the Riveter–like role for the immunocompromised community, Emily and Kumail don't want to tell people how they should live their lives.
"There are people who have the luxury of not needing to know about these specific risks that immunocompromised people face in this situation. And I think they're very, very lucky. That's fine. It's not our job to tell them how to live their life," Kumail detailed. "This campaign is for people who want to know about what they can do. To help immunocompromised people go back to normal in some kind of way."
Article continues below advertisement
Emily V. Gordon has learned to advocate for her own boundaries.
It's safe to say that the COVID-19 panny, as the kids are calling it, has made people reevaluate their boundaries and comfort zones, as simply seeing a friend for brunch has the potential to end in illness, or worse. When it comes to Emily's personal boundaries, she's done keeping quiet.
"I think women specifically, we're not always great about advocating for our boundaries, regardless of immunocompromised status," Emily shared. "And so I think what the pandemic has weirdly done is made me more vocal about my boundaries and less apologetic."
With both tender care and realism in mind, Emily further detailed that it's important for people to explore the world from inside their boundaries — whether those include seeing friends outdoors or getting tested before seeing loved ones — ensuring that they feel safe but are also "engaging in life and living a life."
"I am not interested in a life that's lived in fear or in hiding." Beautifully put.
Article continues below advertisement
Though Emily and Kumail did attend the 2022 Emmys — which hilariously featured Kumail bartending for a chaotic bit — COVID testing was required, making the event suitable in terms of their boundaries. It was a big step for them considering it wasn't long ago that Emily and Kumail were cooped up inside doing jigsaw puzzles and watching old musicals like Singin' in the Rain (which Emily believes is one of the best movies ever made).
The collaborative duo has also been choosing projects based on their COVID-19 boundaries, and Hulu's upcoming dark true-crime series Welcome to Chippendales — which sees Kumail as its star and both partners as executive producers — fit the bill. Kumail described the COVID precautions taken on set as "very, very, very strict," which we're grateful for, as this allows us to reunite with Emily and Kumail's joint creative vision.
Don't mind us, we'll be counting down the slow-as-molasses days until we see Kumail's face on the screen once again — this time as seedy Chippendales founder Somen Banerjee.