Is LeBron James' Relationship With Pat Riley the Key to a Lakers Championship?
NBA fans think that LeBron James' relationship with Pat Riley will provide for an interesting Finals between the Lakers and the Heat.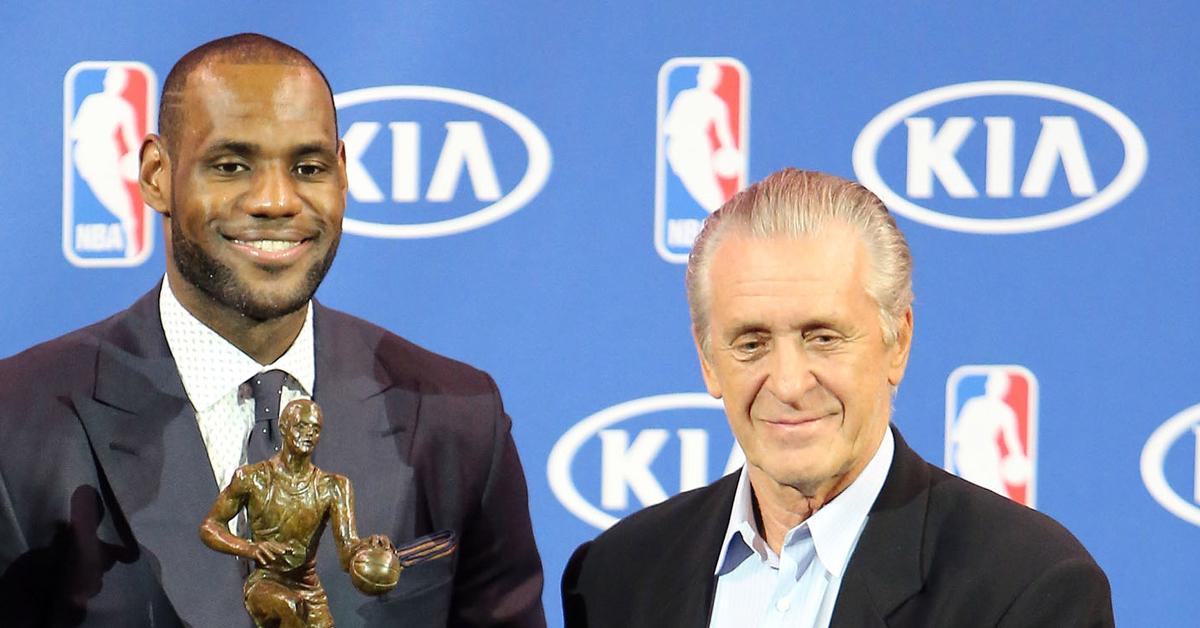 If you watched The Last Dance, then you'll know that sports dynasties are pretty short-lived and anything can happen during the course of a season that'll result in a top team not advancing as far as everyone thought they would. It came as a shock to many this year, for example, when the Heat managed to edge out the Bucks and the Clippers fell short to the Nuggets. It puts the team in an interesting position due to the relationship LeBron James has with Pat Riley.
Article continues below advertisement
What's the relationship between Pat Riley and LeBron James like?
Brash ESPN personality Stephen A. Smith said, "Both of those guys, of course, they want to beat each other. Why wouldn't they?" LeBron James' working relationship with Pat Riley began in 2011 when he announced he'd be leaving the Cleveland Cavaliers to go and join the ranks of the Miami Heat, creating a triumvirate of talent with the likes of Dwayne Wade and Chris Bosh.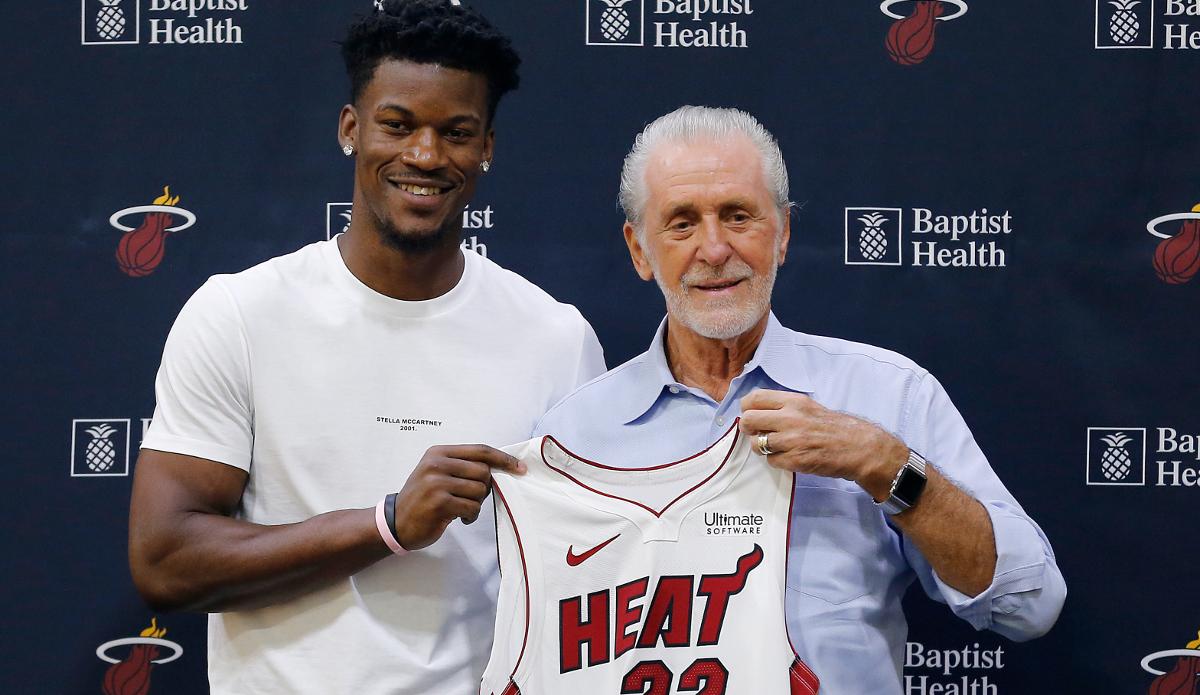 Article continues below advertisement
LeBron's career transition was heavily criticized at the time, with many NBA fans expressing their collective ire over his move and the anticipation he seemingly relished in announcing it, with many saying it was "disrespectful" to Cleveland Cavaliers fans.
The Florida-based basketball franchise managed to secure back-to-back championships in 2012 and 2013, but then fell short in 2014 to the San Antonio Spurs in just five games.
While Dwayne Wade and Chris Bosh doubled down after the loss and stuck by the Heat, LeBron was seemingly not interested in staying in Miami any longer and was looking to "find the first door and run out of it" as Pat Riley said back contract negotiations between LeBron and Miami were underway.
Pat, president of the Heat, supposedly didn't take too kindly to LeBron's "cut and run" ways after they were shellacked by the Spurs.
Article continues below advertisement
LeBron didn't stay with the Miami team after the loss and instead went back to Cleveland, where he helped lead the squad to an NBA championships victory after unprecedentedly coming back from a 3-1 series deficit, making it all the way to Game 7 and earning the title. It was Cleveland's first major sports title since 1964.
Article continues below advertisement
The next year wouldn't be so kind to the Cavs, however. They would lose in five games and just like LeBron's loss with the Heat to the Spurs, he'd start seeking out greener pastures. He joined the Lakers in 2018, and then, the following year, the LA-based organization brought on Anthony Davis.
The entire Lakers roster is a force to be reckoned with, but the duo of LeBron and AD has proven to be unstoppable once they get going on the court.
Undoubtedly, all of the extra practice time afforded to the team during COVID has helped them improve as a unit even more. The Lakers and Celtics each have 17 NBA championships apiece. Should LeBron help lead the team to victory in the 2020 finals, then they will become the most winning team in NBA history. Suck on that, Boston.
Article continues below advertisement
Matchmakers are laughing at the idea of Kelly Olynyk having to guard LeBron and Davis on the perimeter.
While both the Heat and Lakers offer up some tremendous offensive output, stalwart defense will more than likely be the deciding factor in this series, and while Bam Adebayo is probably the best pressure option for both LeBron and Anthony Davis, he won't be able to be on the floor for a full 48 minutes, meaning that there will be instances where Kelly Olynyk will have to step in, and folks don't think the Gonzaga alum's up to the task.
Article continues below advertisement
Pat Riley, although he was upset about hearing the news of Lebron's departure from the Heat, didn't publicly air out his distaste for the way LeBron handled his exit publicly, stating: "I was silent [when I got the call]. I didn't say anything. My mind began to just go. And it was over. I was very angry when LeBron left. It was personal for me. It just was. I had a very good friend who talked me off the ledge and kept me from going out there and saying something like Dan Gilbert. I'm glad I didn't do it."
Article continues below advertisement
For Pat, he was upset because he saw LeBron throw away the opportunity to allow the Heat to become a "Dynasty" team: "I didn't blame [James], but I knew that that was a 10-year team. It was just a sad day for me and for our franchise because I wanted that dynasty. I wanted this city and this team to go 10 years and maybe be in the Finals eight times. I don't know how many championships we would have won. I don't have any rancor towards him at all," he said to Dan LeBatard.
Article continues below advertisement
Pat didn't contact James after his exit from the Heat. Not until the Cavs' epic game seven against the Golden State Warriors, where he sent a simple message to LeBron that read: "Win this and be free."
James felt he had to leave the Heat in order to be accepted back in his hometown of Akron, Ohio — something Pat spoke to quite eloquently.
"While there may have been some carnage always left behind when he made these kinds of moves, in Cleveland and also in Miami, he did the right thing. I just finally came to accept the realization that he and his family said, 'You'll never, ever be accepted back in your hometown if you don't go back to try to win a title. Otherwise someday you'll go back there and have the scarlet letter on your back. You'll be the greatest player in the history of mankind, but back there, nobody's really going to accept you.'"
Article continues below advertisement
While the two men undoubtedly respect each other, one can't help there being a little bit of competitive animosity between the two. Can the Heat, a smaller but talented team, go up against the Lakers and triumph? Or will LeBron further the legacy of the Lakers dynasty?