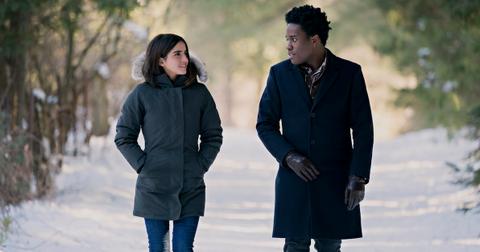 'Let It Snow' Is About to Be Your New Favorite Holiday Movie
By Lizzy Rosenberg

Updated
Correct me if I'm wrong, but it seems as though 2019 is the year for Netflix Christmas flicks — between the upcoming releases of Knight Before Christmas and A Christmas Prince: The Royal Baby, it's safe to say I'm going to be entertained all season long. 
But one holiday rom-com I'm especially excited for is Netflix's Let It Snow. It's based on a young adult novel, and TBH, it looks incredible.
Netflix's Let It Snow is comprised of three different stories. 
The film is based on a young adult novel called Let It Snow: Three Holiday Romances, which compiles three intertwined stories: "The Jubilee Express," "A Cheer-Tastic Christmas Miracle," and "The Patron Saint of Pigs," according to Good Reads. 
Each individual story is written by YA novelists John Green (Looking For Alaska), Maureen Johnson (Girl At Sea), and Lauren Myracle (TTYL). 
Each story follows a different high school senior as they navigate their small, snow-covered midwestern town on Christmas Eve. Bumping into fellow classmates along the way, each story ultimately connects to one another. 
The storyline looks totally romantic, the setting is visually stunning, and the trailer alone makes me want to curl up with a steamy mug of hot cocoa... so definitely watch it for yourself if you haven't already done so, below.
The casting is unbeatable.
Like I said, it's gonna be a good one, and you can bet your bottom dollar I'll be watching it this weekend.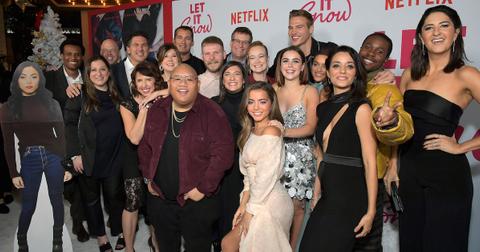 Like I said, Netflix is going all out for Christmas this holiday season.
In addition to Let It Snow, you can also expect to see a ton of new original titles on the streaming service, including: Holiday in the Wild, starring Rob Lowe, Klaus, an animated movie with Rashida Jones and J.K. Simmons, The Knight Before Christmas, Holiday Rush, and A Christmas Prince: The Royal Baby.
So grab your fuzziest blankets and prepare for the holiday movie marathon of a lifetime. I can't wait.
Whether you happened to be a diehard fan of Let It Snow: Three Holiday Romances, or if you're simply looking for a new Christmas flick this holiday season, I can already safely say that Let It Snow is going to be a good one. 
Get ready to watch Let It Snow on Netflix on Friday, Nov. 8, and keep a box of tissues nearby — with John Green involved, chances are you'll probably end up needing them.