Tana Mongeau Has Teased Her Intimate Relationship With Mac Miller After His Death
What was Mac Miller and Tana Mongeau's relationship? After the rapper died, Tana Mongeau shared their special relationship and how close they were.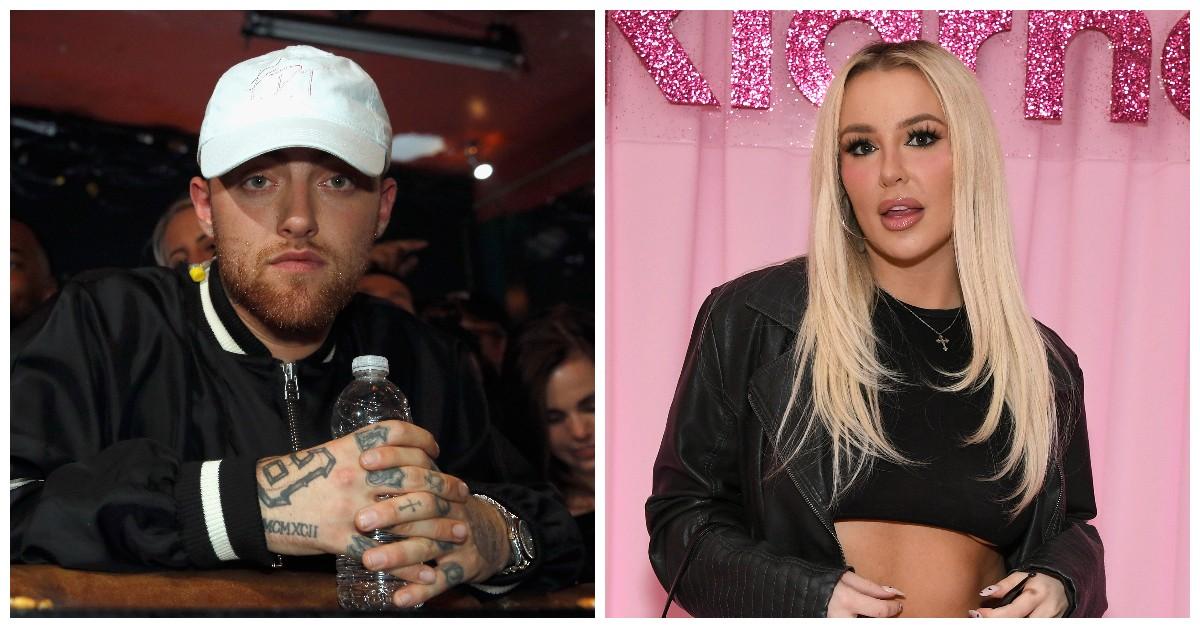 It doesn't take much these days for an influencer to dominate the news cycle, and there's almost no one more controversial than Tana Mongeau. The YouTuber described her summer 2023 vacation to Paris in an episode of her podcast, CANCELLED with Tana Mongeau, in which she made death threats to a French wine tour guide. Tana's reappearance in the news reminded us of when she paid tribute to rapper Mac Miller.
Article continues below advertisement
Mac Miller, who died in Sept. 2018, was famously married to Ariana Grande until May 2018. Just months later, he overdosed, and two different women paid him touching tributes, which hinted at previously unknown intimate relationships. One of those women was Tana—but what was her relationship with Mac Miller really like?
Article continues below advertisement
Tana Mongeau hinted that she had a *very close* relationship with rapper Mac Miller.
When a major celebrity passes away, there are sure to be people who come out of the woodwork claiming to be close to them. That's what many believe happened between Tana and Mac. After he died, she posted a touching tribute on Instagram that she later edited.
The original post said (via girlfriend), "Malcolm James I loved you … I got the privilege of loving you for years and then getting to know you and finding out you were even better than I dreamed. You made me feel something, you were sweet to me every second … You had this love for life and what you do that made me fall for you 10x harder.
Article continues below advertisement
"To feel like I was unraveling every part of your soul but have no idea the half of what you were going through. I wanted to come over last night … My soul is shattered … What I would do for you to tuck my hair behind my ear and kiss me one last time … I love you, Malcolm. I love you."
Without explicitly saying she and Mac were in a romantic relationship, this caption hints that they were more than friends.
Article continues below advertisement
Tana walked back her insinuation that she and Mac had a romantic relationship.
People quickly criticized Tana (and model Julia Kelly, who said something similar) for using Mac's death for clout and attention. The night before his death, she was hooking up with some guy on camera at the Pornhub Awards. Tana, however, later said that she never said she had a romantic relationship with him and just paid tribute to "humanize" him upon his tragic death. She even went on the No Jumper podcast to discuss the true nature of her relationship with Mac.
Article continues below advertisement
"It's so hard and I should have thought that through more in the moment than posting something so out of context, but I grew up obsessed with Mac Miller," she said. "I was a f--king die-hard fan." She explained that they started chatting after her TanaCon scandal when she was the most depressed she had ever been.
"It was clear to me that he wanted to get to know me," she explained. "It seemed like he was genuinely there and really really cared and it was the first thing to take me out of that depression … In that moment, all I wanted was to like, humanize him. And show him how I saw him." When fans accused her of pretending to have a romantic relationship with him and possibly an affair while he was still with Ariana, she set the record straight.
Article continues below advertisement
"There's no 'affair' or any of those crazy allegations," she tweeted. "Just someone I spent all of my time for a while lately consumed with talking to and loving. But I'm truly sorry if anything I said painted a different picture."
So there we have it! Mac Miller and Tana Mongeau never actually had a romantic relationship (her words, not ours!) but she did love him, even if just platonically.