Genius Woman Pretends She's Never Drunk Vodka to Get Free Shots
Innovative thinkers are all around us, and one viral trailblazer is using her charm to snag free vodka shots at bars ... by pretending she's never drunk the liquor before in her life.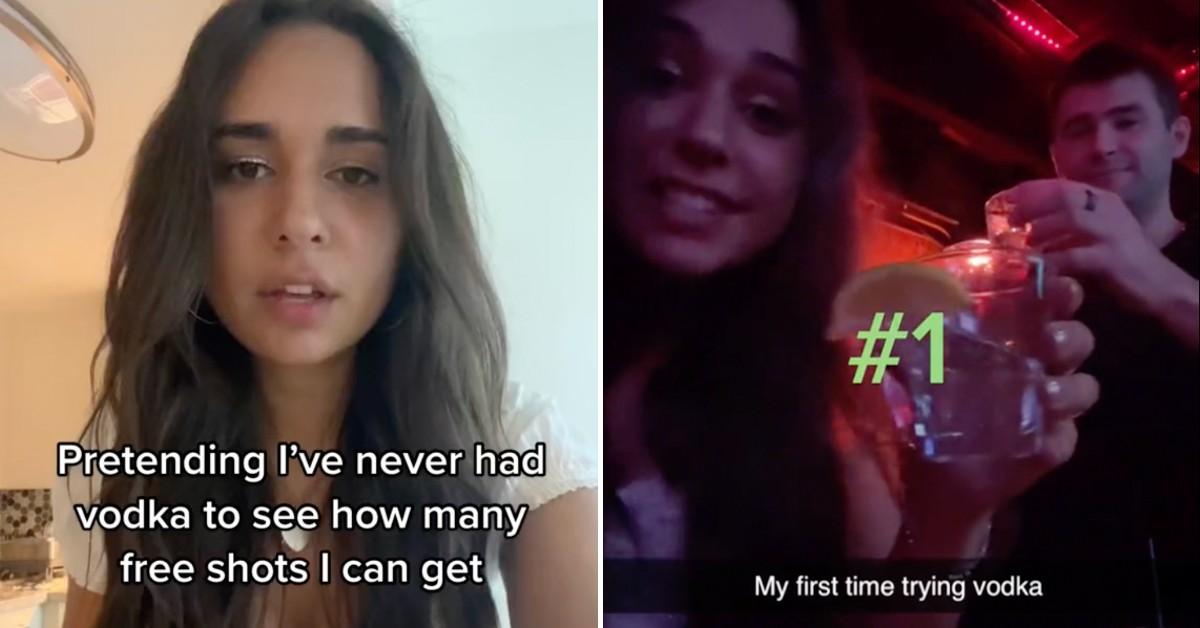 As much as we support women's rights, we certainly support women's wrongs. More specifically — take this with a grain of salt — we can't help but root for a scamming queen. Perhaps our brains are still stuck in White Lotus Season 2 era.
In all seriousness, one scheming party girl is blowing up TikTok for revealing the "fun and legal social experiment" that earned her a handful of free vodka shots.
Article continues below advertisement
Known as @sashiiiibaby on TikTok, a woman by the name of Sasha uploaded a video in May 2023 documenting her drink-for-free journey during a night of bar hopping.
"We're going out tonight and I'm going to tell people I've never had vodka before to see how many free shots I can get," she tells the camera before giving a thumbs up. A little white lie never hurt anyone, right?
This fib is not hurting Sasha's wallet, that's for sure. She's truly a budgeting goddess.
So, how many free shots do you think Sasha scored? Keep reading for the climax of this drunken tale. Bottoms up!
Article continues below advertisement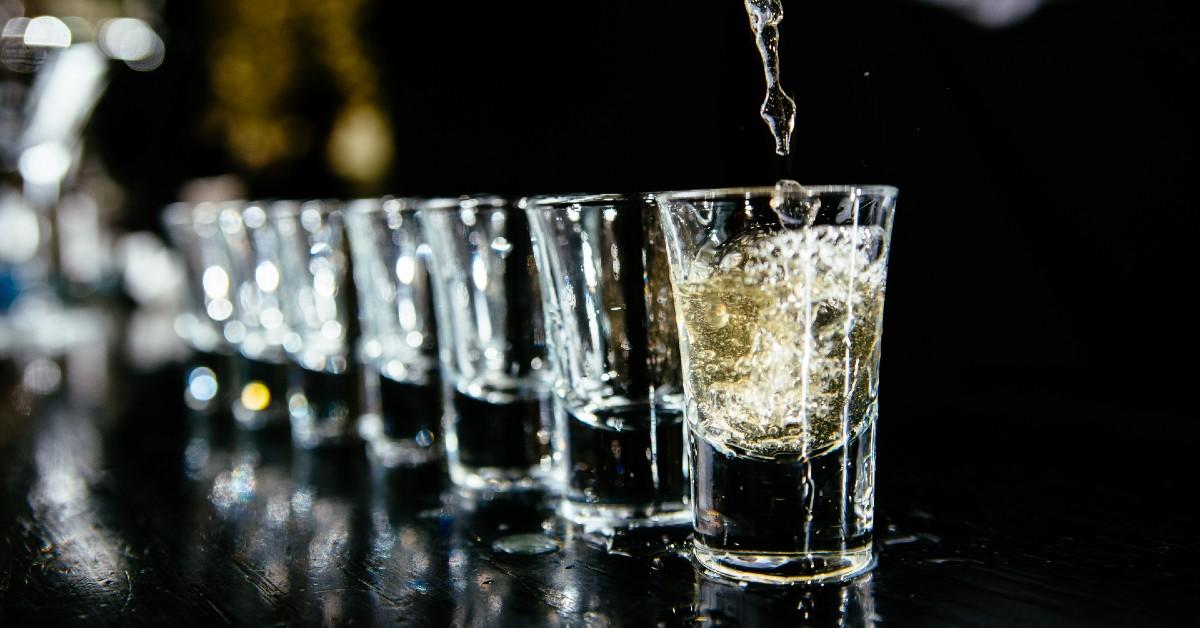 This TikToker's tactic for scoring free vodka shots has the internet in awe.
With over 1.2 million likes and 37,000 bookmarks, Sasha's video has enchanted TikTok.
"My first time trying vodka!" she exclaims, clinking shot glasses with two strangers. Hilariously, the "naive" social butterfly lets her acting skills shine, sucking on a lemon and shivering as she feels the (familiar) burn of liquor. And the Oscar goes to...
Article continues below advertisement
Sasha successfully pulls off this stunt three more times, scoring a total of four freebees (here's hoping it was the good stuff, maybe some Grey Goose).
Four vodka shots is enough to make a petite woman like Sasha feel, well, pretty darn good. Though we of course don't know Sasha's weight, Ark Behavioral Health states that "an average 170-pound woman becomes drunk after around four shots of vodka."
Article continues below advertisement
Before shot No. 4, the TikToker — who boasts over 342,000 followers — smiles into the camera and holds her glass up, toasting impressed viewers.
Ranging from "you are a genius," to "I'm trying this with tequila" (plus one random Tana Mongeau comparison), the TikTok comment section — which is packed with over 4,000 comments, mainly from women — is overwhelmingly supportive. Seemingly, a majority of people like to see a smart woman turn up the ditz persona (we mean that with peace and love) for the purpose of collecting free drinks.
However, one commenter, @welli_canada, made his negative feelings about Sasha's bar etiquette crystal clear.
Article continues below advertisement

"Very typical nowadays.... That's why I stay single," he wrote. Naturally, user @dairaabc, voiced her issue with the implications attached to his (cringe-inducing) comment.
"She's not saying she's single at any point, buying someone a shot doesn't = I like u," Daira wrote.
Article continues below advertisement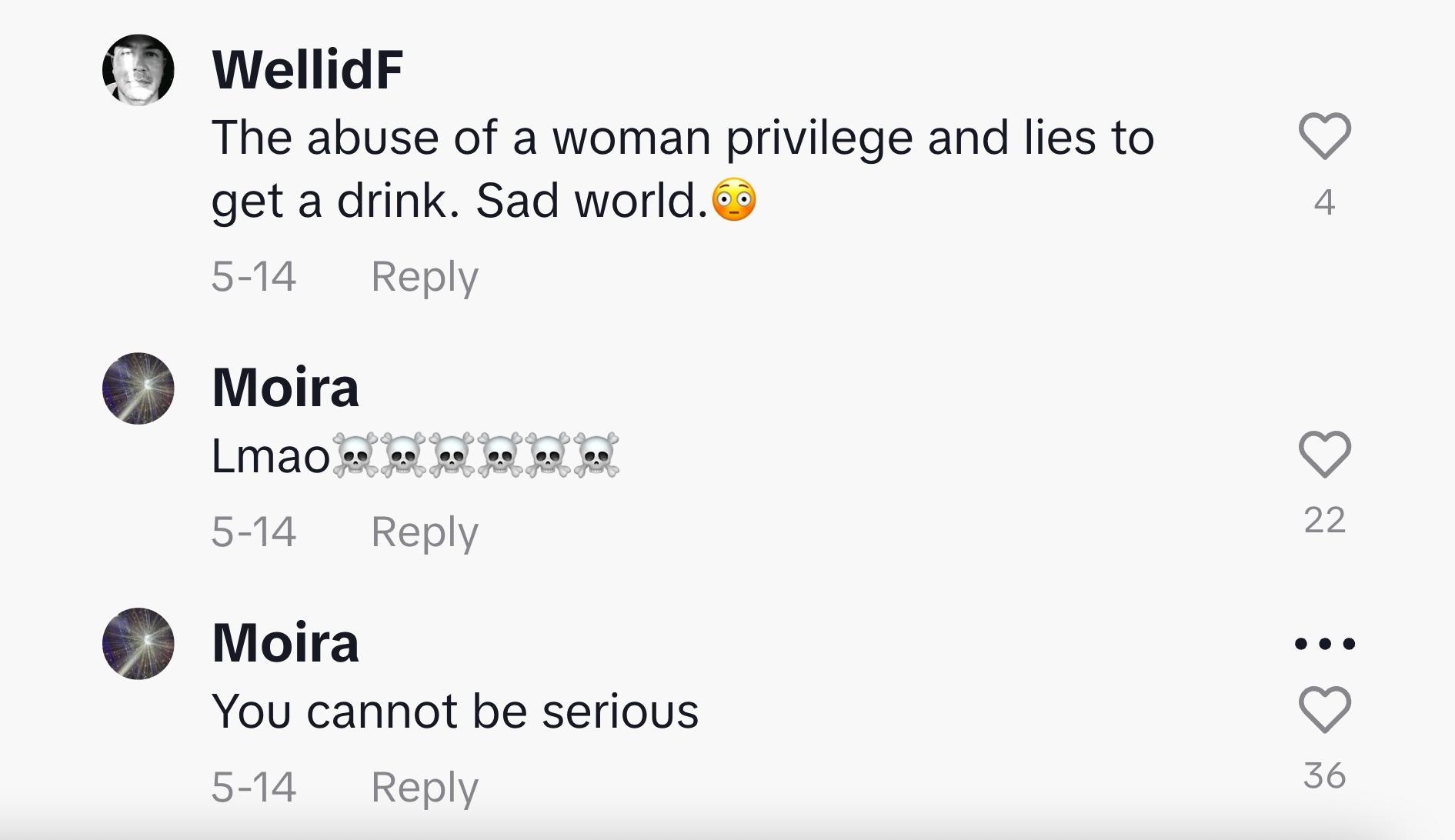 When asked by another user what his initial point was, WellidF hit the gas on his blatant misogyny. "The abuse of woman privilege and lies to get a drink. Sad world," he wrote.
Well, that's enough internet for the day. We're going to keep our mouths shut on this one. We're just happy Sasha had a buzzed and beautiful night. Cheers!