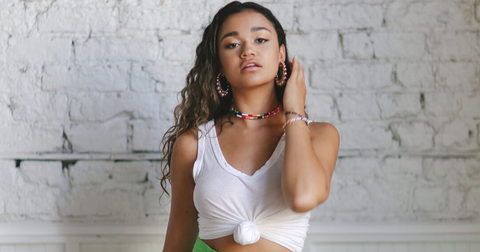 'Outer Banks' Star Madison Bailey Revealed Her New Partner on TikTok
By Devan McGuinness

Updated
There is love in the air and Outer Banks star Madison Bailey announced via a TikTok video posted on June 10 that she's in a relationship. People have been speculating on Madison Bailey's partner for a while and in a fun TikTok video, she confirmed that she's dating Mariah Linney.
Madison Bailey revealed that she has a new partner in her life.
Madison shared a video on TikTok, where she has 2.2 million people following her, and in the video Madison was set to share some big news with her fans. Madison was doing lip-syncing narration of the words "I'm not falling" over and over again, set to "Im not falling youre falling" by nobodys.owen.
Every time she said the phrase "I'm not falling" it appeared to have been taken from a different day, as her outfit and makeup looked different in every one. It made for an interesting video and at the end of it, a surprise for her fans.
She ended saying, "OK, I'm falling" and when that was lip-synced, Mariah popped into the screen and gave Madison a loving hug. She captioned the video with "Surprise" complete with a black heart emoji and tagged Mariah's TikTok page.
The video received 2.5 million likes and had over 33,000 comments full of fans telling Madison how happy they are for her.
Madison previously shared on TikTok on May 25 that she identifies as pansexual. In the video she explained the term and wrote, "just to clarify" in the caption of the video.
Who is Madison Bailey's partner?
Mariah also shared the news of her relationship with Madison on her TikTok profile, to her nearly 225,000 followers. Mariah captioned her own video with "thanks to tiktok" and included the love emoji with hearts on a smiley face.
Mariah tagged Madison and, in the video, she lip-synced to "I see it, I like it, I want it" lyrics from the song "7 Rings" by Ariana Grande. In the background photos of Madison popped up and the Ariana song cut out to someone yelling "I got it b*tches" while Madison popped into the screen and gave Mariah a big hug.
So, who is Mariah Linney? She is a 21-year-old basketball player who plays for the Charlotte 49ers women's basketball team.
How did Madison Bailey meet her girlfriend?
The fun part of this story has got to be the fact that these two met thanks to TikTok. Fans of Madison remember seeing Mariah when she did a duet on one of Madison's videos.
The original video, posted a while ago on May 20, Mariah captioned the video saying, "just me staring at Madison Bailey" and in the caption, she wrote, "don't mind me" with the love emoji with hearts on a smiley face. She tagged Madison and of course, she saw it.
In response to that, Madison turned the video into a duet and featured herself looking lovingly at Mariah looking at her.
And it seems the rest is history.