Matt Mauser Has Been Very Candid About How His Family Handles Grief Since His Wife's Death
Matt Mauser may have lost his wife Christina in an indescribably tragic way, but he doesn't want it to define him or his family. Who are his kids? Details.
In the year-plus since his name became a part of national headlines after the tragic death of his wife, Christina Mauser, Matt Mauser has been adamantly working toward building back better days for his family, and not allowing their existence to be defined by that moment. The Tijuana Dogs and Sinatra Big Band frontman has opened up about his emotions surrounding being a widower on countless occasions, but his one constant has been a message of hope and looking positively toward the future.
Article continues below advertisement
Matt has attested that the backbone of his existence is his relationship with his kids, and that has become ever more in focus in the time since Christina passed. So, who are Matt's kids and what are the known details of their relationship? Keep reading to find out.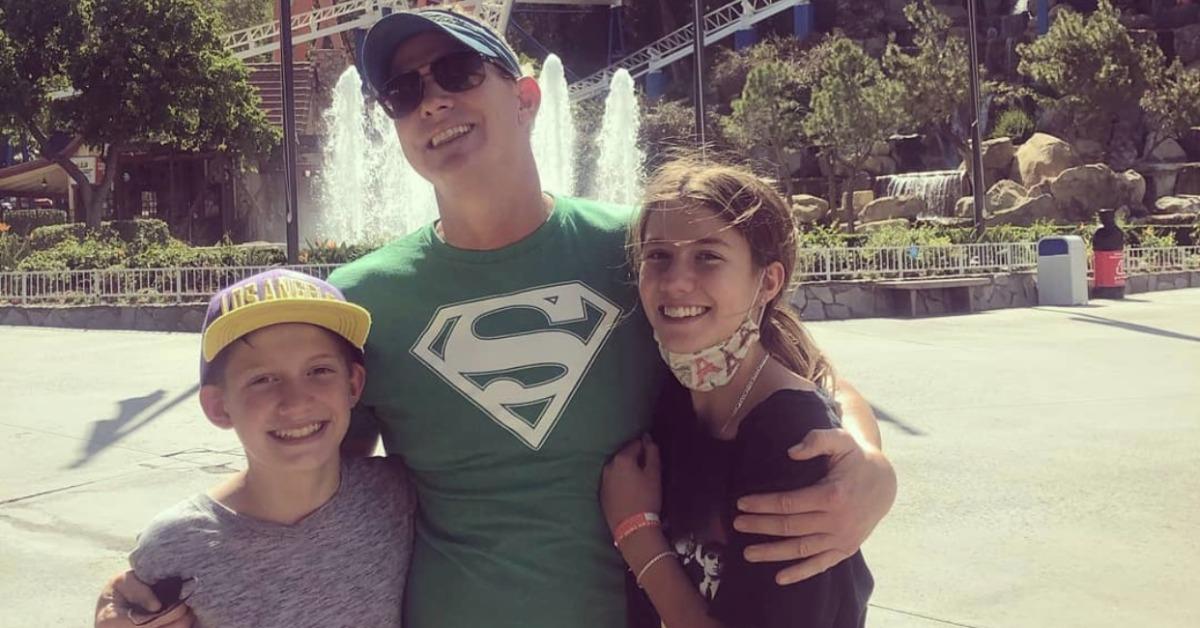 Article continues below advertisement
Matt Mauser makes it very clear how much he loves his kids.
Throughout his Instagram, Matt posts countless snapshots of his children, Penny, Thomas, and Ivy, and through them, it's clear that quality family bonding time is a highlight of their relationship. Whether it be about their individual accomplishments, family vacations, or even simple arts and crafts activities at home, Matt is sure to document all of the precious moments he enjoys with his kids.
Beyond that, they've seemingly found solace in bonding over outdoor activities, such as swimming.
Article continues below advertisement
Matt Mauser's wife died tragically in the same helicopter crash that killed Kobe Bryant.
The tragic Jan. 26, 2020, helicopter crash over Calabasas, Calif., took the lives of basketball legend Kobe Bryant, his daughter Gianna, and seven others, including Christina. Christina worked as a coach at Kobe's Mamba Sports Academy and was traveling with the Bryants to the same destination when an equipment failure led to their helicopter crash-landing. In the time since the accident, Matt has spoken publicly about the grief his family has endured from the loss, as well as the ways they've attempted to overcome it.
"For 15 years I was lucky enough to be married to Christina," Matt said in a press release on the accident's one-year anniversary. "She was loyal, determined, funny, and passionate. When she committed to doing something she put her heart and soul into completing the job. When Christina was your friend, you knew you had a friend for life — a friend who would be there for you during your darkest days and celebrate your happiest moments. Christina never gave up on you. She was truly a team player."
Article continues below advertisement
As for handling grief, he explained to People in the past how he works to deal with those powerful emotions. "I look at grief as like a drunk uncle; you love them, but it's like, you can only take them in so many doses. Yeah come over sometimes but I don't want you to stay too long. You've got to get out of here."
Article continues below advertisement
Matt recently auditioned for 'America's Got Talent' in honor of Christina.
The band frontman took his musical prowess to one of America's biggest stages recently when he auditioned for a role on America's Got Talent. Fans first caught a glimpse of him during The Voice's Season 20 finale when a preview for the upcoming season AGT teased his participation in it. Although music has been his passion for some time, he has decided to take his talents to the competition stage to share his story with the world and show his children that anything is possible.
Now, only time will tell how Matt's role on the show goes, and if he has what it takes to make it all the way through the rigorous competition.
Catch new episodes of America's Got Talent Tuesdays at 8 p.m. EST on NBC.