The Voice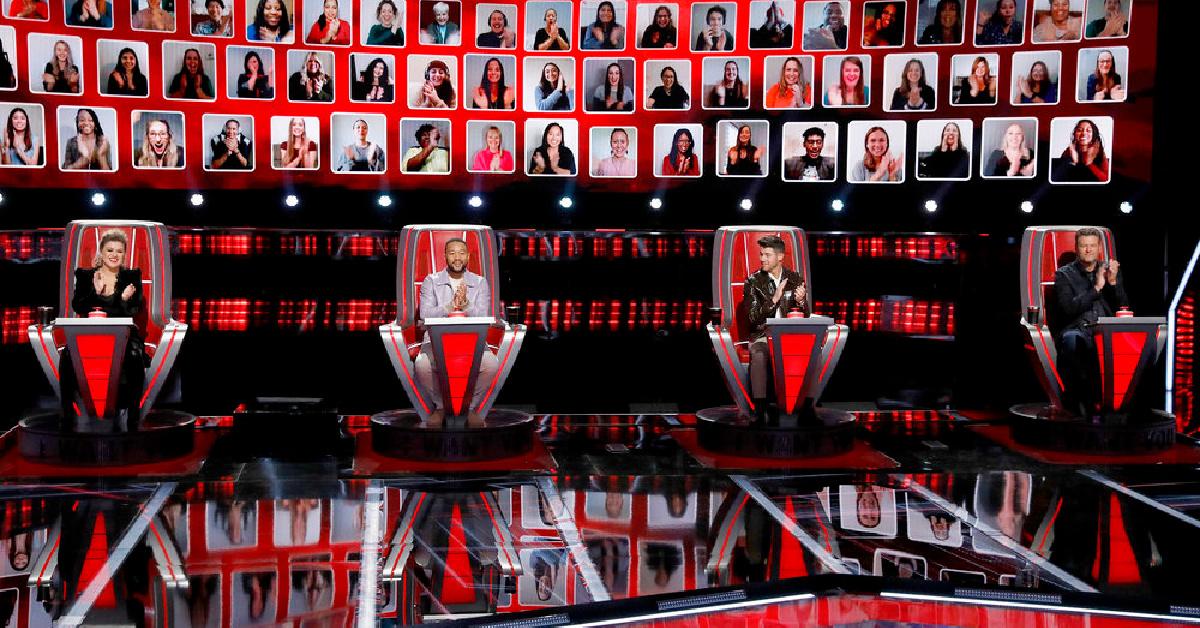 There are plenty of singing competition shows for viewers to choose from these days, but The Voice definitely adds a little something extra. While other shows focus solely on the talent of the contestants, The Voice puts a bunch of emphasis on the superstar coaches who work to help contestants reach their fullest potential. And don't forget about the chairs that spin around at the press of a button! Those are pretty cool, too.
Meet The Voice coaches:
Blake Shelton — Seasons 1–21
Adam Levine — Seasons 1–16
Christina Aguilera — Seasons 1–3, 5, 8, and 10
CeeLo Green — Seasons 1–3, 5
Shakira — Seasons 4 and 6
Usher — Seasons 4 and 6
Gwen Stefani — Seasons 7, 9, 12, 17, and 19
Pharrell Williams — Seasons 7–10
Miley Cyrus — Seasons 11 and 13
Alicia Keys — Seasons 11, 12, and 14
Jennifer Hudson — Seasons 13 and 15
Kelly Clarkson — Seasons 14–21
Kelsea Ballerini — Part-time coach on Season 15 and 20
Bebe Rexha — Part-time coach on Season 16
John Legend — Seasons 16–21
Nick Jonas — Seasons 18 and 20
Ariana Grande — Season 21
How does The Voice work?
As with most competition shows, The Voice starts with contestants singing their hearts out and hoping to impress the coaches. In a fun twist, the coaches start with their backs to the contestants and only turn around if they're interested in that artist. The contestant then decides if they want to join that coach's team (if more than one coach is interested, the contestant chooses whose team to join). Throughout the rest of the season, The Voice coaches mentor their team of artists in the hopes of getting one of their picks all the way to the end of the competition. The coaches also have opportunities to "steal" artists from one another and "save" artists who did not receive the public's vote that week.
Has The Voice produced any stars?
Several of The Voice winners have gone on to enjoy successful music careers after their tenure on the game show. Some of the most notable stars are Cassadee Pope (winner of Season 3), Danielle Bradbery (winner of Season 4), Josh Kaufman (winner of Season 6), Sawyer Fredericks (winner of Season 8), and Jordan Smith (winner of Season 9). There hasn't yet been a The Voice winner who has reached the same heights as some of the American Idol winners over the years, but it's probably just a matter of time until that happens!
How many seasons has each The Voice coach won?
While the contestants are the ones who do all of the singing, the coaches are celebrated for their ability to pick a winning team. So, when a singer is crowned as the champion, their coach is also deemed a winner. Here's how the coach wins stack up so far:
Blake Shelton: 8 wins
Adam Levine: 3 wins
Kelly Clarkson: 3 wins
Pharrell Williams: 1 win
John Legend: 1 win
Usher: 1 win
Christina Aguilera: 1 win
Alicia Keys: 1 win
Gwen Stefani: 1 win
Latest The Voice News and Updates