Mechanic Makes Rude Customer Wait and the Internet Approves
A mechanic made a customer wait an hour on his car to be fixed for no reason. Surprisingly, the internet sided with the mechanic, not the customer!
Aside from the DMV, there's no pain greater than the wait time at an auto repair shop. There's no telling when a mechanic will start working on your car or when they will be done.
Article continues below advertisement
Now, you're left in limbo, just waiting on someone to call your name and charge you hundreds of dollars for repairs you didn't even know you needed.
One customer at a Honda dealership saw what could happen behind the scenes at the garage firsthand.
Article continues below advertisement
A man who goes by the name of Gabriel (@ohheydune) posted a dashcam video on TikTok that quickly gained popularity on social media.
The incident left the comment section divided, as many were rooting for the mechanic — not the customer — in this instance. Here's a breakdown of what happened.
A mechanic made a rude customer wait over an hour and the dashcam video went viral.
"Mechanic drives my car in like he's on a racetrack then disconnects my dashcam when he hears it beep," Gabriel captioned a viral video, which showed his mechanic speed whip around the corner, back up, and then park the car in a stall. Seconds later, the clip cuts off.
Article continues below advertisement
Later, the TikTok user posted a follow-up video that gave even more context as to what happened that day at the Honda dealership. In the video, we see when the mechanic first drives into the garage.
Article continues below advertisement
When he pulled up to chat with an employee, he unknowingly spilled all of the tea, which is heard in the dashcam recording.
The mechanic tells his associate that he's gonna make the TikToker "sit and wait an hour because he's a f---ing a------."
Article continues below advertisement
He then told his co-worker to finish up whatever he was working on before he touched the car.
Dutifully, the other mechanic obliged.
Little did he know, his comments would end up going viral when Gabriel posted the recordings online.
Social media sided with the mechanic.
Not long after Gabriel's videos went viral, the dealership offered a statement to a local news outlet.
"It's embarrassing that I have an employee that acted that way," General Manager Paul Hopkins said. "I apologize on behalf of our company as well as myself. You know, it's a big misunderstanding.
Article continues below advertisement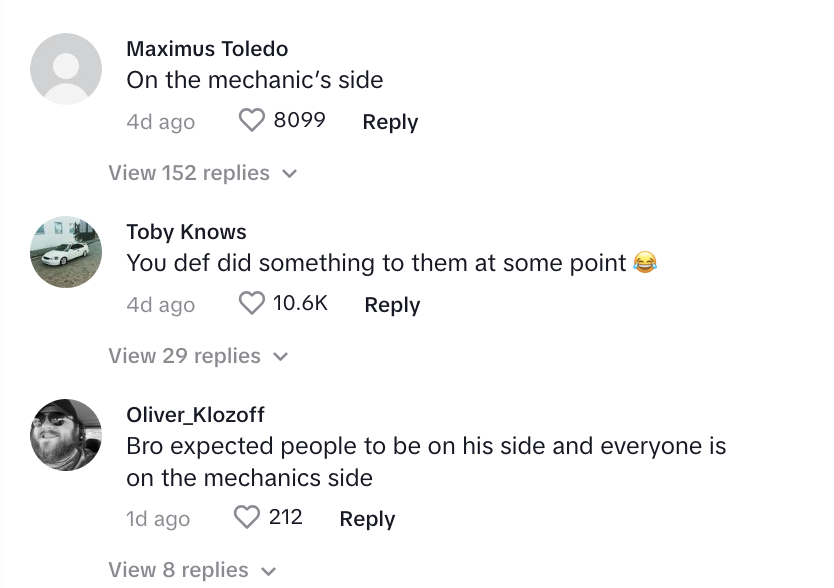 "It escalated on both parties involved. But there's no excuse for the way my employees acted," he added.
While the mechanic may have gotten in trouble at work, he wasn't the one found guilty in the court of opinion. Instead of blaming the mechanic for the incident, social media blamed Gabriel.
One person commented under the dashcam video: "I mean if you get the respect you give."
Article continues below advertisement
"Bro expected people to be on his side and everyone is on the mechanic's side," another TikToker named Oliver wrote.
"[On God], if my advisor came to me and said this I'd listen and take his word for it," @notwaggs chimed in.
However, some people felt Gabriel's pain.
@Dominicbutera5.0 wrote: "If mechanics will do this, make you wonder what else they do to sabotage your vehicle down the road."
I think that everyone involved would agree that this was one wild ride. The customer isn't always right. This video is a good reminder to treat others how you would like to be treated.