'SNL's Melissa Villaseñor Is Joining 'Night Court'!
Melissa Villaseñor guest stars as Gabby on 'Night Court," but we actually know her from another very funny show. We break it down below!
NBC's reboot of Night Court is officially a hit and was the No. 1 broadcast premiere. We mean, we're not really surprised, the shows freaking hilarious. And thankfully for all of us, Night Court has already been picked up for Season 2!
Article continues below advertisement
Night Court features a stellar cast including Melissa Rauch, India de Beaufort, Kapil Talwalkar, and OG John Larroquette back to play Dan Fielding. But one of our personal favorites is guest star, Melissa Villaseñor.
Let's meet her!
Let's meet Melissa Villaseñor From 'Night Court'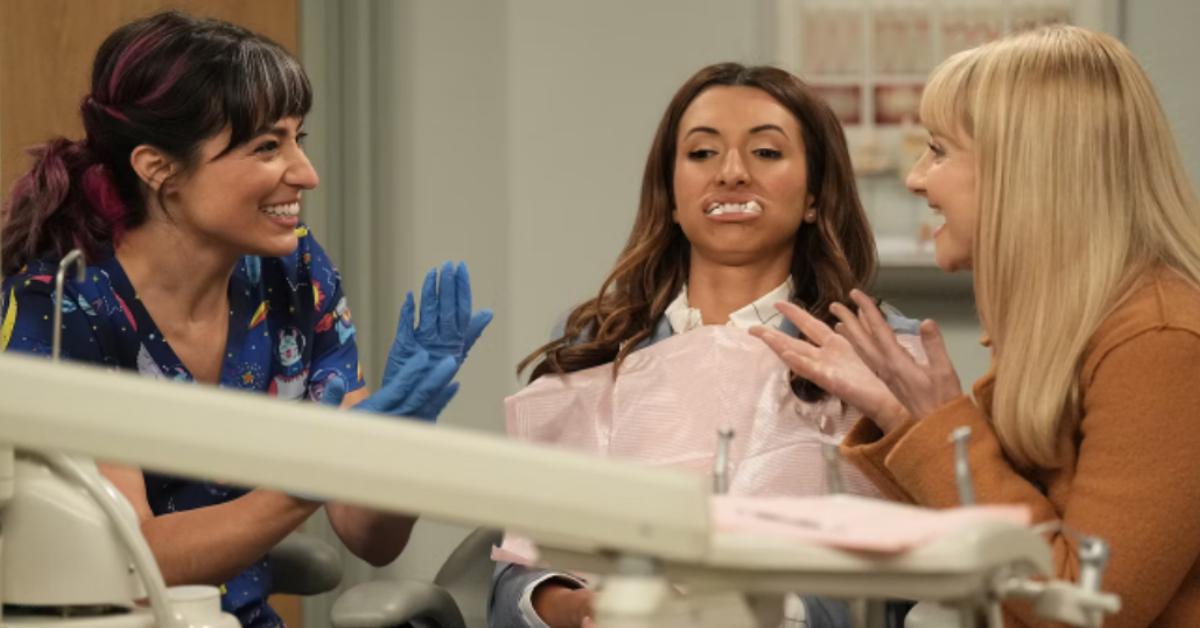 Melissa stars as Gabby on Night Court. Gabby is Neil's (played by Kapil Talwalkar) childhood crush, who also just happens to be very, very similar to Abby.
Article continues below advertisement
Gabby is introduced to us in Episode 14 airing on April 25. The logline reads as, "Neil's crush on Abby is making things uncomfortable for everyone, but Abby sees a way out when she meets a love from his past who just happens to be newly available (Melissa Villaseñor). Gurgs fails to protect Dan from an unruly member of the gallery."
In a preview clip for the episode, we see Abby and Olivia go to Gabby to get some dental work done, since she is a dentist. Gabby and Abby bond over being goth with their significant others together, as well as being stage managers...it is very clear that Neil has a type.
Article continues below advertisement
Melissa spoke to Screen Rant about playing Gabby, and how she found similarities to the character Abby saying that, "I just watched her and I saw [something] very similar. She sees things in a positive light and really believes in people, and I was like, "Okay, I have that in me as well." So it was really cool. That happened kind of naturally, I think."
Melissa also talked about playing opposite Neil revealing that, "He was really funny. I remember he really made me laugh. There was a cool little chemistry too. It felt sweet to have little vulnerable moments. I like that. It was easy. It flowed naturally."
Article continues below advertisement
Originally getting her start on America's Got Talent, in addition to appearing on Night Court, Melissa was featured in the movie, Hubie Halloween, and is also a cast member on Saturday Night Live and is known for her impressions. In addition to acting, Melissa also does stand-up comedy and is actually on tour!
Melissa starred in this hilarious skit on SNL with guest host, Jennifer Lopez. In the skit appropriately named "Hoops," Gino's girlfriend and her cousin try and sell us hoops, all while poking fun of hoops.
Article continues below advertisement
Melissa is working on her own TV show as well! She revealed to Screen Rant that, "It's based around my life and the life after you have the dream job of, for me, SNL, and going back home and being like, "What the hell am I doing?"
We personally love Melissa on SNL so we are very excited for her to be added to the Night Court cast, even if it's just for a little while.
Make sure to catch new episodes of Night Court every Tuesday night on NBC at 8 p.m. ET..