Captain Keith Colburn Mourns the Loss of "Dear Friend" Michael "Bear" Rogers
'Deadliest Catch' fans are mourning the loss of the legendary Captain Michael Bear Rogers, but his passing hit Captain Keith Colburn especially hard.
Deadliest Catch fans definitely know the name of Michael "Bear" Rogers — the man was a legend on the water and his personality resonated with viewers at home who, for years, watched The Wizard's toil to bring in mounds of delicious protein from the sea on a daily basis.
The former deck boss for the vessel was also a friend and mentor of Captain Keith Colburn, who took his passing exceptionally hard.
Article continues below advertisement
Captain Keith shares touching tribute to Michael "Bear" Rogers.
Keith shared the news on social media, along with stories about the Crab King himself:
"On July 16, Michael "Bear" Rogers, father, son, husband, brother, and friend passed from this world into the next. Bear was the deck boss on the F/V Wizard when a green kid from Tahoe stepped on the Wizard's deck for the first time."
That "green kid from Tahoe" is, you guessed it, Captain Keith Colburn. Although Bear was a prime example of someone who "kept it real" on reality TV, it's heartwarming to hear about the man from someone who knew him best, and Keith was someone who was very close to the deck boss:
Article continues below advertisement
"Bear was a towering, intimidating physical presence, but his kind heart, infectious smile, and his gift of storytelling made him the person everyone wanted to befriend. He was my mentor in the fishing industry and a dear friend in life."
Article continues below advertisement
Keith went so far as to attribute the majority of his success and his career as a fisherman to Bear. In a series of tweets, he relayed an awesome story about a rough outing that saw everyone else on the crew fired — except for Keith.
"Though nobody could ever fill his shoes, I did my best to make him proud. I own the Wizard today because of Bear's faith in me as a deckhand. After a particularly tough trip, Bear told the Captain, 'Keep that kid — fire the rest.'"
He continued: "My fishing career could have ended that day if not for Bear. Smooth sailing, you crusty old friend! You taught me more than fishing. You shared your experience and wisdom, and you reminded me, without family are you truly living?'"
Article continues below advertisement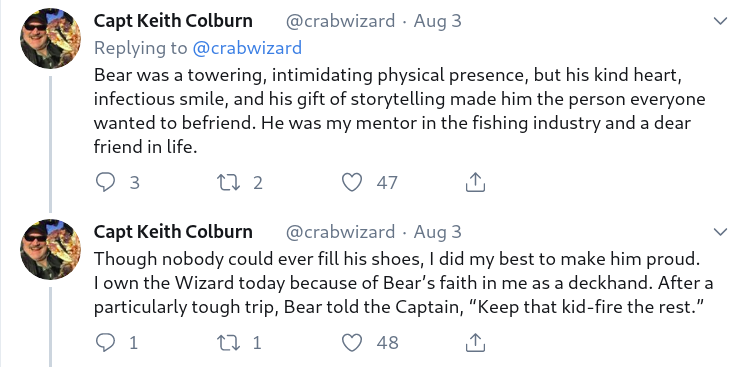 Keith extended his condolences to Bear's wife, Cherie and their children, Maria and Amanda. Bear worked as a crab fisherman for a whopping 18 years. Most of that time was spent aboard the Wizard.
In 2002, Michael gave his family a health scare right before Thanksgiving when he was diagnosed with a flesh-eating bacteria.
Article continues below advertisement
Known as necrotizing fasciitis, the disease caused Bear's kidneys to fail. Cherie recalled worrying that he wouldn't "make it." Doctors remarked that while the bacteria is usually benign, individuals with a compromised immune system could suffer from some pretty severe symptoms, and Michael unfortunately was hit with a perfect storm of illness as a result.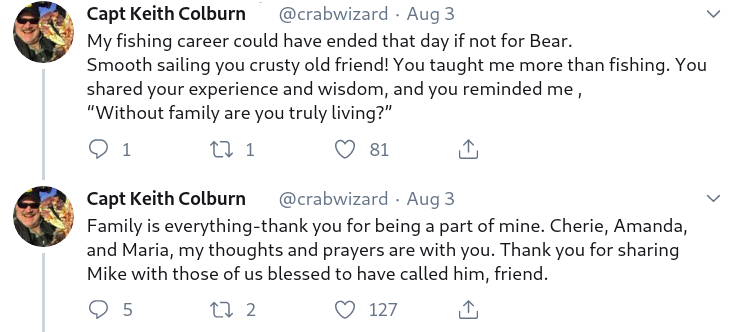 Article continues below advertisement
The infection started off as a skin rash, but soon, Mike was experiencing other symptoms. It wasn't long after he was brought into the hospital that doctors were seriously considering amputation of both his legs at the hip to ensure his survival. During his stay, the Wizard's deck boss urged doctors to do everything they could to not amputate, but he was fading in and out of consciousness during his time in the hospital.
When he woke up, he discovered that doctors had removed one of his legs below the knee. For over 10 years after his surgery, Bear had to constantly consult with doctors to monitor his health and take medications to fight his infection and keep it at bay.
Article continues below advertisement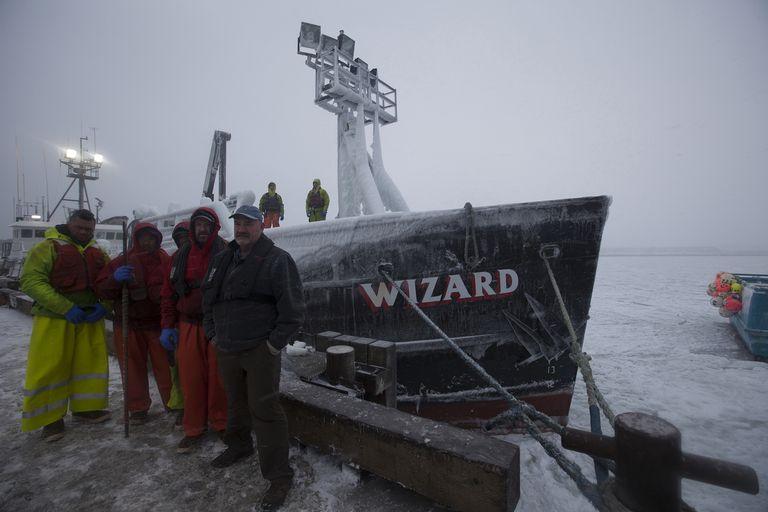 We wish Captain Keith and Bear's family the best in this trying time.