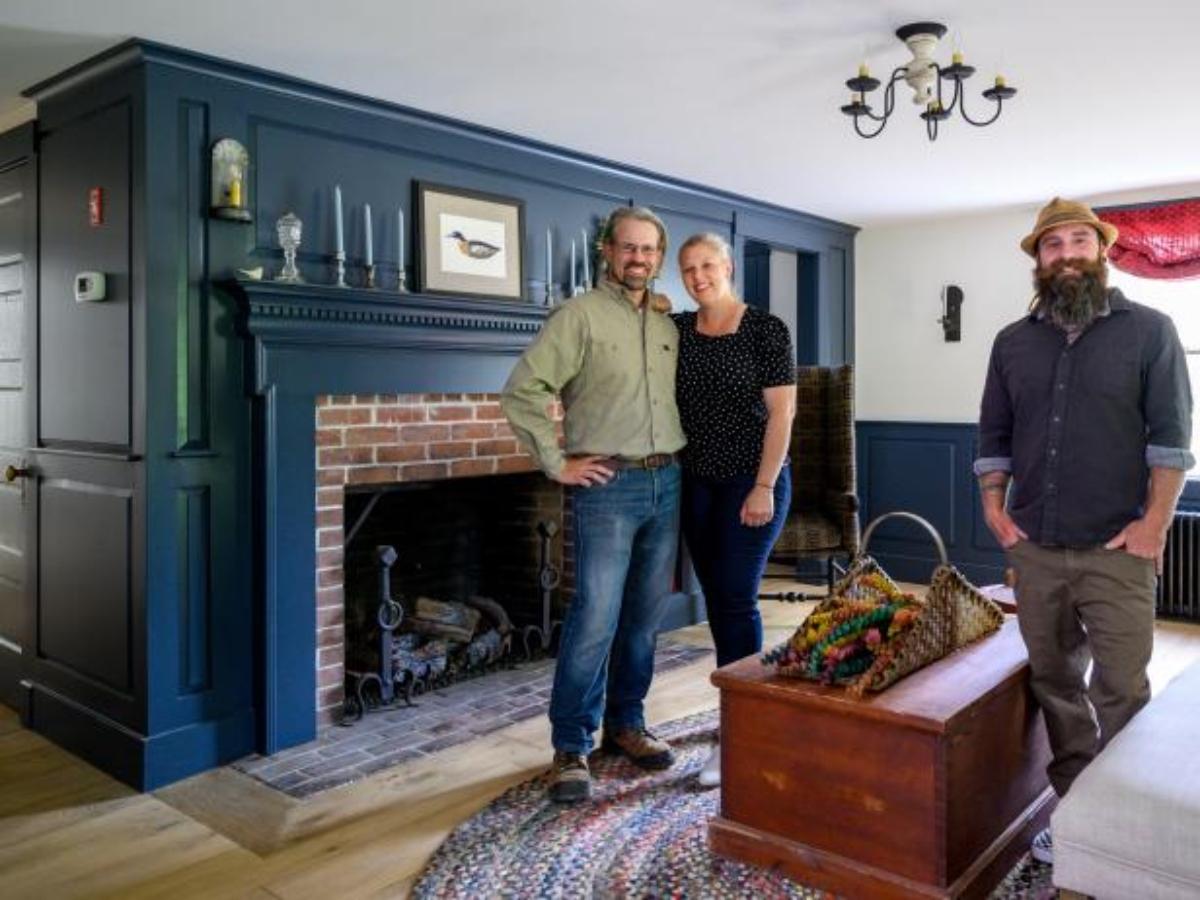 Who Are the Hosts of HGTV's Newest Show 'Houses With History'?
We love a new HGTV show, and if it focuses on restoring old homes, even better. This is why we can't wait to watch more designers inexplicably continue to place a white couch in the new home of a family with children. White couches and kids go together, right? Houses with History takes place primarily in Plymouth, Mass., where you can't throw a (Plymouth) rock without hitting a centuries-old home. And of course, a new show means new hosts, so let's meet Mike Lemieux, Jen MacDonald, and Rich Soares.
Article continues below advertisement
Who are the hosts of HGTV's 'Houses with History'? Meet Mike Lemieux and his team.
Most HGTV programs have more than one host, and Houses with History is no exception. Three people are behind this new restoration show, and each brings something different to the process. Mike Lemieux and Jen MacDonald are married, and together they own Full Circle Homes, which specializes in home remodeling. In a sneak peek of the show, Mike said, "I'm at my core just a huge history geek."
Article continues below advertisement
Jen is in charge of all the design work. Last year, she spoke with WBZ-TV for their It Happens Here series where she said, "We really are pouring our hearts and souls into this and want to save every historic home. It's a piece of history you can never get back once it's torn down."
Rich Soares is the resident carpenter, and he looks exactly what you might picture, with long hair and an even longer beard. According to his Instagram, he lives in Cape Cod, where he has a thriving woodworking business and is married with four children.
Article continues below advertisement
Interestingly enough, a former member of the New Kids on the Block was responsible for the show's creation. Jonathan Knight, star of HGTV's Farmhouse Fixer, was looking at a property the couple was working on when he said, "You guys should have your own show." One quick sizzle-reel later, and they were greenlit for the entire series. Bonus, Jonathan appears on the first episode! That's the right stuff, baby.
Article continues below advertisement
'Houses with History' is already stirring up controversy.
The show describes the houses featured as being "built by our forefathers," and some people on social media take issue with that. At the time some of these homes were built, slavery was still legal in Massachusetts. According to Slate's "The History of American Slavery" series, in the 1764-1765 census, Massachusetts reported 5,779 slaves, which was 2.5 percent of the total population.
Article continues below advertisement
What can we expect from 'Houses with History'?
Beyond being a show about the restoration of old houses, it's also meant to be a learning experience. "We want people to feel like history is actually extremely interesting. You are a vital part of it, you can help preserve it, and it's important to do so for the future. It's where we came from, it's who we are and it's who we're going to continue to be. There's no real separation between today and yesterday. We're all part of it, and you can be too," said Mike.
Houses With History premieres Wednesday, Sept. 29 at 9 p.m. EST on HGTV and Discovery Plus.