Season 1 of 'Farmhouse Fixer' Was Filmed at These Idyllic Locations
Where is 'Farmhouse Fixer' located? The hit HGTV series starring Jonathan Knight and Kristina Crestin was filmed in New England. Read on for more.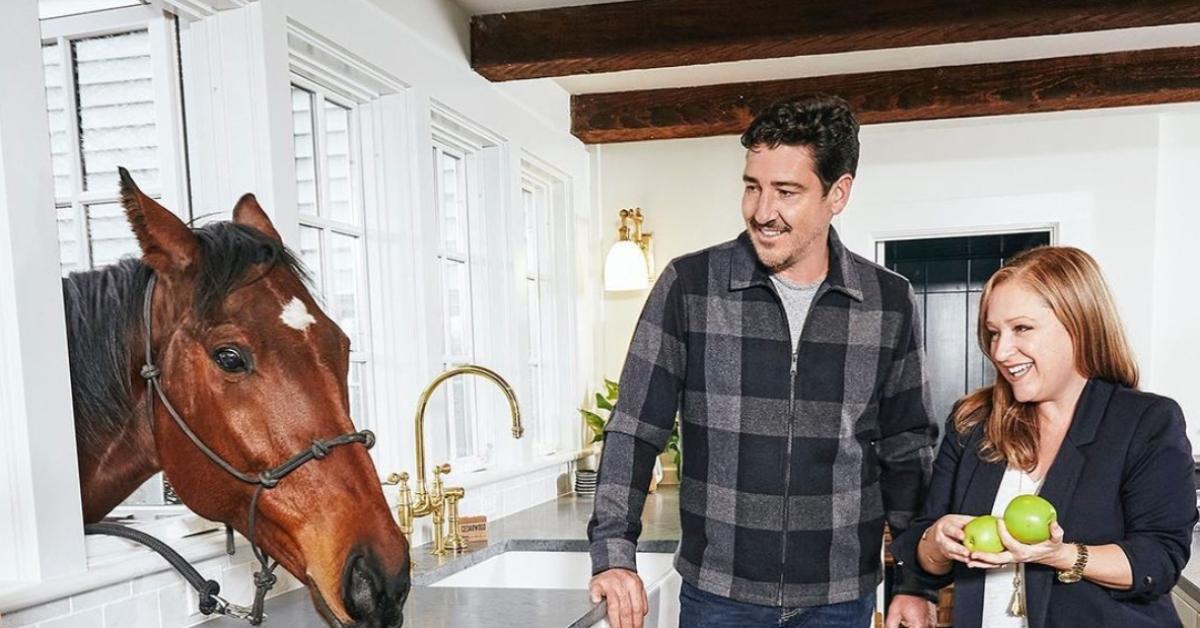 Starring New Kids on the Block singer Jonathan Knight and seasoned interior designer Kristina Crestin, HGTV's Farmhouse Fixer promises hours worth of entertainment and to be an exceptional source of inspiration for die-hard interior design geeks.
Unlike Unsellable Houses or Flip or Flop, this show focuses exclusively on farmhouses, capturing how some of the oldest and quaintest properties can be transformed into ravishingly beautiful homes. So, where is Farmhouse Fixer located?
Article continues below advertisement
Season 1 of 'Farmhouse Fixer' was filmed in New England.
Season 1 of Farmhouse Fixer kicked off on March 3, 2021, with an episode that posed a real challenge for Jonathan and Kristina. In "Got Bored and Bought a Farm," the duo set out on a mighty quest to revive a property built in the 1700s.
Jonathan brought hard-earned renovation expertise to the table, while Kristina dreamed up an exceptional design that catered not only to the homeowners' needs but also took into account the flaws of the house. So, where was the episode filmed?
Article continues below advertisement
The first episode of Season 1 was filmed in New Hampshire, per Deadline. According to The Cinemaholic, the majority of the episodes were shot in Massachusetts.
Some of the homes featured on Farmhouse Fixer can be found in idyllic cities like Gloucester, Mass. — which is renowned for its tranquil beaches, wild estuaries, and breathtaking scenery that inspired artists like John Sloan — and coastal towns like Essex, Mass. Other shooting locations include Boston and Ipswich, Mass.
According to The List, the creators behind Farmhouse Fixer put out a call for homeowners based in a 50-mile radius of Ipswich. The homes had to be built before 1940, and each applicant had to have a budget of at least $150,000 to be considered. Homeowners who made the cut received Kristina's interior design services free of charge, per the outlet.
Article continues below advertisement
Jonathan says that several of his family members were big on home renovations.
"I love a good old farmhouse. These are American treasures. That's what makes it so much more worth it," Jonathan explained in the trailer for Farmhouse Fixer.
A child prodigy, Jonathan skyrocketed to fame as the singer of New Kids on the Block, an iconic boy band fronted by his brother, Jordan, who also appears on Farmhouse Fixer.
Article continues below advertisement
Jonathan took up a more active interest in real estate roughly around the same time he became less involved in the activities of the pop group. He revealed in an interview with PopCulture that he had various family members to take inspiration from. As a kid, he watched his father, grandfather, and uncles take care of whatever needed fixing, which impressed him greatly.
Article continues below advertisement
"It's in my blood. My grandfather, my uncles, my dad, they all loved home renovations and were very handy. As a young kid, it's always been around me and something I could always jump in and help them out with. It runs deep in my veins," Jonathan told PopCulture.
Catch new episodes of Farmhouse Fixer every Wednesday at 9 p.m. EST on HGTV.