Meet Miranda, a New Addition to Netflix's 'The Circle'
Who is Miranda Bissonnette, the contestant on 'The Circle' who enters the game after Alana is blocked? Read on for everything we know.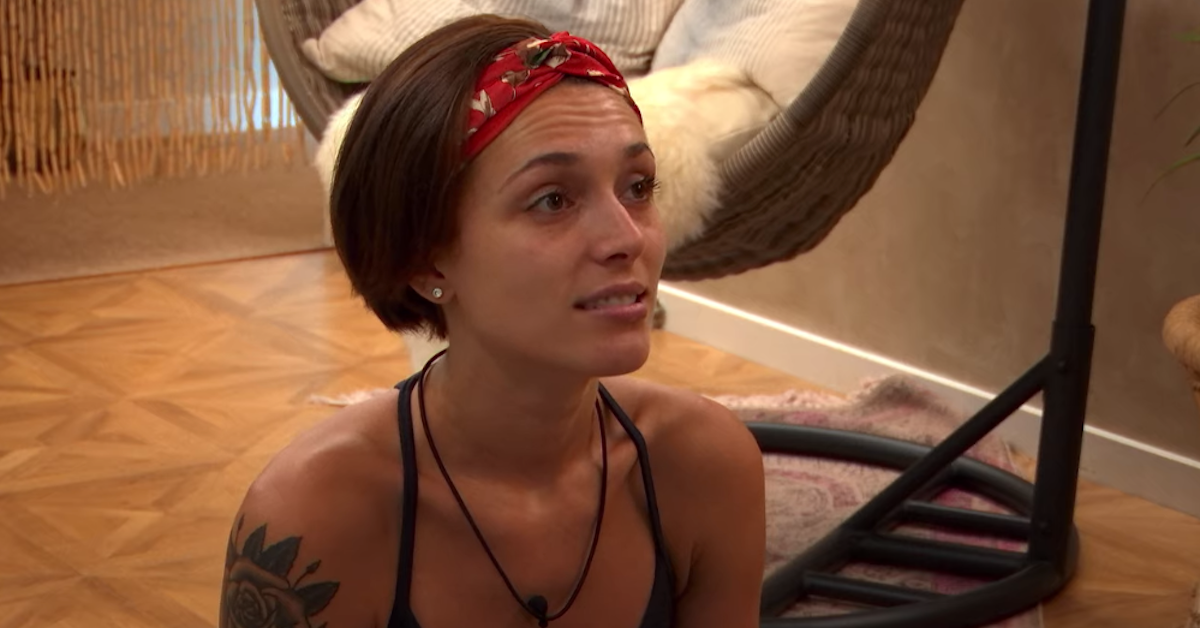 Four episodes into Netflix's latest bizarro reality competition show, The Circle, and already we are obsessed! The British import is proving to be just as hilarious and exciting as the original, with equally compelling contestants that you can judge or cheer on (or most likely, both).
Article continues below advertisement
After the first elimination when model Alana became "blocked," the game introduced a new player: Miranda "Randi" Bissonnette. Miranda was not shy to jump right into the game and quickly began reaching out to individual players to form friendships and alliances.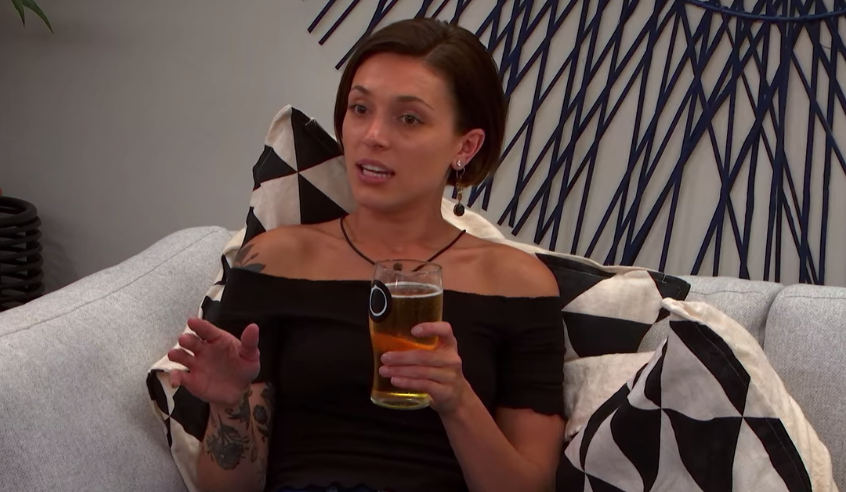 Article continues below advertisement
She's also not one to shy away from stirring the pot and has already been the instigator of some inter-apartment dramas (we love you though, Sammie!)
And while we're getting to know Miranda on The Circle, here's what you need to know about the 26-year-old on and off the show.
Free spirit Miranda from The Circle hails from California.
Miranda Bissonnette is a stunning inked beauty from South Lake Tahoe in California. When we meet her on the show, she describes herself as a "free spirit" who is "very open," "honest," and "love[s] to be spontaneous [and] take chances."
Article continues below advertisement
Miranda also tells the cameras that she moved around a lot as a child and didn't have a very stable family. She describes herself as a "lone wolf," which might honestly bode well for her when it comes to game strategy.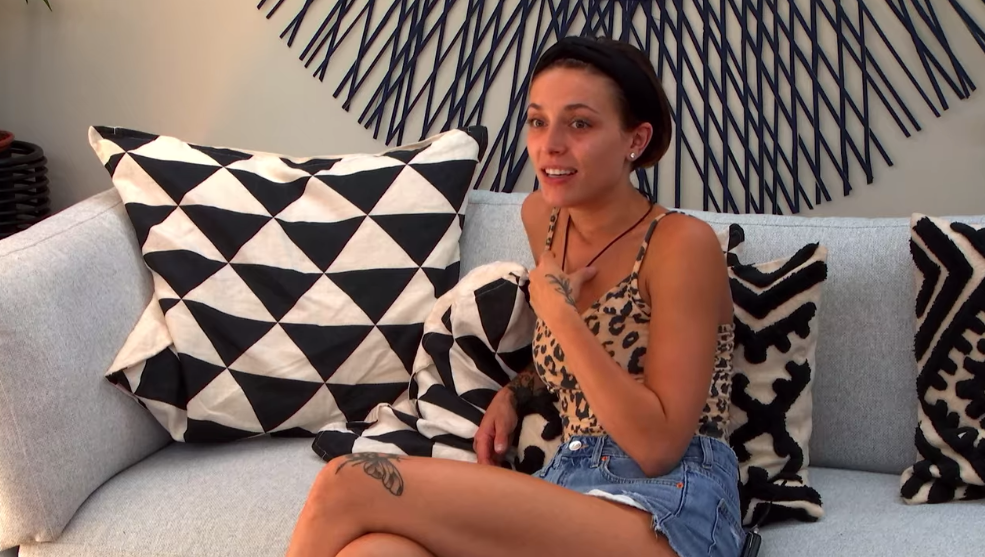 Article continues below advertisement
We learn more about Miranda in Episode 4, when she and Joey have a moving one-on-one conversation about their backgrounds. In the process of getting to know the other players, newcomer Miranda reaches out to each one individually.
During her conversation with Joey, he brings up that family is extremely important to him and mentions how blessed he is to have such a strong bond to his family unit.
When Joey asks Miranda about her family, she immediately tears up.
Article continues below advertisement
Miranda opens up to Joey, explaining to him that she is "not close with [her] family." She goes on to tell him and she and her brothers "bounced around between families" until they were separated once they "were put into foster care."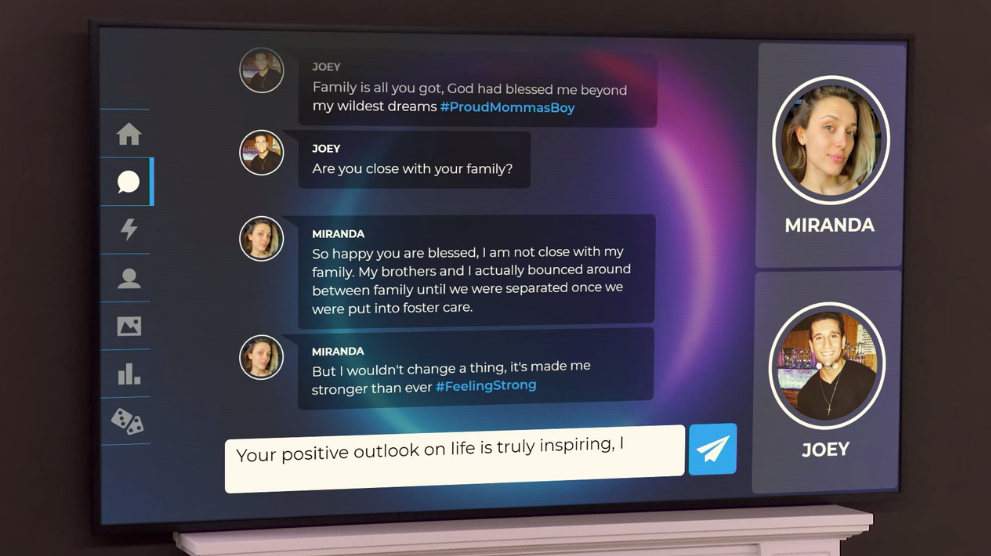 Article continues below advertisement
It's an incredibly sad moment, and probably the realest and heaviest we've seen on the show up to now. To his credit, walking-Italian-stereotype Joey comes through with a heartfelt response, saying that Miranda's "positive outlook on life is truly inspiring," and that he "would be happy" to welcome her into his family "with open arms."
His response naturally brings Miranda to tears, and the two quickly form a bond after this beautiful moment. Excuse us while we grab our tissues.
In her introduction, Miranda also mentions how she "falls in love too easily" and that it usually "happens hard, happens fast, and it hasn't worked out so far."
Article continues below advertisement
We wonder whether the intimate conversation she had with Joey will lead to the contestants becoming more than friends on The Circle, and certainly can't wait to see what the rest of the season has in store.
Outside of the show, Miranda is a model, photographer, and lover of nature, travel and good food. According to her Instagram, the tatted beauty has also appeared as a cover girl for Inked Magazine.
New episodes of The Circle air Jan. 8 and Jan. 15 on Netflix.