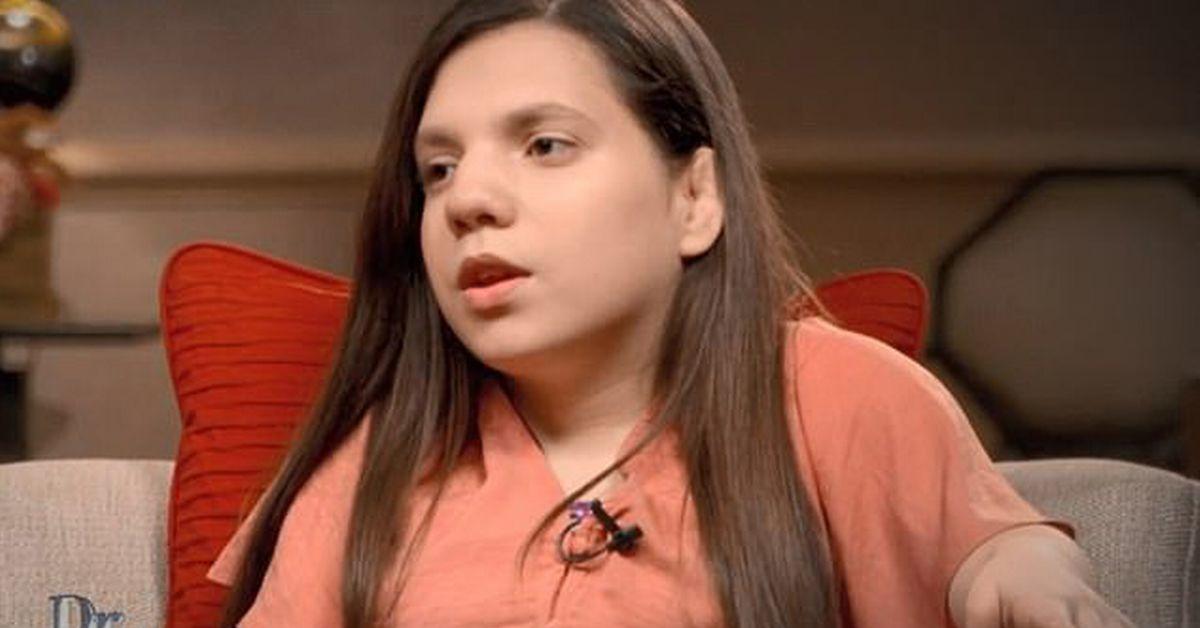 Natalia Grace Barnett Insists That She's a Teenager, Despite What Her Adopted Parents Say
It's a subject that feels gross to even bring up but it's one that people love to gossip and chatter about: adoption horror stories. Unfortunately, the nastiness goes both ways. From parents who are only in it for some government money, to agencies who "foist" children with severe issues on unsuspecting parents who are unprepared to deal with them, there are plenty of grim tales to go around.
The case of Natalia Grace Barnett, however, is one that's filled with tons of twists and turns and now, she's got an interview with Dr. Phil that aims to set the record straight. Or, at the very least, tell her side of the whole thing.
Article continues below advertisement
Who is Natalia Grace Barnett?
OK, this story is a messed up one that's just made for some weird '90s movie starring a young child actor with a creepy smile. Indiana couple Michael and Kristine Barnett adopted an 8-year-old girl from Ukraine — her name was Natalia.
She was diagnosed with dwarfism, which posed some unique caretaking challenges that both she and her new family needed to deal with. But those obstacles were nothing compared to the drama that would unfold between Natalia and her adoptive parents.
Article continues below advertisement
Kristine and Michael, after adopting Natalia in 2010, fled to Canada, effectively abandoning the young girl in their apartment. It's a horrifying thing to do to a child. Imagine being a young kid who finally found a home, only to have your new support system leave you entirely, out of the blue?
After the news broke out, the Barnetts were probably the most hated couple in the news, but they made allegations that sound straight out of a horror movie with a "twisted" adoption theme: Natalia wasn't a child at all.
Article continues below advertisement
Michael and Kristine said that the person they adopted was actually an adult — they legally had her age changed to 22 years old. Natalia's spondyloepiphyseal condition, the couple said, made it difficult for anyone to ascertain her real age, and they even said in a recent Good Morning America interview that they believe she's really 33.
But Natalia's "age deceit" is the most mundane of the allegations the Barnett's have made — they basically said that she was a child from hell.
Article continues below advertisement
Michael swears that the adult masquerading as a child tried to harm him and his family, and that she was a dangerous psychopath who fantasized about murdering all of them. In the GMA interview, the adoptive father said, "Natalia would do things like place clear thumbtacks on the stairs face up so that when we would walk up the stairs, we would be stepping on thumbtacks to pain and injure ourselves."
He also claimed that Natalia tried killing his wife, Kristine, by guiding her toward an electric fence so she would die of shock. They say that their adopted daughter is actually a big-time scam artist who even tried poisoning them at one point and would draw pictures of killing her new family members and rolling them up in blankets so she could bury them in the backyard.
Kristine told the Daily Mail, "I saw her putting chemicals, bleach, Windex, something like that, in my coffee and I asked her, 'What are you doing?'"
Article continues below advertisement
The Barnetts, who are currently no longer together, were charged with criminal neglect of a child. They insist that they aren't at fault because they believed that Natalia was an adult at the time of their abandonment.
In her upcoming interview with Dr. Phil, Natalia addresses the accusations levied against her by the Barnetts, and decries all of them as untrue.

Article continues below advertisement
It's the first time Natalia's gone on record to discuss the claims and defend herself against them. In the trailer for their interview, Dr. Phil says, "I guess it comes down to whether or not you are an evil psychopath demon child that's come over here to murder everybody."
A little on the melodramatic side, but, those really are the charges the Barnetts brought against the young woman.
What is Natalia Grace Barnett's real age now?
While the documentation and circumstances surrounding her birth in Ukraine had many details left out, a woman claiming to be Natalia's mother has come forward. She said that she gave birth to Natalia 16 years ago, and gave her up for adoption after doctors urged her to do so, saying she wouldn't be able to care for the young girl due to her condition.
Anna Volodymyrivna Gava talked with The Daily Mail about the circumstances of Natalia's birth and the hard decision she made to put her up for adoption.
Article continues below advertisement
"Doctors told me to leave the baby. Both them and my mom told me to leave her. They said the baby would never be good, that she would never be able to move, that she would be chained to a chair or to a bed. She now lives in America with adoptive parents who want to ditch her. I thought everything was okay with her and it turned out that it's not all okay."
Anna had a message for Natalia, too: "Forgive me for what happened 16 years ago. Visit soon for me to see you. We are waiting for you. You have two sisters and two brothers."
Natalia's story is a twisted one with so much going on and it's hard to know what the truth is, but it's hard to believe that she's some kind of evil mastermind who planned on murdering her adoptive family. Hopefully her interview with Dr. Phil will shed some more light on a confusing and strange story.