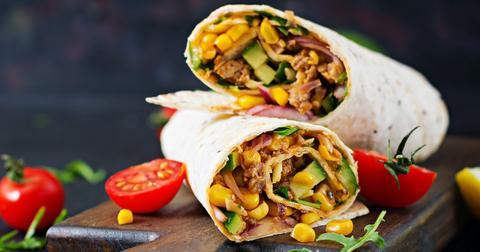 These National Burrito Day Deals Will Make Self-Isolation Extra Delicious
By Lizzy Rosenberg

Updated
There is definitely no denying that self-isolating can be painful and dreary, but at this point, you've most likely had the epiphany that eating food passes the time unlike anything else amid the novel coronavirus quarantine.
Article continues below advertisement
And since National Burrito Day is coming up on Thursday, April 2, all of us have a definitive reason to eat ourselves into a self-induced food coma, with absolutely no excuses necessary. Get ready to feast yourself into oblivion with these National Burrito Day deals — your wallet can thank me later.
Free Burritos for Healthcare Workers and Free Queso at Chipotle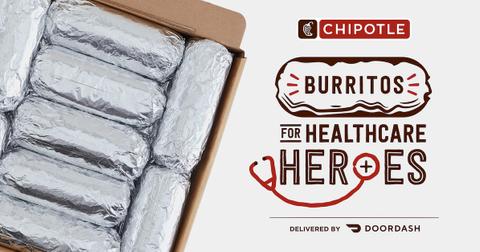 To honor those on the frontlines during this undeniably troubling time, Chipotle is offering 100,000 free burritos to healthcare workers across the country, per a press release. By registering your unit on April 2, your team can receive a free burrito box from DoorDash next week, which happens to be World Health Worker Week. Everyone else can get free queso with any purchase over $10, also on April 2.
Article continues below advertisement
Double Rewards Points and a Burrito Meal Combo for $5.99 at Tijuana Flats
Just in time for the beloved burrito holiday, Tijuana Flats is launching a brand new loyalty program that enables customers to earn points for each purchase made at locations across the country in exchange for freebies, according to a press release. Simply download the app or sign up online — upon doing so, you'll get a free Tijuana Trio, and on National Burrito Day, you'll get double rewards points. Additionally, customers will be able to get a burrito, chips, and a drink for only $5.99 day-of.
BOGO Burritos and Free Delivery at El Pollo Loco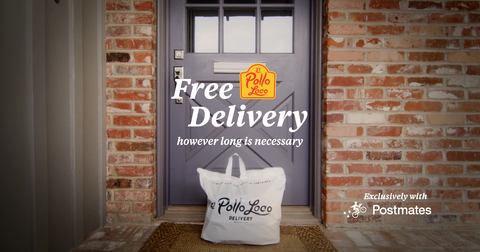 California-based chicken chain, El Pollo Loco, will be treating customers to a BOGO burrito promotion on Thursday, April 2, according to a press release. Simply show this coupon at any participating location, or use the Loco Rewards code, if you're placing your order via the El Pollo Loco mobile app. The chain is offering free delivery during the pandemic, so we strongly suggest taking advantage of that, if you can.
Article continues below advertisement
Triple Rewards Points and a New Burrito Meal Deal Qdoba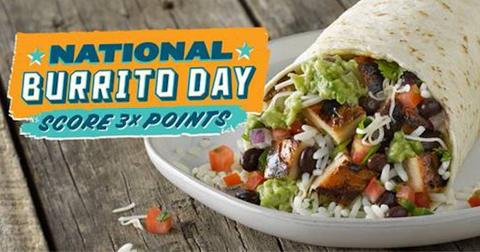 Fast-casual Mexican chain, Qdoba, will be celebrating the burrito-centric holiday by offering any and all Rewards members triple the regular number of points for all entrées ordered in-person, on the Qdoba app, or on the restaurant's website, according to a press release. The restaurant chain will also now be offering a brand new Burrito Meal Deal for the foreseeable future — it includes a burrito, chips, salsa, and a dessert for $9.95.
National Burrito Day should really be everyday, but it's kind of a blessing in disguise that it only comes once a year. This is certainly an opportune time for the holiday to come, and there's no doubt in our minds we'll be taking advantage of at least one (or all) of these this year... a burrito-induced food coma is certainly on all of our to-do lists right now.