Netflix Announces Comedy Festival Featuring Every Comedian You've Ever Laughed At
Netflix is debuting Netflix Is A Joke Fest, a massive comedy festival in Los Angeles. Here's a look at the lineup, plus how to get tickets.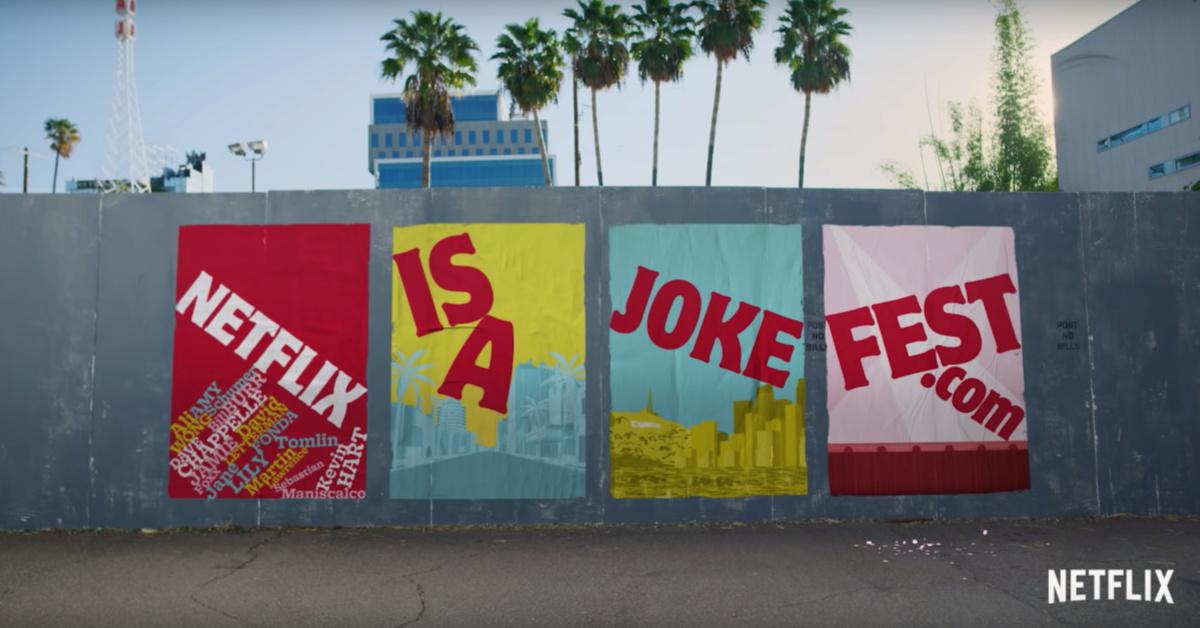 For years now, Netflix has been one of the places we turn to when we need a laugh. From its many comedy specials to the incredible list of original comedy series, Netflix clearly knows how to do funny. It only makes sense, then, that the streaming giant is debuting a huge comedy festival. It's called Netflix Is A Joke Fest and honestly, we kinda want to be there.
Article continues below advertisement
What is Netflix Is A Joke Fest?
Put simply, it's a week-long comedy festival featuring pretty much everyone you've ever laughed at while watching Netflix. The festival is being produced by Netflix in association with Live Nation and will take place in Los Angeles from Monday, April 27 through Sunday, May 3. It will feature stand-up shows, special events, and looks like it'll be an all-around amazingly funny time.
So far, the featured talent list includes Ali Wong, Amy Schumer, Bill Burr, Dave Chappelle, David Letterman, Jamie Foxx, Jane Fonda and Lily Tomlin, Kevin Hart, Martin Lawrence, Sebastian Maniscalco, the entire cast of Schitt's Creek...and that's just the beginning.
Article continues below advertisement
The festival will also highlight LGBTQ+ talent with STAND OUT: AN LGBTQ+ Celebration, headlined by Alan Carr, Hannah Gadsby, Margaret Cho, Rosie O'Donnell, Sandra Bernhard, Wanda Sykes, and more.
Article continues below advertisement
Over the course of the week, the festival will host more than 100 live shows in more than 20 venues across Los Angeles. More than 100 shows. In seven days. You can try to do the math there, but it basically works out to this: Netflix Is A Joke Fest might just be the funniest week of the entire year.
One of those shows is going to be called The Hall and it will take place on closing night (May 3). At The Hall, festival-goers can enjoy the comedy stylings of Dave Chappelle, Kevin Hart, Chris Rock, Billy Crystal, Whoopi Goldberg, Jerry Seinfeld, Sarah Silverman, and Wanda Sykes. Like, seriously. Are you kidding us with these names? Maybe! This is a comedy festival! Everything is always kidding! (But for real, all those people will be there.)
Article continues below advertisement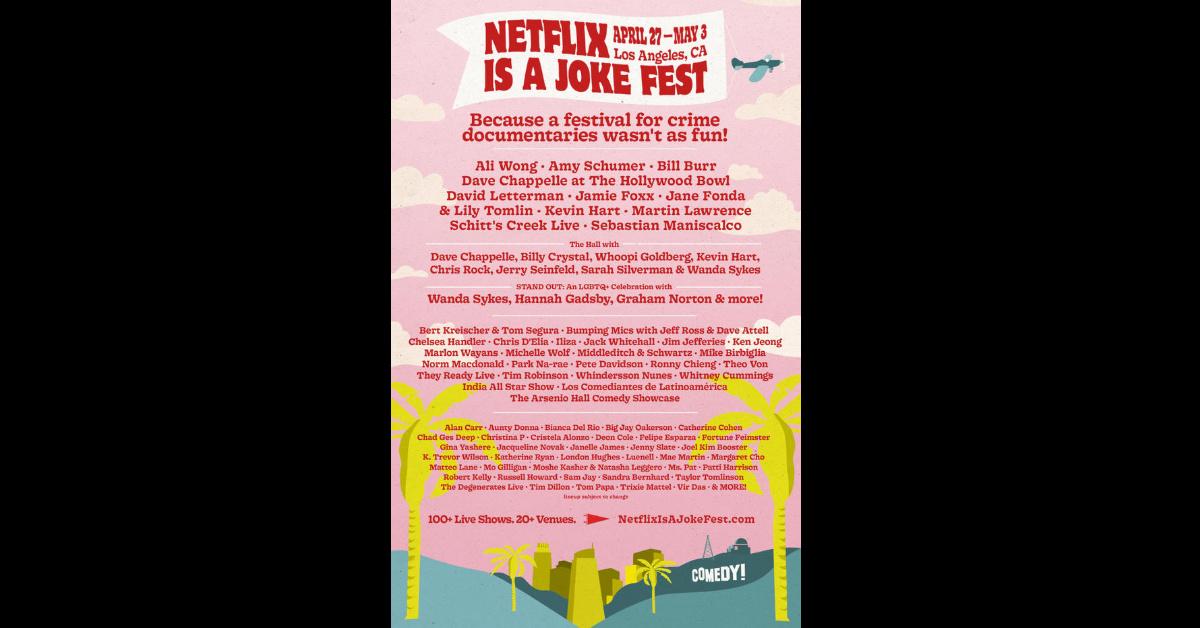 Netflix Is A Joke Fest tickets are definitely going to go fast.
According to the press release from Netflix, tickets for all of the festival events will go on sale to the general public starting Friday, March 6, at 10 a.m. PT with select pre-sales going live on Tuesday, March 3. Those tickets can be purchased at NetflixIsAJokeFest.com. Can't make it to Los Angeles? Don't worry. Eleven of the shows are going to be recorded and will be available to watch on Netflix later this year. (Yes, 11 is way less than 100, but what can ya do?)
Article continues below advertisement
Netflix Chief Content Officer Ted Sarandos is obviously thrilled about the upcoming festival. "It's our honor to transform LA for one week into the funniest place on earth," he said. "This festival is a unique celebration of the art of comedy, and the role it plays in reflecting our lives and defining culture. It's a chance for comedy lovers to come together and see their favorite artists as well as discover new ones, and for us to be able to share the electricity and excitement of the festival in Los Angeles with Netflix members around the world."
As people who enjoy laughing at funny things, we're also super thrilled about Netflix Is A Joke Fest. Now all we have to do is wait until April!