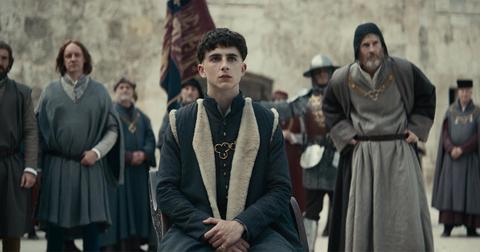 How Historically Accurate Is Netflix's 'The King'?
By Lily Rose
You've been hearing for what feels like a solid year now about Timothée Chalamet's bowl cut hairdo for Netflix movie The King and now it's finally here. In The King, Chalamet plays King Henry V, the real life monarch who ruled England for nine years in the 1400s. It also happens that the same King Henry was also the subject of William Shakespeare's play, Henry V, which borrows heavily from fiction.
Is Netflix's The King historically accurate? They definitely took some liberties.
Obviously, when you stream this movie on Netflix to see Chalamet's bowl cut and hear Robert Pattinson's crazy French accent, you're watching a work that borrows somewhat from fiction. No matter how great those court records are, we can't know 100% what King Henry V told his friends and lovers in private conversations. Plus, you might remember Falstaff from your high school English class. So what's actually true here?