Odell Beckham Jr. and Girlfriend Lauren Wood Have Welcomed Their First Child
Odell Beckham Jr. and his girlfriend have welcomed their first child together, but many want to know who the football player's baby mama is.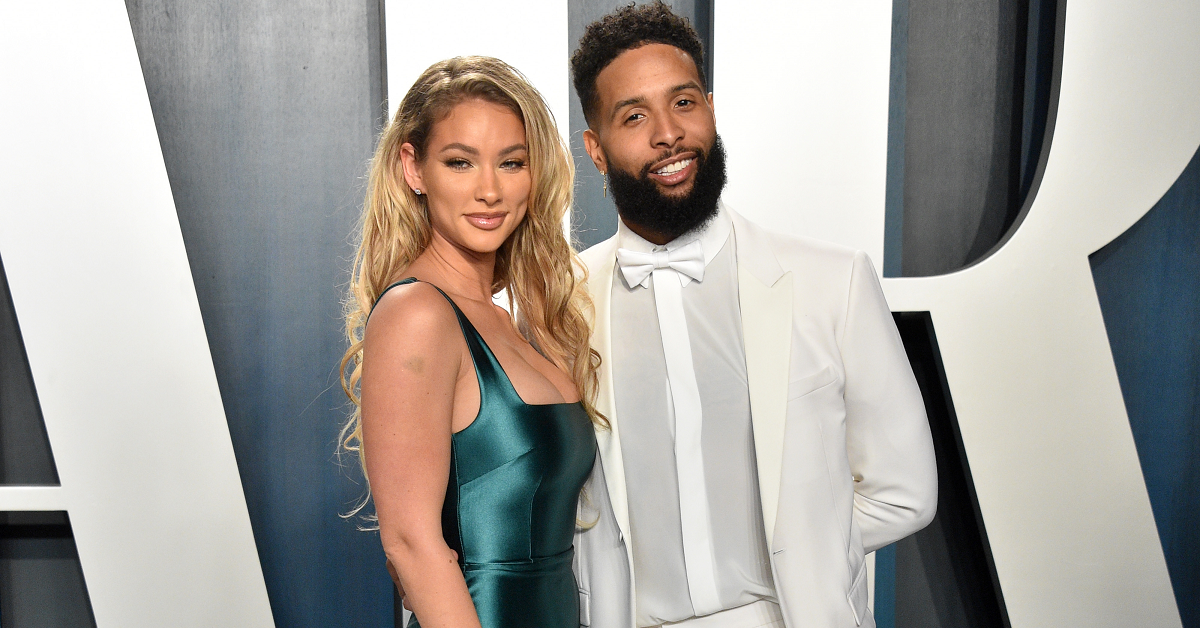 February has been pretty good to Odell Beckham Jr. He won his first Super Bowl with the Los Angeles Rams, and although he also got hurt during the game, the good news has kept coming. The NFL star recently announced that he and girlfriend Lauren Wood had welcomed their first child together. He announced the news on Instagram Wednesday, saying that their daughter had arrived on Feb. 17.
Article continues below advertisement
Who is Odell Beckham Jr.'s baby mama?
Following the news that Odell and Lauren were now parents, many wanted to know more about Lauren. Lauren is an influencer, and is best known for her appearances on MTV's Wild N' Out. Lauren has also earned sponsorship deals with companies like Fashion Nova, Pretty Little Thing, Hot Miami Styles, and Novex Hair Care. She has more than 1.7 million followers on Instagram, and has previously been linked to Floyd Mayweather and the Detroit Pistons' Eric Moreland.
Article continues below advertisement
Odell and Lauren first went public with their relationship in November of 2019, although it's unclear how long the two of them were together before that. They made their red carpet debut in February of 2020 at the Vanity Fair Oscars after-party, and it seems the two of them were at each others' side throughout the pandemic. She was present at his ACL surgery in November of 2020, and a year later they announced that she was expecting.
Odell and Lauren's daughter is named Zydn.
"2-17-22, 0605. The biggest blessing I've ever had in my life arrived here on earth!" Odell wrote on Instagram, announcing his daughter's birth. "The words, I can't even put together for the overwhelming emotions that ran through me … a moment I will never forget and cherish forever. Zydn was born and at that moment I knew my life changed for the better."
Article continues below advertisement
"Lauren Wood, you changed my life forever and delivered the most beautiful gift of all… EFFORTLESSLY!" his post continued. "Your strength throughout this gives me the courage to keep going because I now know with you by my side and holding it down for me, I can get through anything. I love you so much."
Odell's post also announced that he had received another surgery to correct a torn ACL, and said the surgery was a success.
Article continues below advertisement
Fans congratulated Lauren and Odell on their new baby.
Lauren and Odell weren't the only people who were over the moon about becoming parents. Odell's more than 15 million followers were eager to offer their congratulations as well, with many simply offering a few emojis to show their support. Some also joked that their baby would have enormous feet, or offered their love.
It's certainly been a wild few weeks for Odell, but clearly, he's been willing and able to take it all in. He's grateful for every opportunity he's been afforded, and now he's got a family behind him. Not many people become Super Bowl champions and fathers in the same month, but Odell is just that lucky.