Airport Cop Threatens to Arrest Stranded Southwest Passengers for "Trespassing" in Viral TikTok
A mother and daughter said that a police officer followed them throughout an airport and threatened to have them arrested for "trespassing."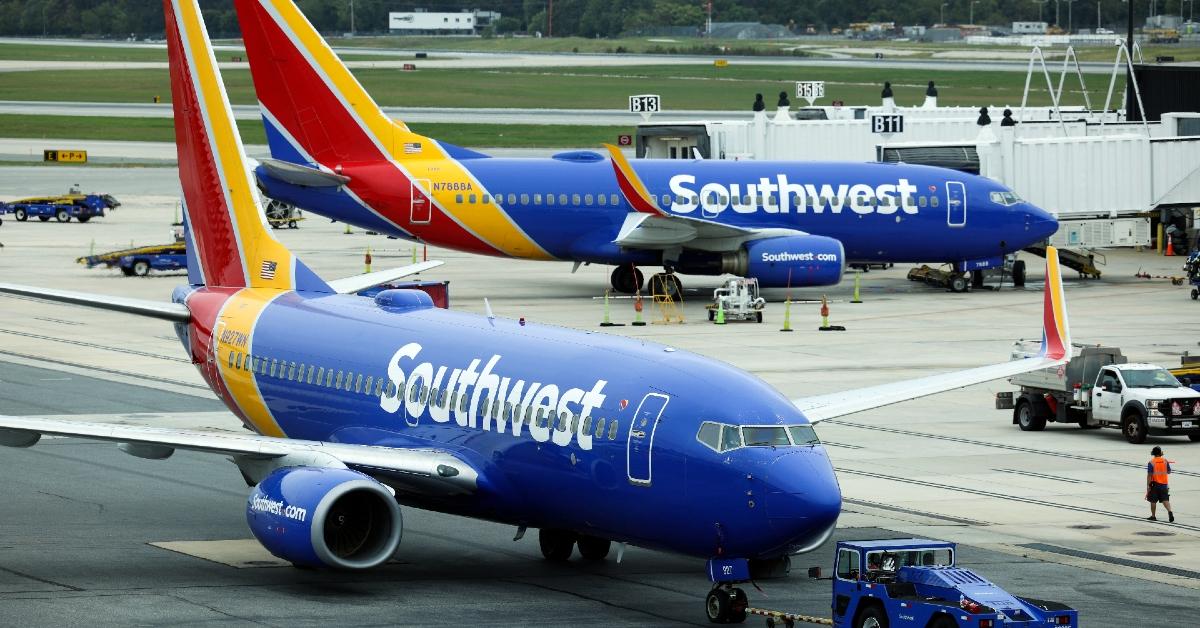 A massive arctic freeze that tore through much of the United States right before Christmas left throngs of fliers stuck in airports. Folks hoping to hop on a jet in order to reunite with friends and families over the holidays, or just get away during some time off at the end of the year were instead left scrambling to re-book their travel plans or at the very least, find their checked bags so they could head home and re-group.
Article continues below advertisement
While many airlines experienced delays and cancellations, Southwest had the worst holiday travel hangover as the popular Texas-based commuting company had to call off more than half of its flights around Christmas 2022. The company accounted for more than 87% of flight cancellations during the storm, leaving tons of commuters stranded.
This has culminated in a litany of "nightmare" scenarios being uploaded to social media that show the aftermath of Southwest Airlines' mass cancellation. One of the scarier clips involves a police officer at Nashville International Airport following a family and threatening to arrest them if they don't leave a specific area of the airport.
Article continues below advertisement
Amani Robinson was supposed to be traveling to Cleveland, Ohio with her mother Shelley Morrison when they received text messages from Southwest that their flight was delayed.
In order to get an update from the company, the two women waited in line to get an answer on what their next steps should be.
Article continues below advertisement

However, after standing in the same line for over an hour, they were informed by someone at the kiosk that they were calling security on the duo and they had to exit the area immediately.
Article continues below advertisement

An Officer comes to inform the women that they aren't allowed to be in that area as the airline didn't want people "congregating" there. Due to the pandemonium incurred by Southwest's decision to cancel so many flights, it's understandable that the airline would to keep certain areas of the airport, especially customer service kiosks, as open as possible.
Article continues below advertisement
Amani and Shelley tell the officer, however, that they weren't entirely sure their flight was canceled as they hadn't received any confirmation that it was and they didn't want to exit the line and head over to the Southwest terminal located outside of the security checkpoint in case their flight was only delayed.
Article continues below advertisement

This would mean that they would have to wait back in line and go through security again and potentially miss their flight, again, if it wasn't canceled. The officer threatens to arrest them for trespassing, telling them that they need to head to the "unsecure side" of the airport to figure out their matters.
Article continues below advertisement

The officer goes on to say that if people don't have tickets then they aren't allowed to be in that line, and when someone says that they do have tickets, the cop says that their "ticket just got canceled." He goes on to explain that anyone with a canceled flight no longer has a valid ticket and will be arrested for trespassing on the "secure side" of the airport.
Article continues below advertisement

TikTokers who saw footage of the officer criticized his behavior as "unprofessional" as he told throngs of passengers to leave the area without knowing what their final destinations were or the status of their flights.
In a follow-up video, Amani said that she and her mother went to a different line to find out the status of their flight and the officer followed them and "picked [them] out specifically out of a line full of people."
Article continues below advertisement
Today received a statement for Nashville International Airport, which said that security personnel was dispatched to various post-security customer service counters in order to direct passengers who had their flights canceled to head to pre-security ticketing areas in order to address their travel disruptions.
Article continues below advertisement

"We understand and appreciate the frustrations travelers may have, and we are working to provide the best passenger experience for all," the airport said.
Article continues below advertisement

This is just one of many poor customer experiences fliers experienced over the Christmas vacation. When it comes to Southwest, CNN states that issues with the airline occurred well before the end of year, 2022, however, citing previous cancellations and delays as a prelude of what ultimately transpired.