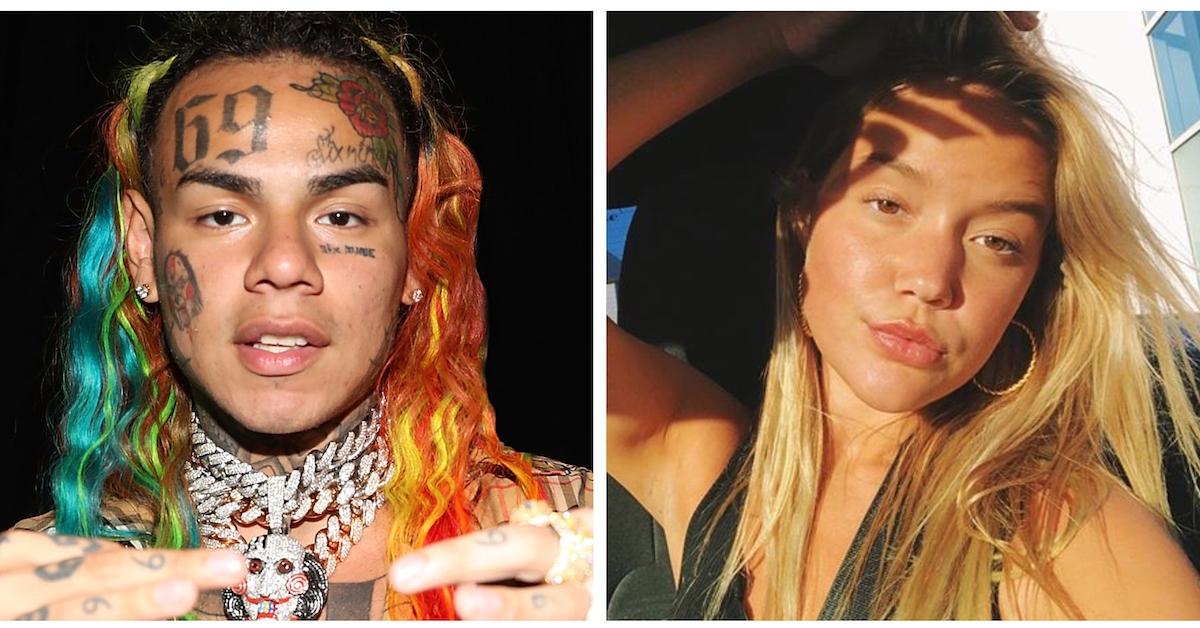 Olivia Ponton's Collab With Tekashi 6ix9ine Has Left Fans Scratching Their Heads
Like many modern influencers, Olivia Ponton is known for her TikTok videos featuring dance challenges, lip-syncing, and of course, other prominent stars in the industry. Collaborating with other influencers is basically a given for those who are at the top of their careers. However, Olivia's collab with Tekashi 6ix9ine is a bit outside of the norm — and it's left plenty of her followers scratching their heads while thinking, "Just why?"
Article continues below advertisement
At 18, Olivia is a Hype House member with more than 3.8 million TikTok followers. She's a pretty big deal on the social media platform, for sure — and for that reason, she frequently collaborates with other influencers such as Nate Wyatt, Ryland Storms, and more.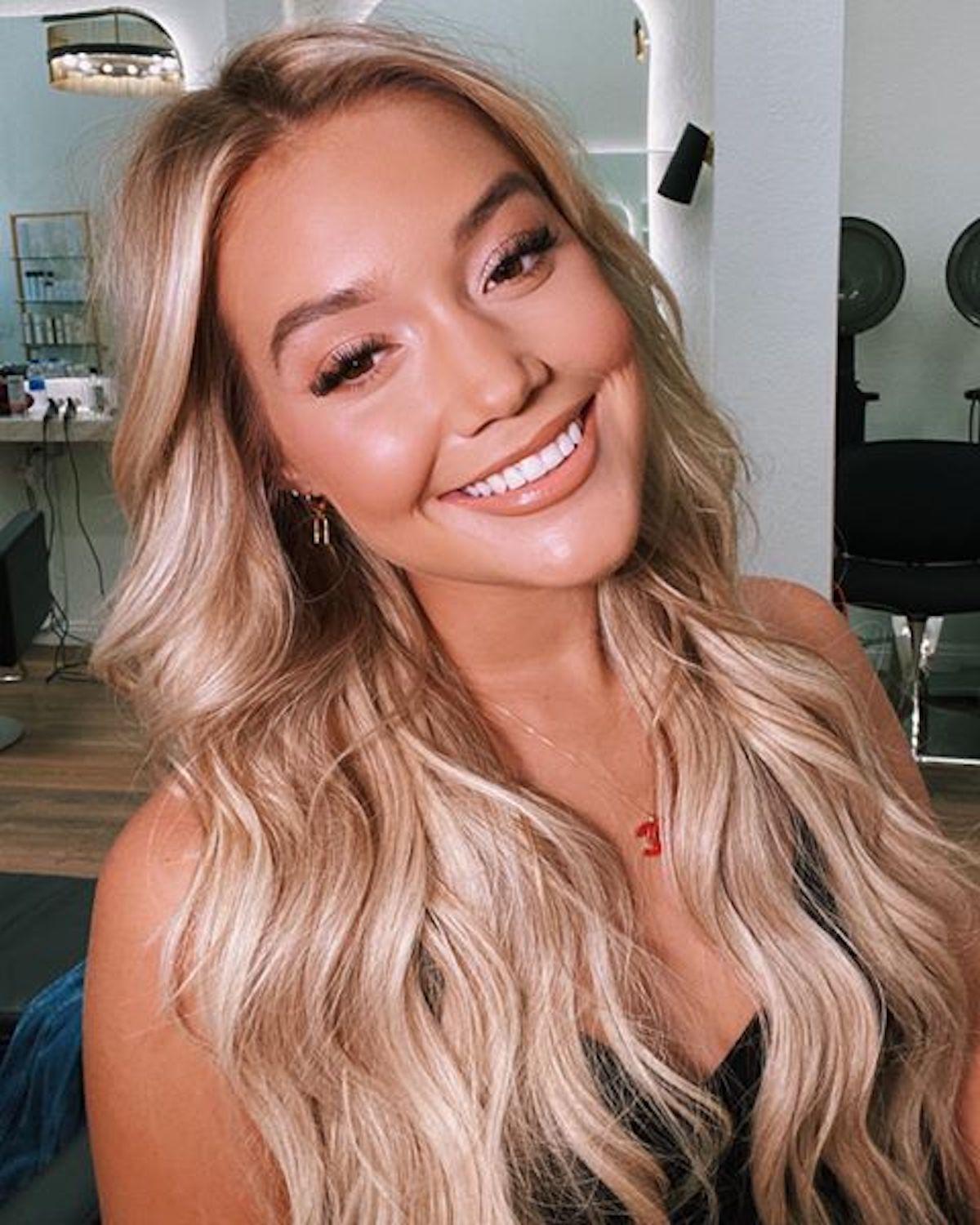 Article continues below advertisement
Meanwhile, Tekashi 6ix9ine (whose real name is Daniel Hernandez) is a rapper who spent time in jail after infamously testifying against former members of Nine Trey Gangsta Bloods — a gang he joined in 2017, but then left less than a year later.
Although he initially denied charges against him, Tekashi 6ix9ine ended up taking a plea deal; he provided evidence against other gang members in exchange for a reduced sentence of two years in prison for racketeering and other offenses.
Because of the novel coronavirus pandemic — along with the fact that Tekashi 6ix9ine has asthma — he was released early from prison and served out the remainder of his sentence on house arrest, which officially ended in August 2020.
Article continues below advertisement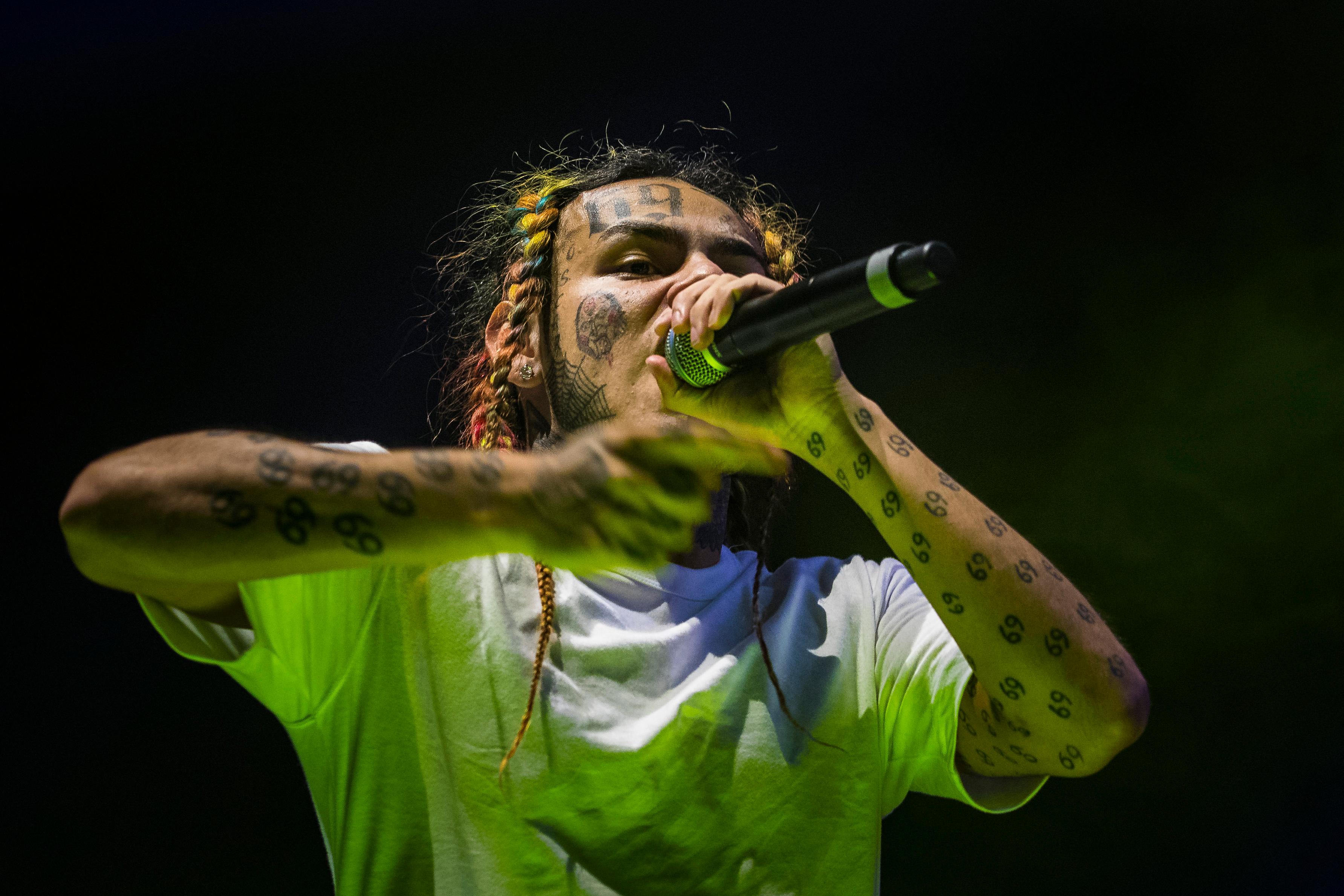 Olivia Ponton posted a TikTok video with Tekashi 6ix9ine in September 2020.
On Sept. 8, Olivia posted a TikTok video of herself and Tekashi 6ix9ine dancing to his song "Gooba" — and at one point, she could be seen twerking in the rapper's direction. Olivia has since deleted the video, however it still lives on via various social media platforms. The clip was also featured on the TikTok Shaderoom's Instagram account.
Article continues below advertisement
Fans weren't happy about Olivia's TikTok video with Tekashi 6ix9ine
Olivia's followers were seriously disappointed when they saw she had collaborated with Tekashi 6ix9ine, and for a number of completely valid reasons.
Article continues below advertisement
In addition to Tekashi 6ix9ine's problematic, gang-related past, the rapper pleaded guilty in 2016 to one felony count of use of a child in a sexual performance. He avoided jail time for the 2015 incident — which involved a 13-year-old girl — and instead was sentenced to probation and community service, among other stipulations. Ultimately, his probation was extended to four years because he didn't uphold the entirety of the plea deal.
Twitter users didn't waste time sharing their disgust about Olivia associating with someone with this type of history, especially considering many of her followers are teenagers.
Article continues below advertisement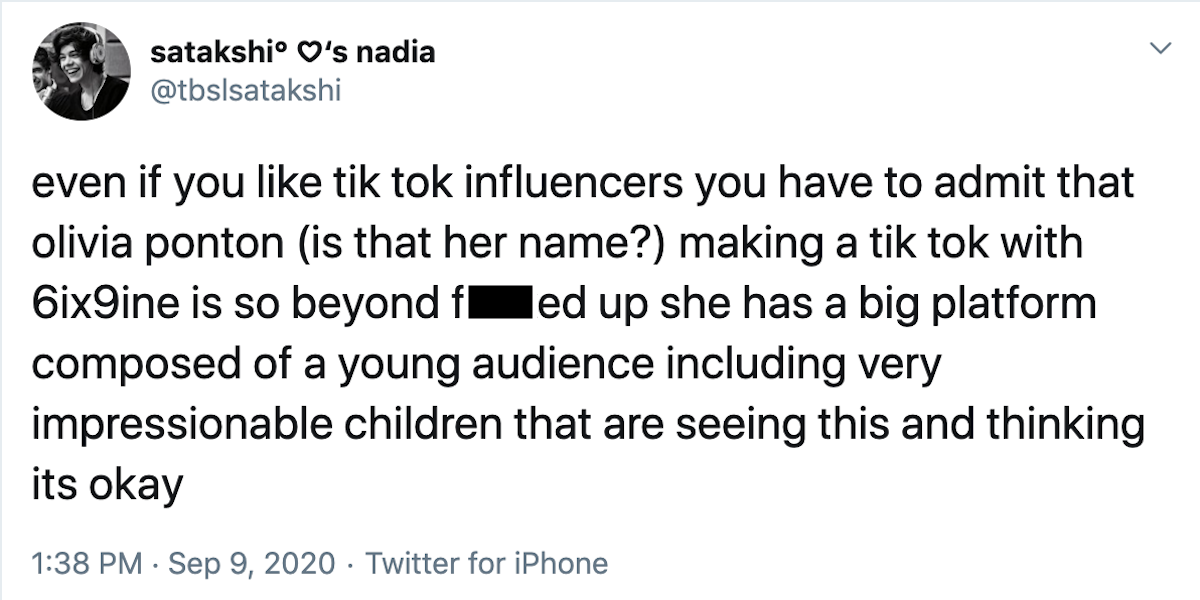 Article continues below advertisement
Article continues below advertisement
Olivia wasn't the only member of the Hype House to form an odd pairing with Tekashi 6ix9ine in September. Thomas Petrou posted an Instagram photo with the rapper and Ondreaz Lopez shared a video on Sept. 8 as well.
Article continues below advertisement
Yikes. Either Olivia Ponton and her fellow Hype House members were clueless about how their TikTok followers would react to associating with Tekashi 6ix9ine, or they knew exactly what they were doing and did it anyway. Either way, people definitely noticed — and they weren't impressed in the slightest.