Did Hannah Stocking and Ondreaz Lopez Break Up?
Did TikTok couple Ondreaz Lopez and Hannah Stocking go through a breakup? Fans are convinced that the influencers parted ways.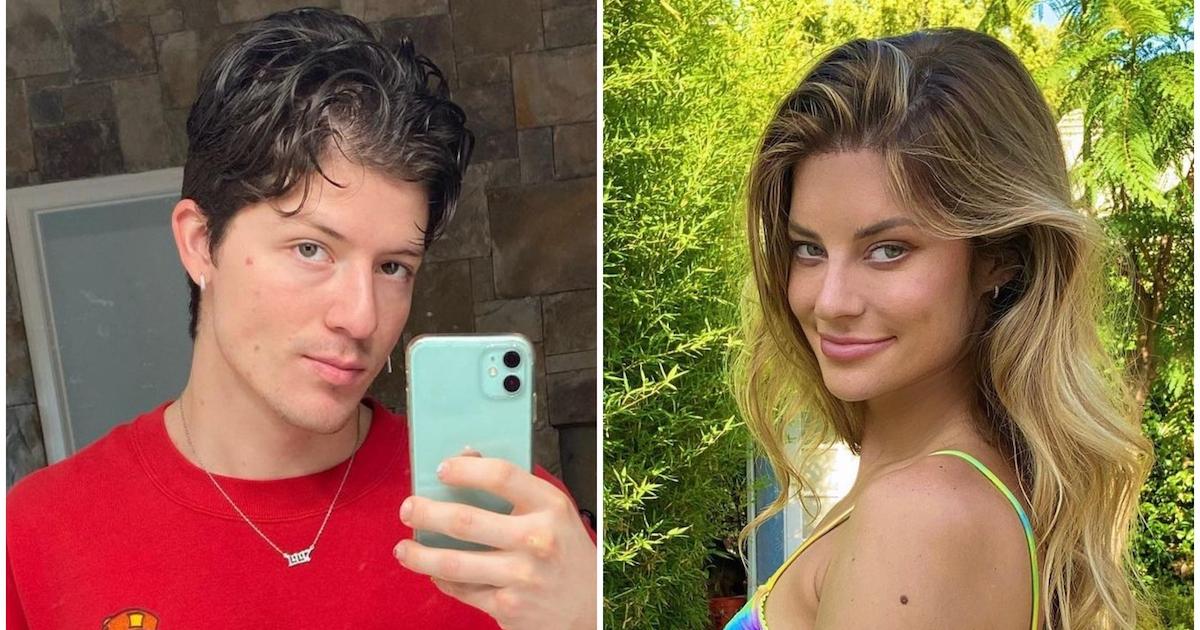 Many top influencer couples tend to go through their breakups publicly with joint YouTube videos, inspirational quote Instagram stories, and deleting any and all trace of their exes.
TikToker Ondreaz Lopez and YouTube star Hannah Stocking are reportedly dealing with much more serious issues in their breakup.
The two teased fans with their romance for weeks before they officially confirmed their relationship in October of 2020 with matching tattoos.
Article continues below advertisement
Ondreaz is best known for being a member of Hype House and for originally rising to fame by making dance videos with his younger brother, Tony Lopez.
Hannah, on the other hand, boasts 7.68 million YouTube subscribers, and she has 18.7 million followers on Instagram.
Though their relationship got fans buzzing for months, it appears as if they have gone through a breakup. Ondreaz has been accused of sexually assaulting a minor.
TW // Sexual Violence
Article continues below advertisement
Did Ondreaz Lopez and Hannah Stocking break up?
Though neither Hannah nor Ondreaz has explicitly confirmed a split, there are plenty of social media signs that suggest that the two are done.
They no longer follow one another on Instagram, and Hannah wiped all photos of Ondreaz from her feed. Ondreaz still has a set of photos with Hannah that was posted in September of 2020.
Hannah also deleted most of her TikTok videos with Ondreaz, although he is still featured in her 2020 rewind video.
One of Hannah's close friends, fellow comedy YouTuber Lele Pons, shared an Instagram story that she was headed to Los Angeles to support Hannah, which further fueled the speculation.
"@HannahStocking Love you baby! Stay strong! See you soon in LA," she wrote, along with three red heart emojis.
Article continues below advertisement
In addition, Hannah posted an Instagram story of her crying in a dark room. Many took this to be further confirmation that her relationship with Ondreaz soured, or that she was taking in the recent accusations against him.
Article continues below advertisement
What happened with Ondreaz Lopez? Details on the accusations against him.
Weeks after Tony Lopez was sued for sexual battery and for sending sexually explicit photos to minors (which he denies), Ondreaz Lopez has been accused of sexually assaulting a 14-year-old girl.
The allegations appeared to arise from the TikTok account @SainttBaby.
The woman behind the account shared a video of Ondreaz allegedly speaking to the mother of a 14-year-old girl. Ondreaz cannot be seen in the video, but a male voice can be heard in the background. It cannot be confirmed that this voice is Ondreaz's.
In the video, a woman asks how old the male is. He responds that he is 23 (which is how old Ondreaz is).
"She's 14 and you're how old?" the woman wonders in the video.
"Twenty-three," the guy answers.
"You know what can happen to you?" she asks.
Article continues below advertisement
"I do," the man responds.
"You can end up in jail," she continues.
"I do realize that," the man replies.
In the remainder of the video, the woman tells the man that they need to speak in person. She shares that she will bring along her daughter and her sister to "figure this out." The man says that he is "totally OK" with meeting and that he is interested in doing so "whenever is possible."
Article continues below advertisement
"People on my main account keep asking what happened with Ondreaz but here it is," @SainttBaby wrote over the video.
The person behind the @SainttBaby TikTok account later shared videos that appear to be from the Hype House. She shared that the event in question took place during Ondreaz's 23rd birthday party in April 2020.
She claims to be a friend of the alleged victim and that she is posting the information because her friend "just wants to be anonymous."
@Sainttbaby also posted a video that showed a legal document about the matter and a screenshot of her sending it along to Hannah Stocking.
Ondreaz has not commented on the recent allegations against him. Per the instagram account, @TikTokRoom, multiple influencers including Noah Beck, Larray, Bryce Hall, and Addison Rae have unfollowed Ondreaz.
If you need support, The National Sexual Assault Hotline is available 24/7 at 1-800-656-4673. You will be connected with a trained staff member in your area. Or visit RAINN.org to chat online with a support specialist at any time.