Woman Warns Parents to Never Leave Their Children Alone With These People — Including Family
In a viral video, this woman warns parents about people you should never leave alone with your child — and it's not who you might think.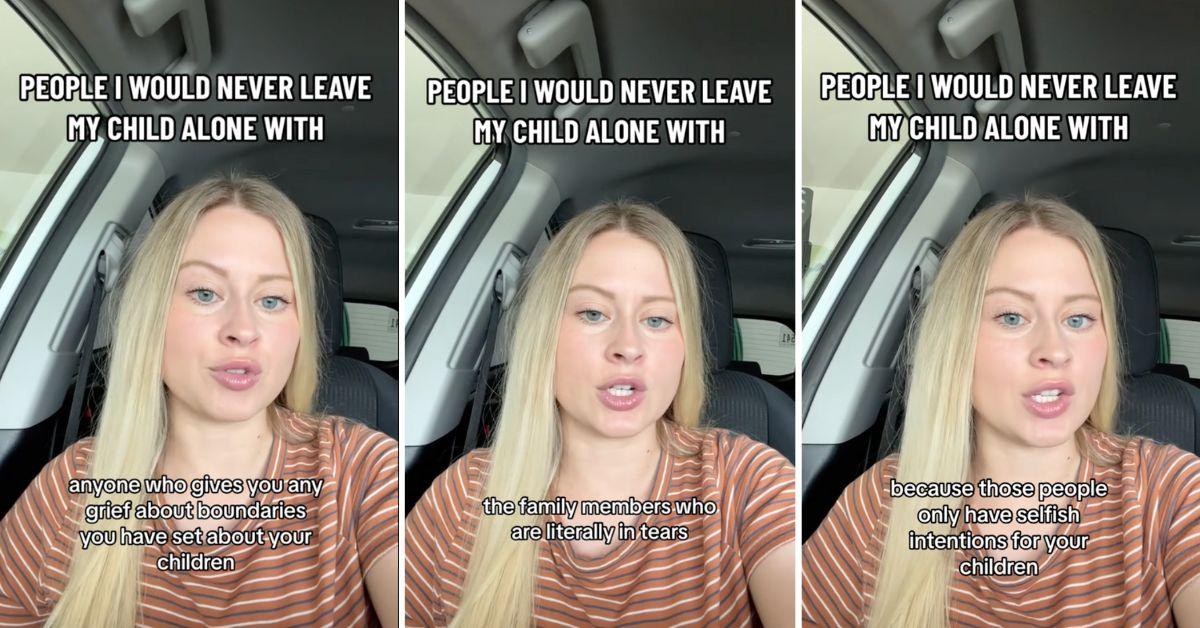 Article continues below advertisement
Well, according to TikTok user OrganicallyMaddie, not always. In a viral video, Maddie, who uses her platform to speak about setting healthy boundaries in motherhood, shared her list of people who you should never leave alone with your child — including family.
So, who should we be keeping an eye out for? Plus, stick around to see who the internet thinks should be added to this list.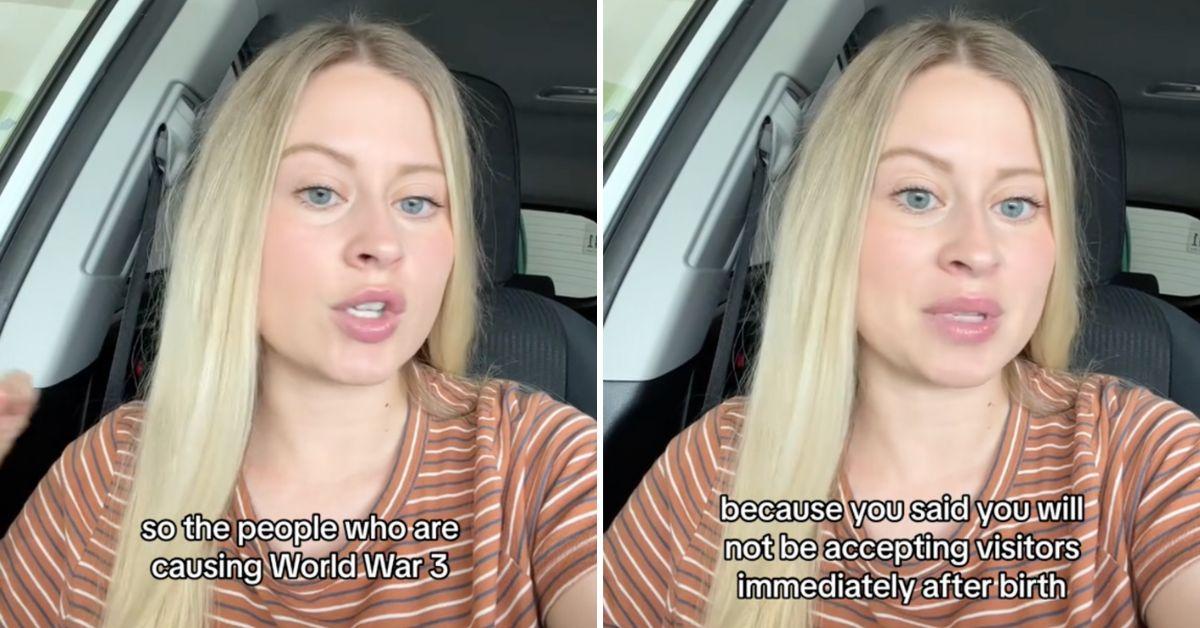 Article continues below advertisement
This mom made a list of people you should never leave alone with your kids.
Along with strangers in unmarked vans, creepy men on the subway (and creepy men who work for Subway), and pretty much everyone else in the world, Maddie has even more untrustworthy individuals to add to your list of people to never leave alone with your child. And this time, we're talking about boundary-crossing family members.
"Here's a super easy way to compose a list of people you should never leave your child alone with," she starts. First up? "Anyone who gives you any grief about boundaries you have set about your children."
For example, Maddie says that anyone who gives you a hard time "because you said you will not be accepting visitors immediately after birth," or family members who are "literally in tears because you said that they cannot kiss your newborn on the lips," are definitely not to be trusted.
"The very first thing that these people will do when they get your children alone is cross your boundaries," she explains.
Article continues below advertisement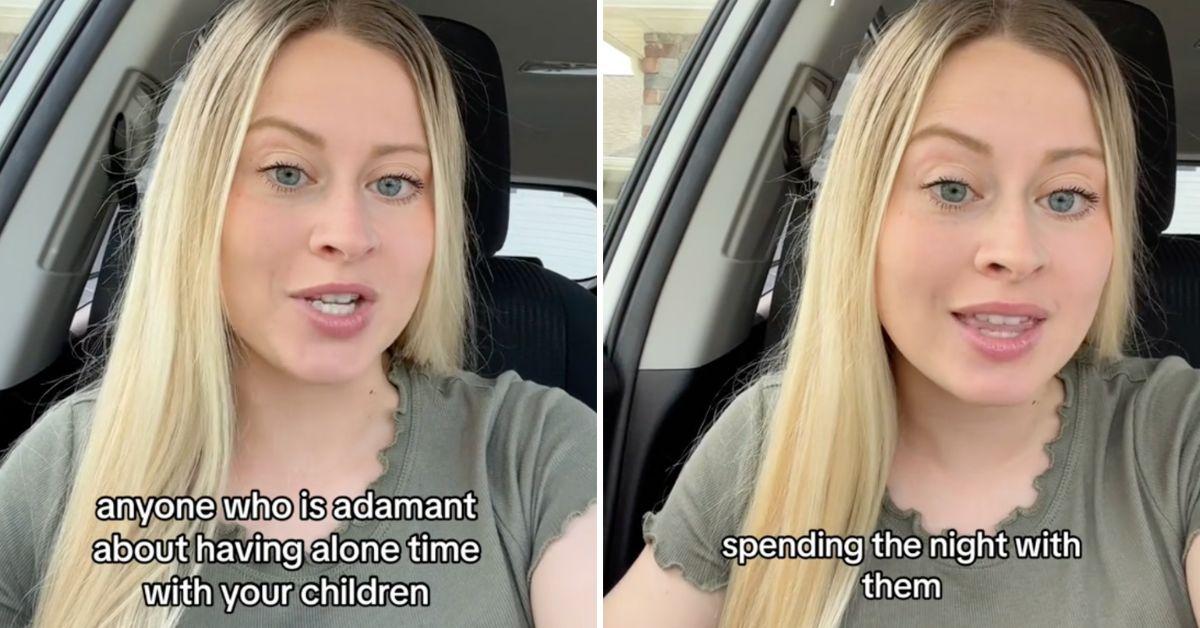 Later in the video, and in her follow-up, Maddie goes on to list even more red flags.
"People who do not respect you as a mother," she adds, "and feel any degree of entitlement to do what they want with your children — keep them at arm's length."
"Anyone who is adamant about having alone time with your children," Maddie says. "People who feel that they can only bond with young children without their parents are a giant red flag." We couldn't agree more. As she goes on to explain, these people usually want to be able to parent the children how they want, ignoring rules and boundaries set by the actual parents, with no consequences.
Article continues below advertisement
Either that, she shares, or they want to "play mommy or daddy for a day ... and relive the glory days of being a parent."
"My child does not exist to fill some sort of emotional void in your life," Maddie says.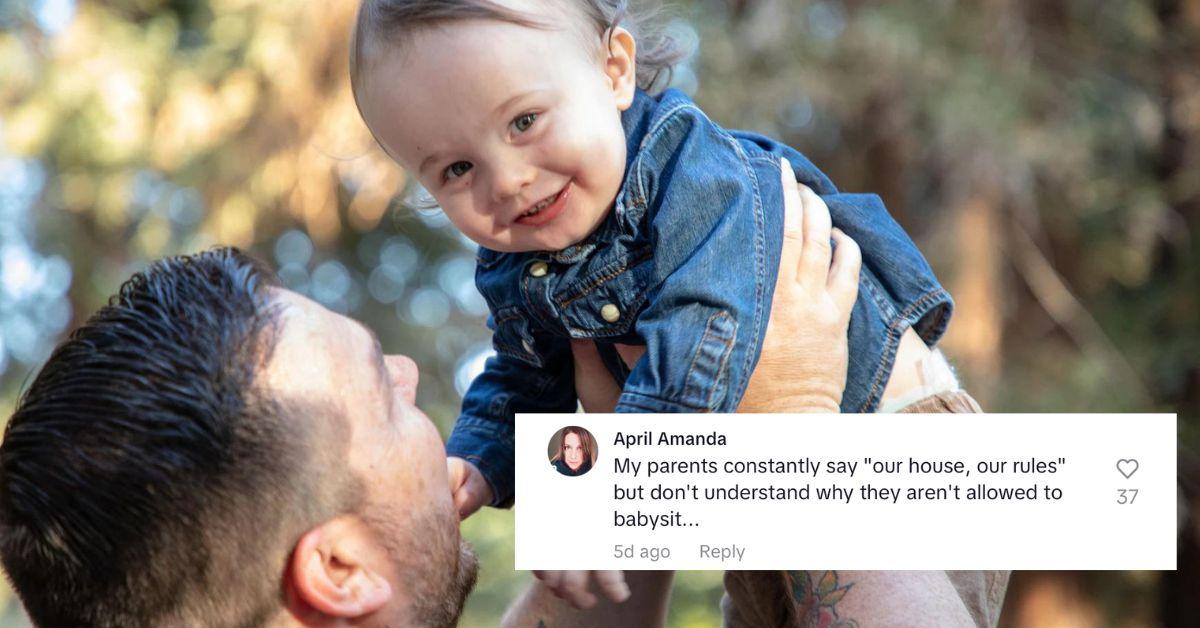 Article continues below advertisement
Many commenters agreed and made their own additions to the list.
Maddie's comments were flooded with fellow mothers agreeing with her tips and sharing their lists of people they won't leave their children alone with, including in-laws, grandparents, and more.
Commenter Michaela Siemon added that "people who ask children to keep secrets from their parents" definitely can't be trusted.

Article continues below advertisement
One commenter, Kay May, responded with her short list of people who will not be alone with her child: "Anyone who hit me as a child, made comments about my weight, or withheld food as a form of punishment." While these things are absolutely awful, they're unfortunately all too common, and we completely agree that anyone with a history of causing harm to children (physical or otherwise) certainly shouldn't be left alone around them.
Unfortunately, she wasn't the only one in the comment section with aggressive family members. Phew, some people just hate being told no.

Article continues below advertisement
Apparently, commenter Maddie Hoover (no relation to the original poster, we presume) has a mother-in-law who actually punched her while she was nine months pregnant after finding out that she and her husband wouldn't be accepting hospital visitors. They are now no-contact with her, because obviously.
And while some family members love disrespecting boundaries, others simply don't believe in them.
"My in-laws once said there [aren't] boundaries in family because they 'love' so hard it doesn't matter," one commenter shared. "I nearly threw up." And so did we, dear commenter. I don't even want to think too hard about the implications of that statement, and you shouldn't either. Just don't leave your children alone with those people, OK?
Article continues below advertisement

All these red flags can really make you want to never let your child out of your sight again — but unfortunately, it's not always that simple.
"[This is] why I'm a stay-at-home mom, but now it's getting so hard being on one income," shared commenter Kelsey Wolf. Many parents rely on outside help when caring for their kids (especially in the U.S., where parental leave isn't exactly in abundance), and Maddie's video is just another reminder to choose your caretakers wisely.