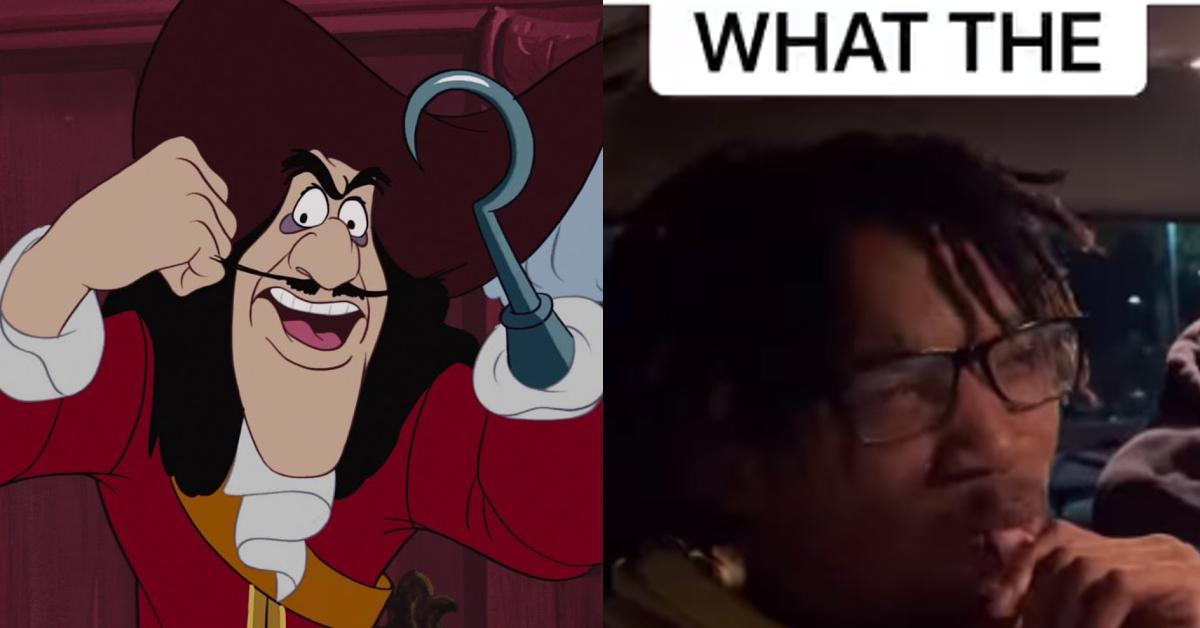 Viral Fan Theory Says Captain Hook's Just Trying to Protect Kids in 'Peter Pan'
A viral clip has Disney and Peter Pan fans digging a little deeper into the story's narrative to suss out who the real villain is.
Entertainment and nerdism go together like chocolate and peanut butter or scrolling through social media feed on your phone while re-watching your favorite mindless shows. People just love to take their devotion to celebrated classics to the next level by poking and prodding at narratives well beyond whatever occurs in the script or appears on the screen.
Article continues below advertisement
Oftentimes the theories themselves are challenges to accepted storylines and perceptions of who is actually "the real villain" of a piece, something that comes up in a lot of Disney films. The movies that many of us watched as children seem to take on a new meaning when we get older, which is perfectly encapsulated in this viral clip that makes a fairly strong point that Hook is actually the protagonist of Peter Pan.
Article continues below advertisement
Reposted by @todayyearsold, the clip features a group of friends sitting in a car. A text overlay for the video reads: "As you get older the villains become less...bad."
Article continues below advertisement
One young man in the backseat speaks to another young man in the front seat as he breaks down the thesis of his "Pan is the bad guy" argument: "What if Captain Hook is only going after Peter Pan. Because he's trying to stop him from kidnapping anymore kids. But everybody else sees it as him being the bad guy because Captain Hook never goes after the kids. Always Peter Pan."
Article continues below advertisement
The young man in the front seat contemplates what his friend sitting behind him for a second and then the epiphany dawns on him: Hook really does only attack Pan in the cartoon: "What the f**k?!" he says when it dawns on him.
Article continues below advertisement
The glee in his friend's face as he realizes the theory makes sense to another person is palpable, but it appears they're not the only ones who believe that there's a strong possibility that, as the original Disney cartoon is written, Peter Pan could be interpreted as a pirate trying to stop a flying kidnapper from subjecting any more children to danger as part of his live forever scheme.
Article continues below advertisement
According to Villains Fandom there are several who believe that Hook's actually the good guy under the Trivia section: "Many fans have adopted the notion that Captain James Hook is actually the good guy as Peter Pan is the antagonist, with the ideas that many of Hook's "pirates" are actually exiled Lost Boys who escaped Peter's gang or the Boys who found the truth of Peter's true evil intentions towards them and so Hook promised them a better future in his crew."
Article continues below advertisement
Commenters on the video offered up their other fan theories as well, some conjectured that Mary Poppins was just a drug dealer with her "just a spoon full of sugar" exhortations.
Article continues below advertisement

However, someone did point out a hole in the fan theory: that Hook did make Wendy walk the plank.
What do you think? Is there more than enough evidence to suggest that Peter Pan has got the entire story twisted? Or do you people need to just take these movies for what they are and should probably bring that much thought and analysis to their jobs and personal goals/dreams?