The Strange Reason Behind All the Pizza Emojis on Chrissy Teigen's Social Media Pages
What is the meaning behind the pizza emoji? Here's the strange reason why the beloved icon is flooding Chrissy Teigen's social media pages right now.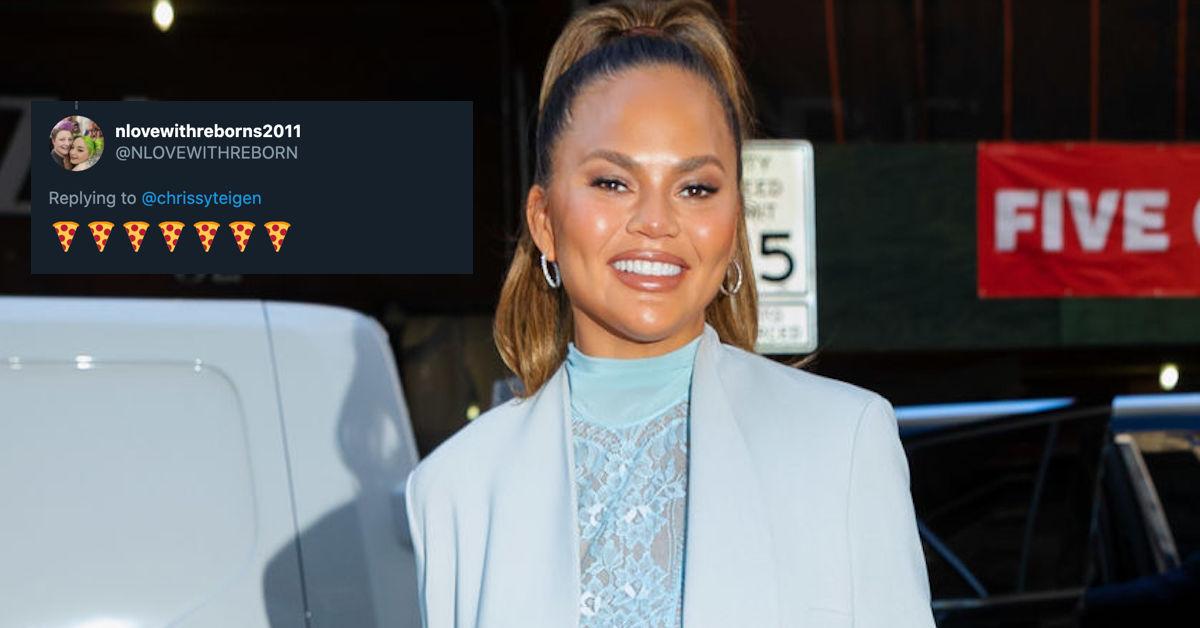 Political conspiracy theories have become increasingly prevalent since the 2016 election. First there was Qanon, then there was Pizzagate, which has apparently garnered a larger following with the rise of TikTok. Now, Pizzagate theorists are flooding Chrissy Teigen's social media pages with accusatory pizza emojis and people are seriously confused.
Article continues below advertisement
Stay tuned for the meaning behind the pizza emojis, and why Pizzagaters are using them to flood Chrissy Teigen's social media pages right now... the reason is pretty absurd.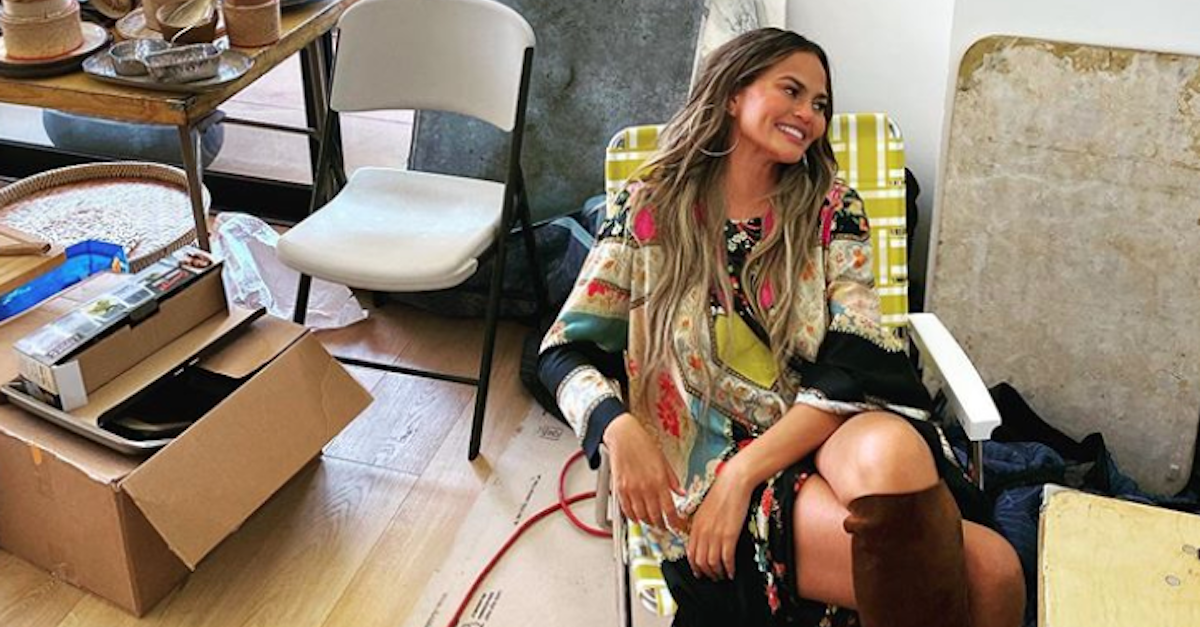 Article continues below advertisement
What does the pizza emoji mean? Behind the Pizzagate theory.
Pizzagate conspiracy theorists have been after Chrissy Teigen for quite a while now. According to a 2018 USA Today article, she spent New Year's Eve 2017 defending her family against Twitter trolls that "connected" her with Pizzagate, a right-wing conspiracy theory that links the Democratic party, as well as various celebrities, with a child sex-trafficking ring that's believed to exist out of a Washington D.C. pizza parlor.
The accusations started when Chrissy posted a photo of her daughter, 2-year-old Luna, to Snapchat with hot dog and pizza emojis. This inspired baseless outrage, with trolls immediately connecting her to the creepy and seriously misleading theory.
"Alright. I debated saying something about this but I'm pretty disturbed over here. The fact that there are people with these...thoughts...is really scary," Chrissy wrote in a tweet shortly after the incident.
Article continues below advertisement
"Apparently dressing my daughter as Alice in Wonderland on Snapchat has to do with pizzagate and being uhhhh darksided. Holy (expletive). That thread is wild. Enjoy," she continued, posting screenshots of the disturbing and accusatory tweets.
Two years later, Chrissy is still defending herself, reiterating the fact that Snapchat simply selected the emojis for her, and that it meant absolutely nothing.
Article continues below advertisement
Two years later, conspiracists are still finding reasons to connect Chrissy Teigen with Pizzagate.
Whenever Chrissy posts photos of her kids, the former model's Instagram comments are automatically flooded with hashtags such as "#saveourchildren," in addition to various allegations that she had ties with Jeffrey Epstein, a dead child sex-trafficking leader.
Her tweets are also filled with comments made by trolls, which include pizza emoji. When the cookbook author took to Twitter with her new baby bump, for example, Pizzagaters were ready to pounce.
Article continues below advertisement
Twitter user @JeffMarino8, for example, responded, "Congratulations! Let's throw a [pizza emoji] party to celebrate," while Twitter user @R25052207 exclaimed, "YOO WE DIDNT FORGET!! [pizza emoji]."
Check out a few of these truly insane comments made by trolls on Chrissy's Twitter page below, but warning: these allegations are disturbing and beyond ridiculous.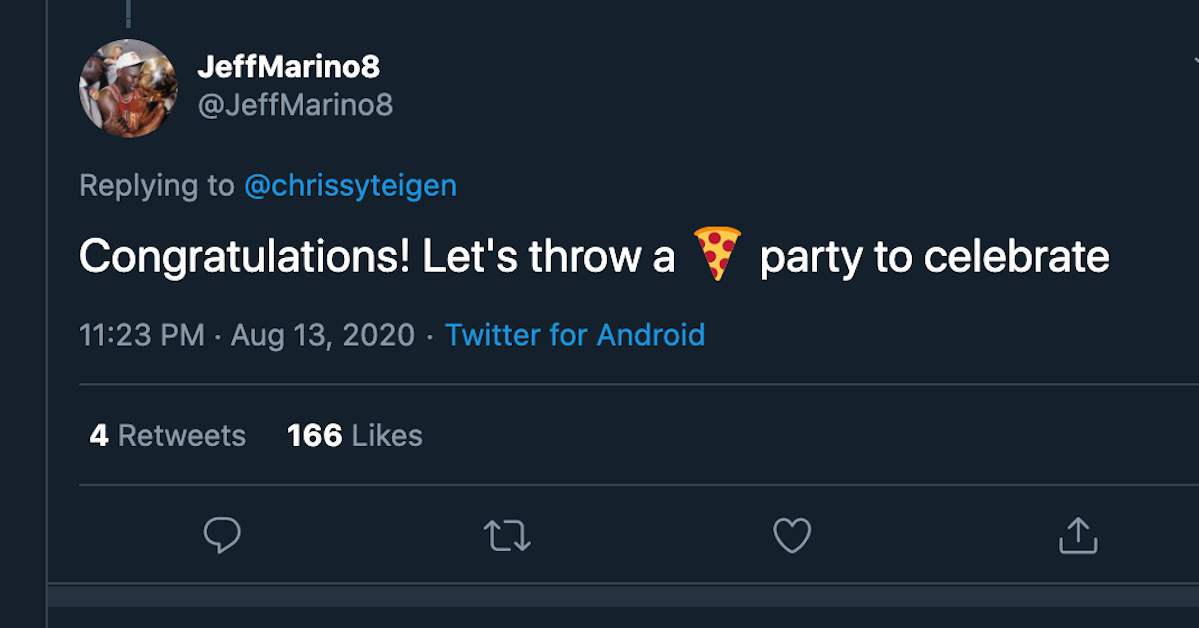 Article continues below advertisement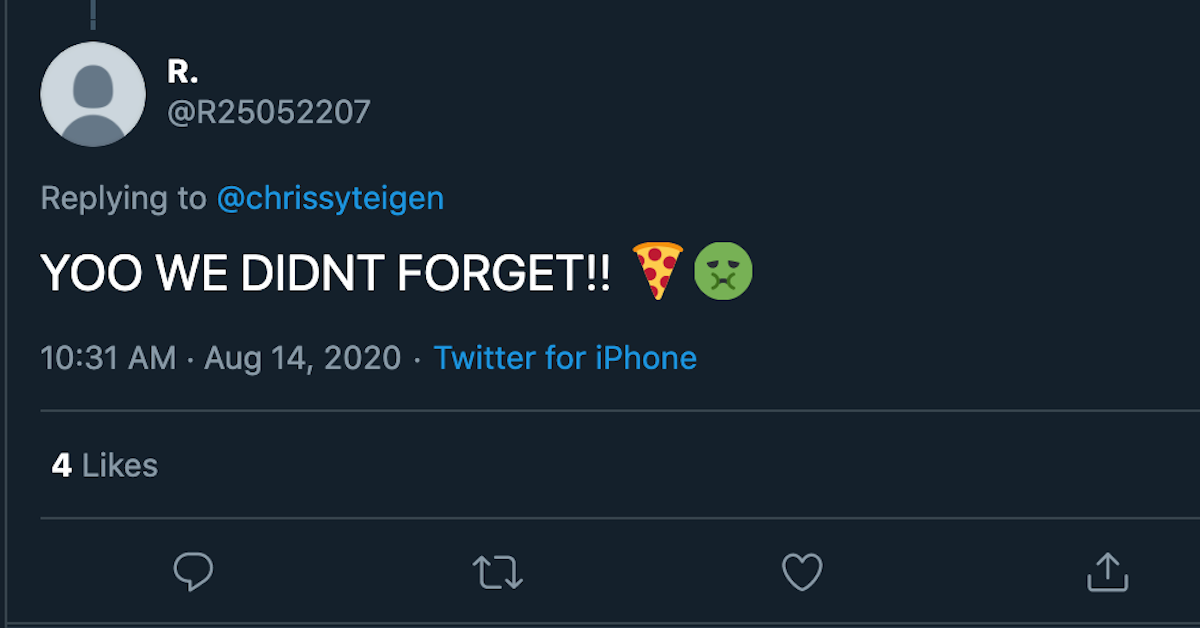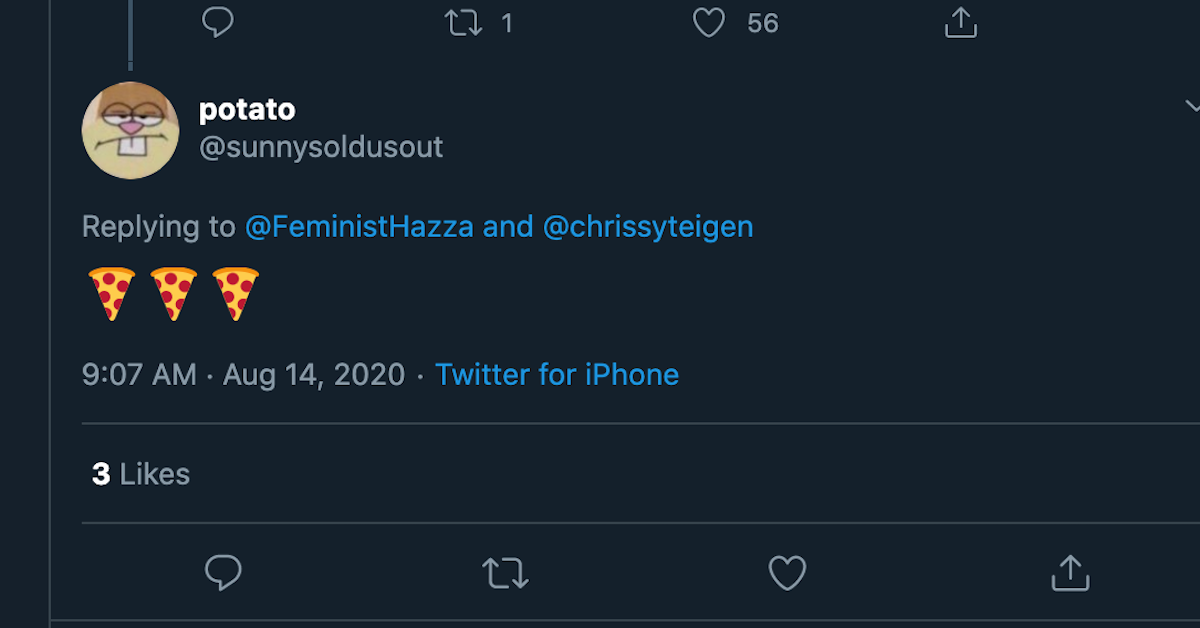 Instead of blissfully celebrating her third pregnancy right now, a handful of Twitter trolls are making baseless accusations about Chrissy Teigen somehow being involved in an imaginary child sex-trafficking ring, with little to no factual information behind them. Needless to say, we're definitely missing the days when the pizza emoji actually represented the carb-filled delicacy, because Chrissy truly deserves an ACTUAL pizza party to celebrate her third child right now.