Hosting a PowerPoint Night? Here Are a Few Ideas to Get You Started
Hosting a virtual PowerPoint night with your friends? Here are a few ideas, courtesy of TikTok, to help you plan a fun and engaging night!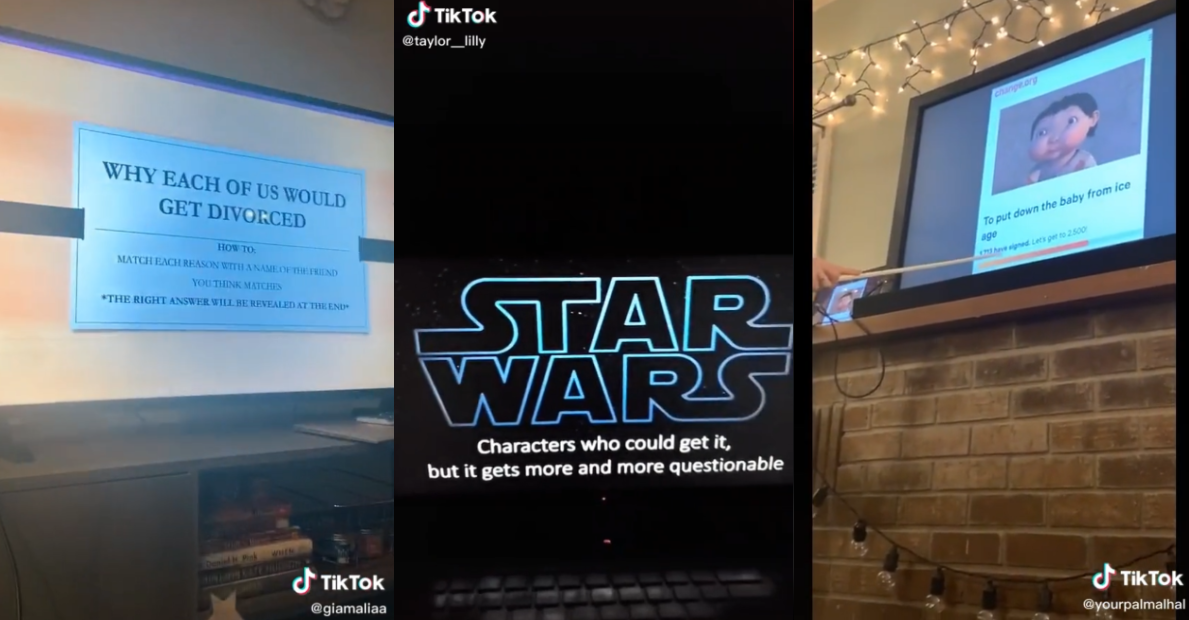 At this point, you probably know at least one friend who has partaken in a PowerPoint night, and you may be interested in hosting your own. Either that or you've seen a million PowerPoint nights on TikTok, and they've inspired your own party. Whether you want to host a virtual PowerPoint night, or one with your quarantine pod or roomies, here are a few ideas to get you started.
Article continues below advertisement
Pop culture rankings are always a good choice.
At my last PowerPoint night, one friend ranked all of James Marsden's characters by "marriageability" (although we all know that Criss Chros deserves the No. 1 spot). Pop culture references are a popular choice because, for the most part, your audience, as they are usually your friends, often have similar taste in shows and movies. Although they may not agree with your conclusion (sorry, but Baby Groot is the cutest, @yourpalmalhal), you'll all have a fun time getting there.
Go for nostalgia.
Pop culture is fun and all, but if you've ever had a PowerPoint night with friends you've known since way back when, you know it's fun to go back to some nostalgic roots. Did you and your friends use to debate Team Edward vs Team Jacob? Time to bring up some old arguments — with a more, ahem, mature twist.
Article continues below advertisement
Give it a theme, especially if you have some hesitant players.
If you have a friend group who cries, "I can't think of anything," whenever you propose a PowerPoint night, make it a little easier and give them a more specific topic. Decide on something that you're all at least somewhat passionate about (like your favorite problematic anime characters) and have everyone defend their positions.
Article continues below advertisement
Go for personal.
Look, if you know for a fact that you and your friend group can handle some personal info, go for it. Rule No. 1 of PowerPoint night is that it's a judgment free zone. Want to rate all the places you've hooked up? Do it! Want to admit all of your hardcore celebrity crushes all in one go? Go for it! Of course, you can also go in the other direction and make it more personal towards your friends, but be a little kinder in that regard. And probably clear it with your friend that you're about to absolutely trash her Instagram.
Article continues below advertisement
Go weird and obscure.
OK, we've all seen the PowerPoints ranking Disney dads, right? No offense to anyone making them, but we've seen them a lot already. If you want to do something that you're absolutely sure your friends aren't going to do, don't be afraid to get passionate about the things you're passionate about and go weird! If you love Mamma Mia! and pastries, it makes sense to combine them, doesn't it? At the end of the day, just make a PowerPoint that makes you happy.
Article continues below advertisement
Rankings also work when you're applying them to your friends.
Flat out ranking your friends? Kinda lame. Ranking your friends in terms of who would get divorced first or who is which Tinder stereotype? Now that's better. Again though, be sure that your friend group is on that level.
Article continues below advertisement
Give us your bad takes.
PowerPoint nights thrive on bad, bad takes that don't get discussed in normal conversations. Like, when was the last time your friend admitted that they're into Jar Jar Binks? PowerPoint night is a place where all the bad takes come out to play. Yes, your friends will argue right back, but that just means you get to do the same for their presentation, because, if done right, everyone should be sharing a lot of questionable things on PowerPoint night.