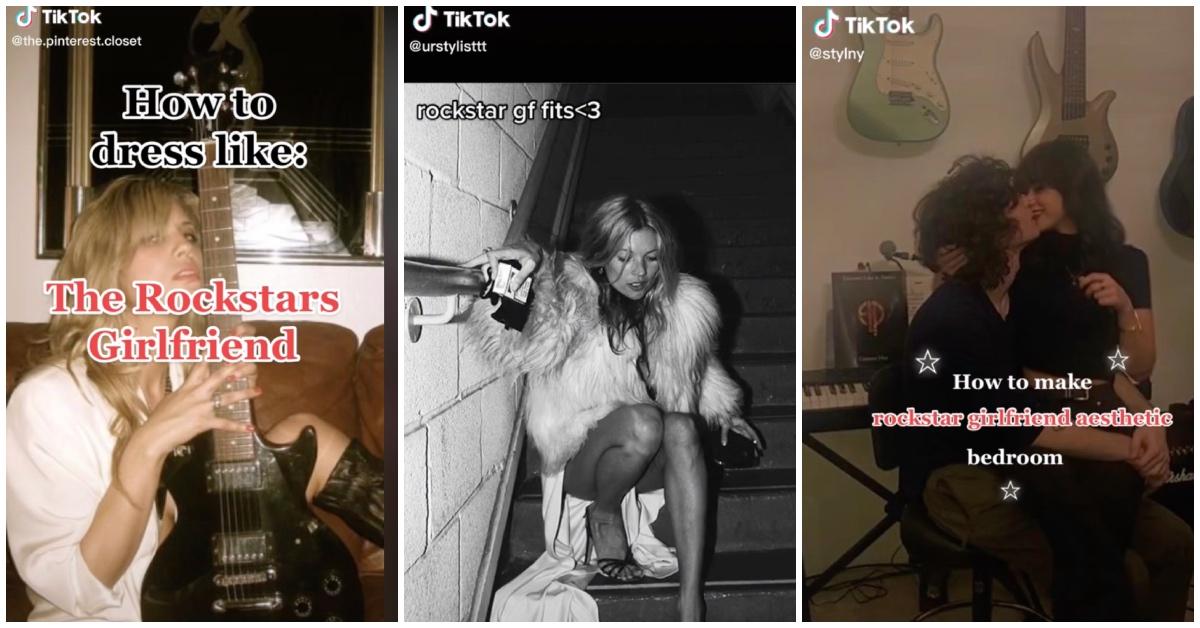 Dress Like You're on Tour With TikTok's "Rockstar Girlfriend" Aesthetic
Article continues below advertisement
What is the "rockstar girlfriend" aesthetic? Who are the major inspirations behind the look? And, most importantly, how can you achieve rockstar girlfriend aesthetic? Keep reading for everything you need to know.
Article continues below advertisement
What is the "rockstar girlfriend" aesthetic on TikTok?
The rockstar girlfriend aesthetic is heavily inspired by the muses of rockstars past and present. Think Almost Famous' character Penny Lane or model Anita Pallenberg, whose personal style influenced her boyfriends Keith Richards and Brian Jones of the Rolling Stones. Other popular examples of the "rockstar girlfriend" include Alexa Chung when she dated Arctic Monkeys frontman Alex Turner, and model Devon Lee Carlson when she dated the Neighborhood's Jesse Rutherford.
Many of the photos used as inspiration for TikTok's "rockstar girlfriend" aesthetic feature Kate Moss in the early 2000s, when she dated the Libertines frontman Pete Doherty. What could arguably be considered an extension of the "indie sleaze" and "grunge" trends with some crossover with another TikTok favorite aesthetic, "Downtown Girl," the "rockstar girlfriend" is all about fur coats, morning-after makeup, fishnet stockings, and leather.
Article continues below advertisement
Some have been quick to point out that the "rockstar girlfriend" aesthetic pins women in the male gaze as nothing more than a pretty face to inspire music, but many "rockstar girlfriends" are also rockstars in their own right: Courtney Love, Suki Waterhouse, Avril Lavigne, and Sky Ferreira, for example. Italian rock band Måneskin has also been cited as an influence on the trend for both men and women.
Article continues below advertisement
Many components of the rockstar girlfriend aesthetic rely on a carefully curated messiness. Last night's eyeliner and smudged smokey eyes plus a bold red lip is a frequent rockstar girlfriend suggested makeup look. Open silk shirts paired with blazers and a cute bralette or oversized leather jackets with a slip dress are also frequent clothing suggestions.
Other suggested items of clothing that have been flagged as "essentials" for the rockstar girlfriend aesthetic include platform shoes, graphic tees, oversized jeans, leather blazers or trench coats, black sunglasses, baguette bags, and pops of red (lipstick, blazers, shoes, etc.).
Ultimately, it seems, the rockstar girlfriend aesthetic is what you make of it, even without the musician boyfriend!