What Is Notre Dame QB Sam Hartman's Life Like off the Football Field?
Notre Dame quarterback Sam Hartman is having a stellar season, but what is his life like off the field? Read on to learn more about his personal life.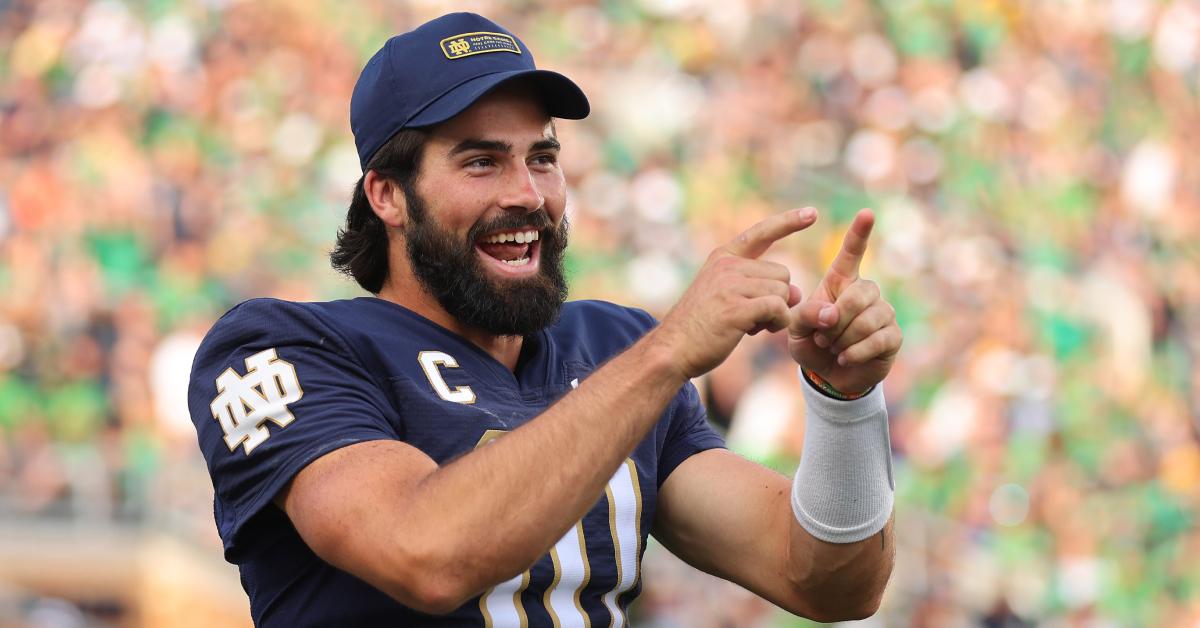 The Gist:
Sam Hartman is the starting quarterback for the Notre Dame Fighting Irish.
His performance has football fans making a case for the QB to be in Heisman Trophy contention.
Some fans want to know more about his life off the field, including if he's dating anyone.
Article continues below advertisement
Content warning: The article discusses suicide.
If you haven't been following college football, you're missing out on Sam Hartman's remarkable season with Notre Dame. The 20-something quarterback is playing some of the best football we've seen in years, and we wouldn't be surprised if he leads the Fighting Irish to their first national championship win since 1988.
We could go on and on about his skills, but some fans want to know more about Sam's life off the field. Is he dating anyone? What do his parents think of his career? Why does his necklace hold a piece of his rib bone?!
Keep reading because we have all the answers you're looking for.
Article continues below advertisement
So, is Sam Hartman dating anyone?
As someone in the public eye, Sam hardly ever shares details about his love life. However, he's reportedly dating Wake Forest soccer player Tyla Ocoha, whom he met while attending the North Carolina college from 2018-2022.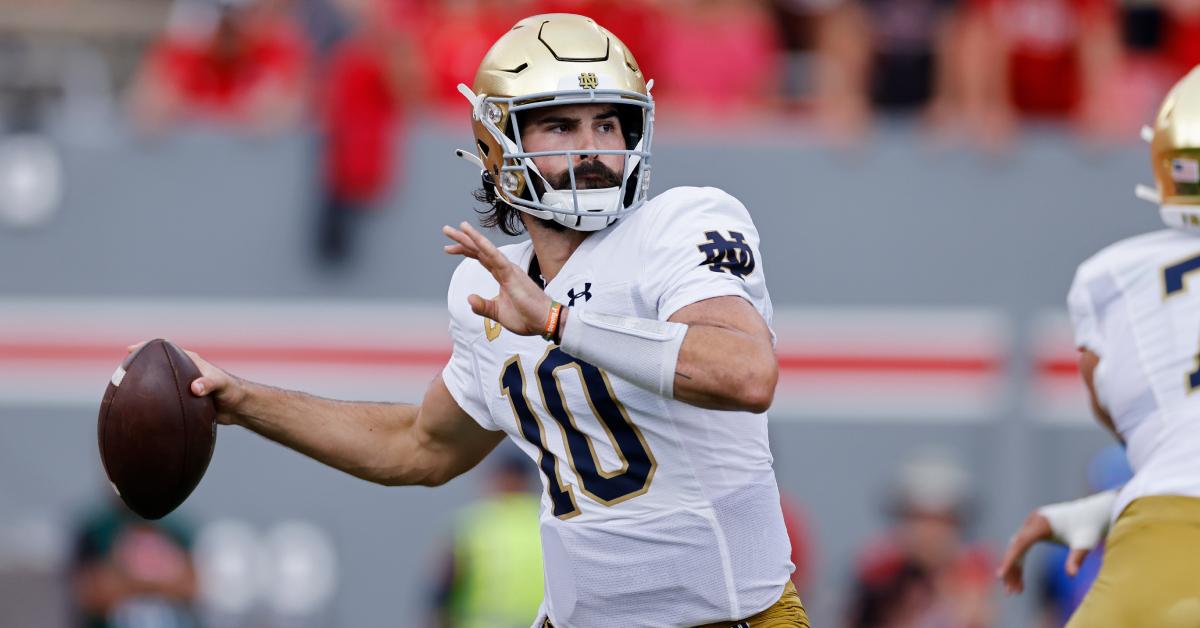 Article continues below advertisement
Sam grew up with two older brothers, Joe and Demitri.
The college athlete grew up in a football household, sometimes playing alongside his older brother Joe. Now, like the Notre Dame superstar, Joe is a relatively private person. However, in August 2023, Sam revealed that Joe is a medical student at the University of Florida.
Sam also had another older brother: Demitri Allison. He moved in with the Hartman family at 15 and went on to play football at Elon University. Demitri and Sam were inseparable, and the latter idolized his older brother.
Article continues below advertisement
On Nov. 11, 2015, Demitri died by suicide.
Sam opened up about his brother's death in a post on Faith Driven Athlete, writing, "He may have had a different last name than me, and we may not have shared a bloodline, but he was a brother in every sense of the word. And when you love someone like you love a brother, it hurts just as much not having him here anymore."
Article continues below advertisement
Since his brother's tragic death, Sam has put the initials D.A. (Demitri Allison) on his wristband. He also wears jersey No. 10 in Demitri's honor, as it was his number on the football field.
Sam, who started therapy in 2021 and found ways to manage his anxiety and stress, told ESPN that he sees some of Demitri in his Notre Dame teammates — and that drew him to continue playing college football.
Sam's parents are very supportive of his career.
Sam Hartman was born on July 29, 1999, to parents Mark and Lisa Hartman. While he's close with his dad, a surgeon, the QB and his mom have a close-knit bond due to their similar personalities.
Lisa told ESPN she and Mark were strict in raising their boys and "didn't do a lot of coddling." She noted a difference between "being hurt and being injured," but she and Mark always offered support.
Article continues below advertisement
"She's why I'm here," Sam said of Lisa. "She's been the one who's there when I was in the hospital when I was 17, when I'm in the hospital again when I'm 23. Those are tough moments where you're seeing your mom sleep on either a chair sitting upright, or sleeping on a small couch. I'm important to her, and I felt that the whole time."
Article continues below advertisement
Sam Hartman wears a necklace with a piece of his own rib bone.
Sticking to the topic of hospitals, Sam underwent surgery in August 2022 after being diagnosed with Paget-Schroetter syndrome, which, according to ESPN, "causes a blood clot in a vein underneath the collarbone." The blood clot was a side effect of a thyroid surgery he had as a teenager.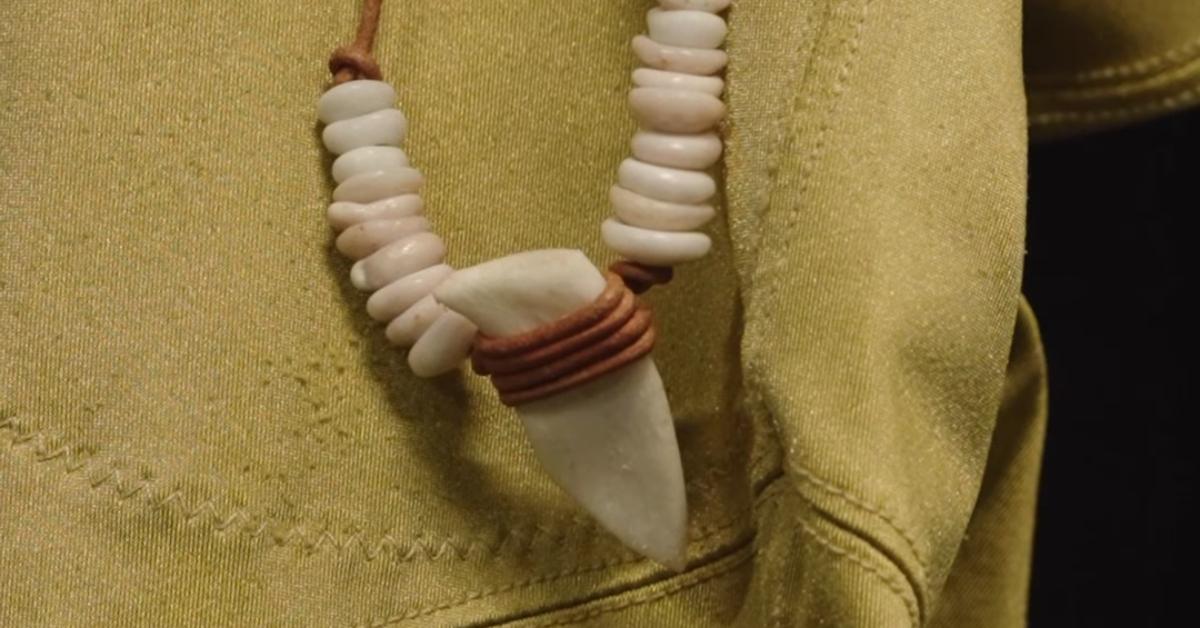 Article continues below advertisement
As a result, doctors had to remove Sam's rib; before the operation, he asked if he could keep it — and luckily, they let him take it. Sam wanted it to be a memento, and his mom knew exactly what to do.
She had made necklaces out of Petoskey stones, but to create the rib necklace, Lisa had to remove the flesh and clean it with an "extra-strength peroxide." At one point, she even reached out to Sam.
Article continues below advertisement
"Look, on my computer history, I'm searching human bones and how to preserve them," Lisa recalled telling Sam, per ESPN, "so if something happens, you've gotta be my alibi, like, I'm not trying to get rid of your dad or something."
Sam doesn't wear the rib necklace often, choosing to keep it in his apartment as a "symbol of what he went through, and his bond with his mom."