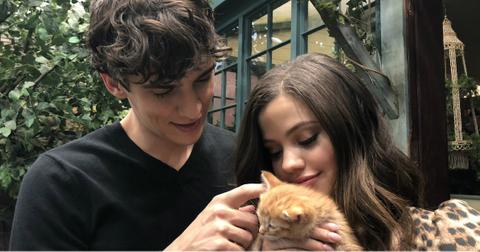 Sarah Jeffery Is the New "Queen of Mean" in 'Descendants 3,' But She Seems Super Sweet IRL
By Rebecca Macatee
Sarah Jeffery is having a moment. The 23-year-old actress is relishing her role as Audrey, the new "queen of mean" in Descendants 3. She also stars as Maggie Vera on Charmed, the CW's reboot of the 1998 series of the same name.
Naturally, fans are curious about Sarah's love life offscreen and her real-life relationships with co-stars. Are Sarah Jeffery and Nick Hargrove dating? Here's what you need to know.
So are Sarah Jeffery and Nick Hargrove dating?
Sarah Jeffery and Nick Hargrove have yet to go on the record about their relationship. It's obvious from frequent Twitter and Instagram posts that the Charmed co-stars are good friends, but anything beyond that is pure speculation.
Nick is definitely celebrating Sarah's success with Descendants 3, too. On August 4, Nick Instagrammed a picture of himself and Sarah, writing, "that time I got a photo with the queen of mean. Proud of you gorl (sic)."