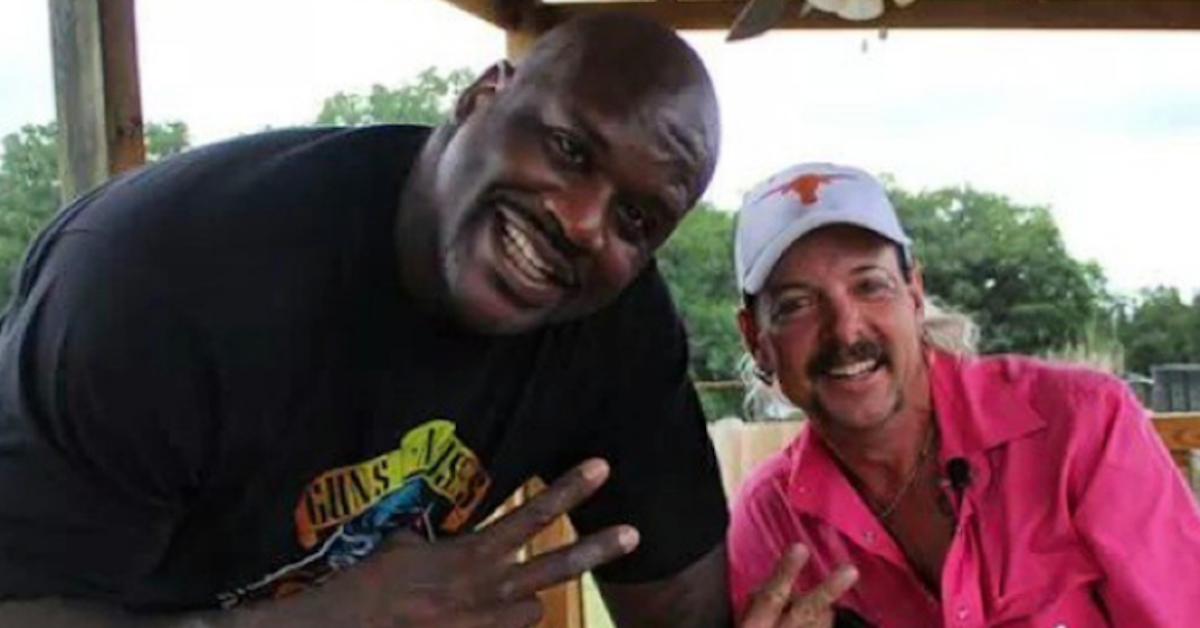 What Is Shaq's Involvement With Tiger King Joe Exotic?
Netflix's Tiger King is easily the most popular program streaming on Netflix right now and for good reason: it's expertly executed and packed with some of the craziest real subject matter anyone's ever seen in a docu-series.
Article continues below advertisement
Filled with plots and subplots, and sub-sub-plots with ancillary threads that all lead back to the central thesis of the film, "big cat people are freaking crazy", there's definitely enough to warrant multiple viewings.
One strange subplot is the celebrity involvement with The Greater Wynnewood Exotic Animal Park, aka GW Zoo, namely Shaq's.
Shaq was once a customer of Tiger King Joe Exotic.
Whenever you've got a business, anytime a celebrity walks in through the doors, you're going to want to snap a photo with them and publicize the fact that such a high-profile person is frequenting your business to help draw more eyes, and hopefully dollars over time.
So it would make sense that Joe Exotic, the Tiger King himself, would want everyone to know NBA legend Shaquille O'Neal came to his zoo to see his animals.
Article continues below advertisement
Joe's currently facing a 22-year sentence for an attempted murder-for-hire charge against Carole Baskin along with a bunch of animal rights violations which includes the killing of 5 tigers.
Shaq says that he was never close with Joe Exotic and that he certainly never did any business with the man. He added he was completely unaware of all the animal rights violations going down at the GW Zoo, too.
Article continues below advertisement
"Listen, people are going to make their own opinions, but, again, I was just a visitor. I met this guy — not my friend. Don't know him. Never had any business dealings with him, and I had no idea any of that stuff was going on," said the multiple NBA championship winner during a recent episode of 'The Big Podcast with Shaq'.
Shaq's had a longtime love for tigers, and was featured in the first episode of Tiger King, where he was recorded taking a tour through the GW Zoo and snapping photos with the animals on the premises. There was even a clip of Shaq taking up hosting duties on TNT, where he talked about his trip to the Wynnewood, Okla. compound and said, "Shoutout to Joe Exotic" and that he "got two more tigers."
Article continues below advertisement
The clip had a lot of people thinking that Shaq actually bought those two tigers from Joe Exotic, to which the basketball star clarified he does not personally own any tigers, and "stopped going" to Joe Exotic's GW Zoo after one more visit once he discovered the mullet king was "involved with all the stuff".
Article continues below advertisement
However, there are some photos Shaq took with Jeff and Lauren Lowe at the Oklahoma Zoo over a year and a half ago, where the baller was called the zoo's newest "business partner". Knowing Jeff Lowe's alleged way of doing business from the documentary, however, it's not hard to imagine they were stretching the truth just a little bit about Shaq's involvement with the place.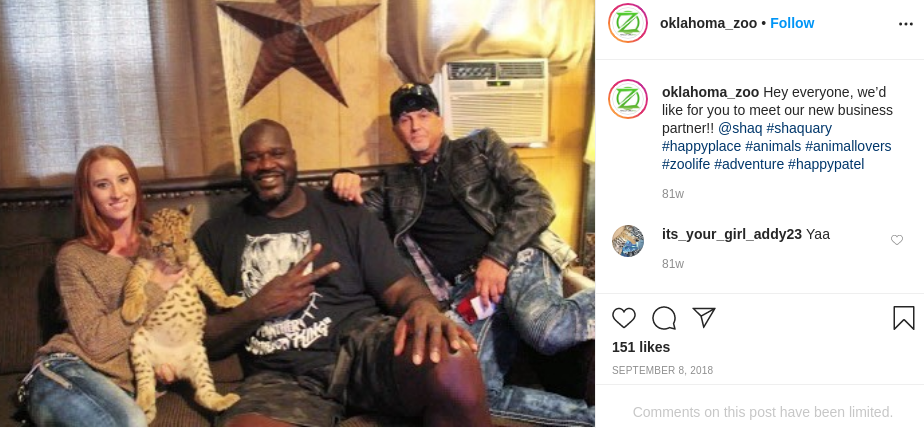 Article continues below advertisement
Shaq continued to say, "I don't harm tigers. I love tigers. I love white tigers. Do I put donations to these zoos to help these tigers out? I do it all the time. Do I own tigers personally at my house? No."
Perhaps Shaq is referring to "adopt-a-tiger" programs offered at many zoos?
The documentary hasn't only raised a few questions about Shaq, but with several of the folks featured in it as well. Namely, Carole Baskin who many viewers are convinced killed her first husband, Don Lewis. A Florida Sheriff is actually looking to re-open the case of what happened to Jack Donald Lewis. How nuts would it be if they prove she did it?