Bride Doesn't Allow Sister-in-Law in Bachelorette Party Photos Because She Wore White
A bride doesn't allow her sister-in-law to be in bachelorette photos after she showed up wearing a tiara and all white. Is the bride right for this?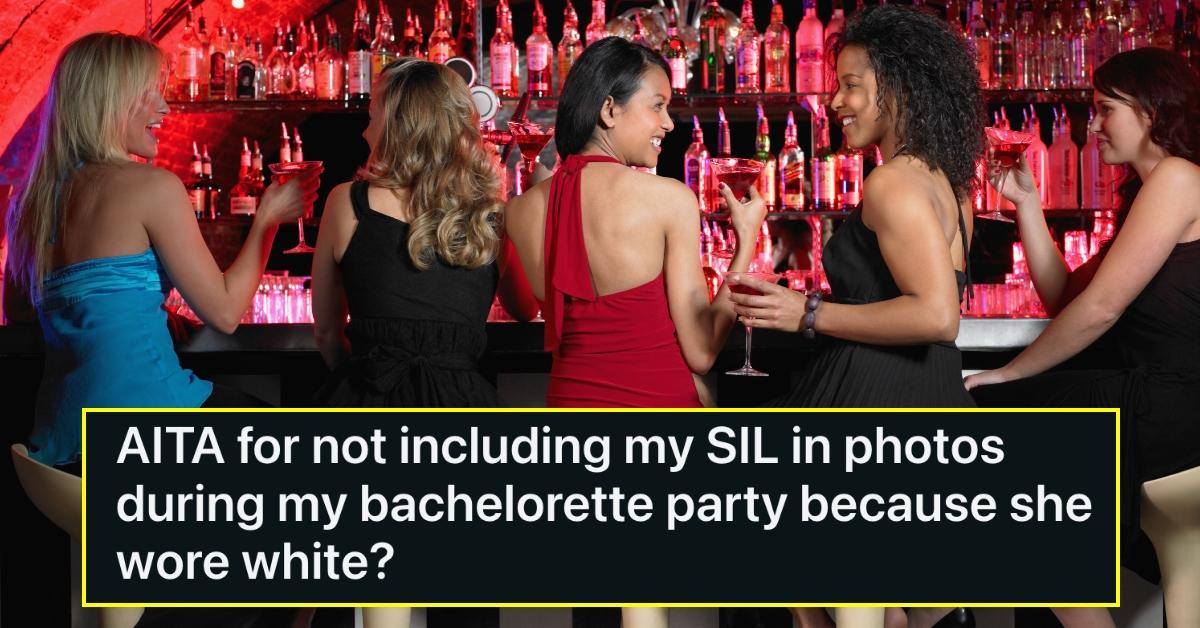 There are two times you're not supposed to wear white. The first is after Labor Day and the second is at a wedding or any type of event leading up to one involving a bride that isn't you.
Sadly, however, people are senseless and cruel and fail to follow these rules.
Article continues below advertisement
While it's possible to forgive someone who stepped out in white in September, excusing the latter is easier said than done.
One bride-to-be took to Reddit's AITA community to ask if she was in the wrong for not allowing her almost sister-in-law to be in her bachelorette party photos after she showed up in a rather flamboyant white outfit after receiving specific instructions on what to wear. We explain her situation below.
Bride-to-be doesn't allow sister-in-law in bachelorette party photos after she shows up wearing white.
Redditor and bride-to-be u/StrangeAir9373 explained in a lengthy post about how her future sister-in-law seemingly disrespected her during her bachelorette party.
Article continues below advertisement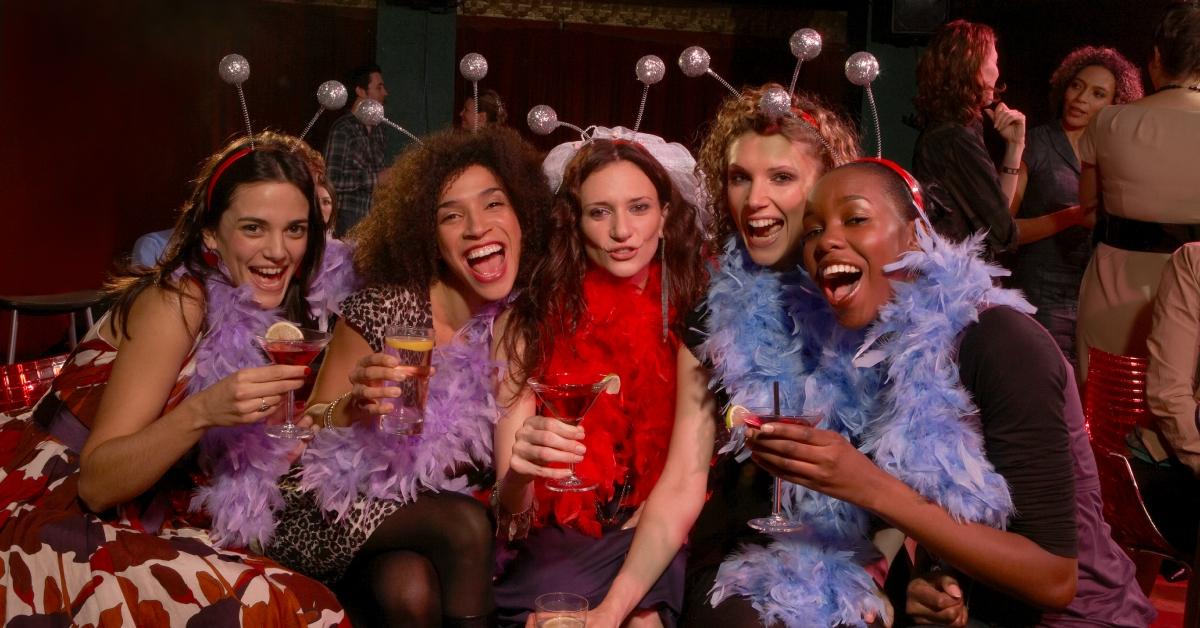 The bride-to-be said that her brother John asked her to include his girlfriend "Sarah" in her bridal party. Technically speaking, they're not sisters-in-law yet unless John marries Sarah; however, u/StrangeAir9373 noted that he was planning to ask her soon. That said, we'll refer to her as SIL for the sake of making things easier.
Meanwhile, u/StrangeAir9373 wasn't too thrilled about this request, claiming Sarah was "quite snobbish," but obliged to include her to make her brother happy.
Article continues below advertisement
Fast forward to the final night of u/StrangeAir9373's bachelorette party, in which she and her bridesmaids planned to have "one 'big' meal that was really pricey and fancy."
As they got ready for dinner, Sarah had to take an emergency work call, so she agreed to meet everyone at the restaurant, which was within walking distance from the hotel.
"Guys, when Sarah showed up, I was FLOORED. She came in a white sparkly sequin number with a tulle skirt and a tiara," u/StrangeAir9373 wrote.
The soon-to-be bride explained that "my maid of honor made it abundantly clear that everyone was supposed to wear pink so we could get a really cute photo together at the restaurant."
However, Sarah claimed she didn't get the memo when confronted.
Article continues below advertisement
Given the circumstances of Sarah's outfit, u/StrangeAir9373 and the rest of her bridesmaids decided it was best if she wasn't in the photos taken that night — so she wasn't.
But the reactions u/StrangeAir9373 received after her bachelorette made her question if she went too far.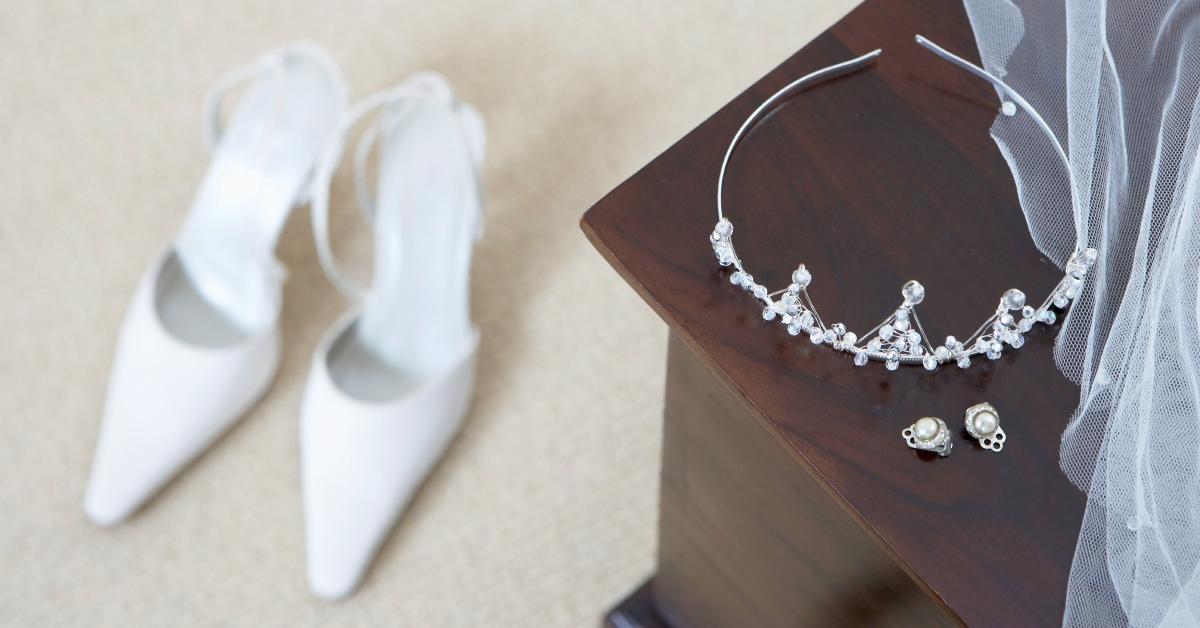 Article continues below advertisement
She said Sarah complained to her brother, claiming that she was "bullied" at the bachelorette party and was left out intentionally.
The original poster continued: "[Sarah] was also pissed because a lot of family and friends noticed she wasn't in the photos and I wasn't afraid to tell them exactly why."
As a result, John called her a "bridezilla" and informed the family that they would be skipping an upcoming brunch because they were mad at the rest of the family.
That said, u/StrangeAir9373 wanted to know if she was wrong for not including Sarah in the photos.
Article continues below advertisement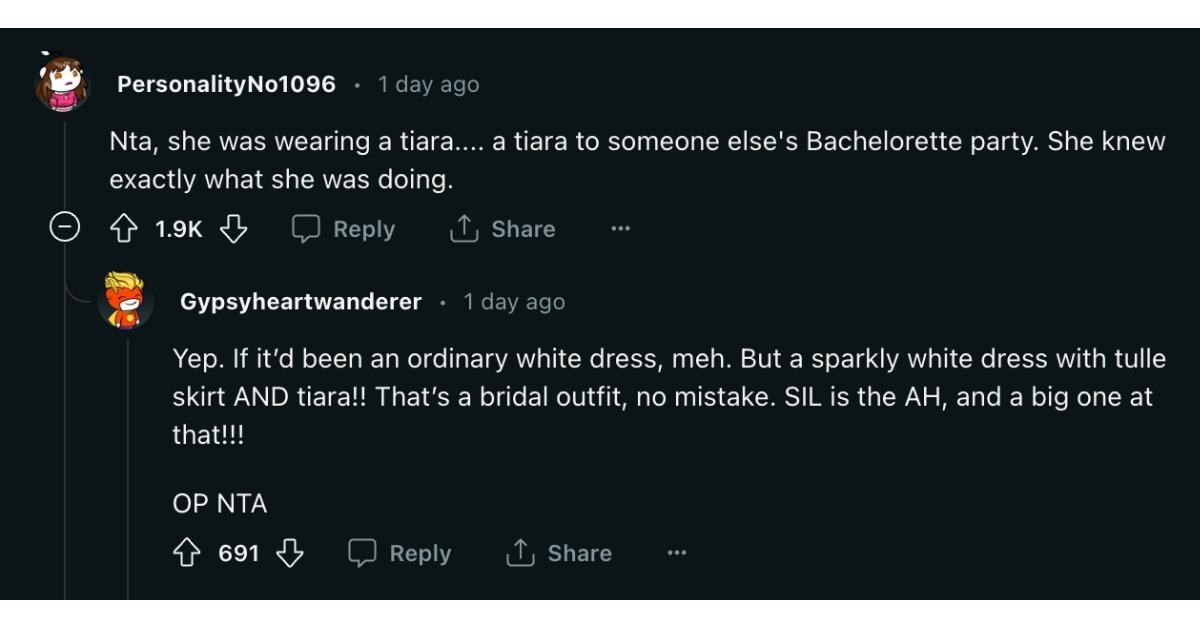 Reddit users unanimously agreed that Sarah was the true villain here, claiming that the tiara and tulle were by no means an accident.
Many users even urged u/StrangeAir9373 to remove Sarah from the party. Some suggested that her wedding invitation should be revoked, too.
Article continues below advertisement
Others believed that Sarah planned the whole thing. "She also staged her entrance by having to take a 'business' call," one user wrote.
And others were already discussing how u/StrangeAir937's brother needed to get out of his relationship.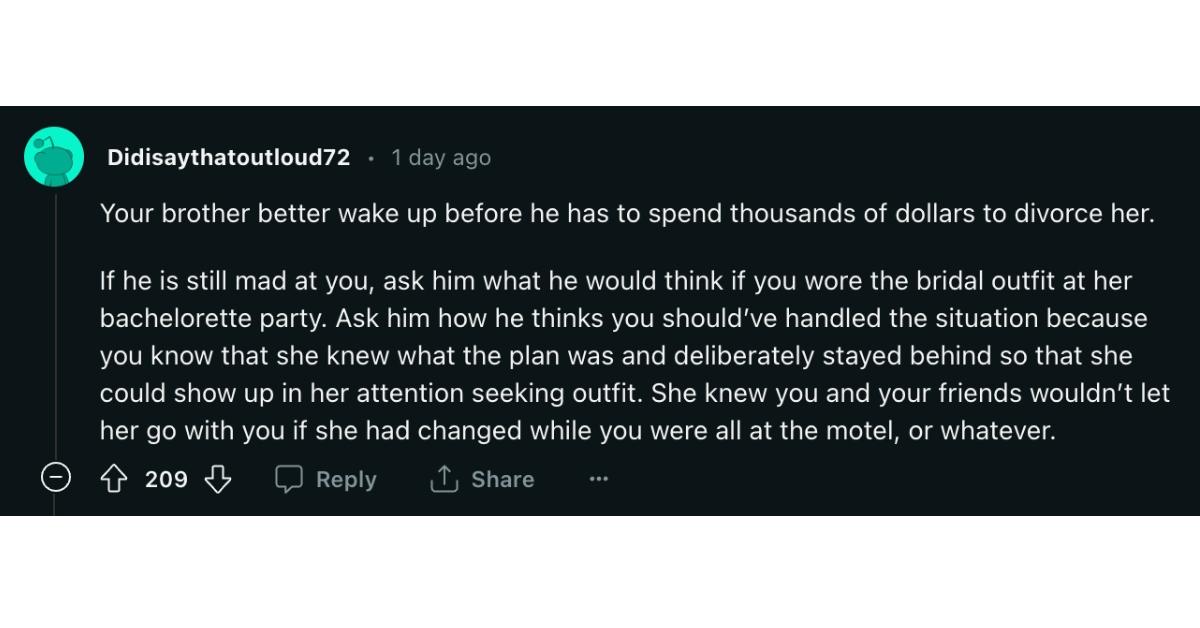 All in all, it seems that the internet is not a fan of Sarah.
Hopefully, u/StrangeAir937 will receive an apology soon because it would be a bummer to get married knowing there is conflict within the family.