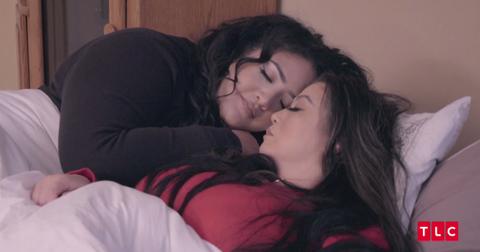 Meet the Mother-Daughter Duos on TLC's New Series 'sMothered'
By Pippa Raga
If you think you and your mom need more boundaries, think again. TLC's latest reality series, sMothered, looks at four mother-daughter pairs who are closer than close. Per TLC, these ladies "take their bonds to the extreme!"
We're talking dressing the same, getting plastic surgery procedures together and, if that's not weird enough, "sharing the same bath water and even sleeping in the same bed!"
So who are these adult daughters (we felt the need to clarify) who have such a strong connection to their moms? Keep reading to find out.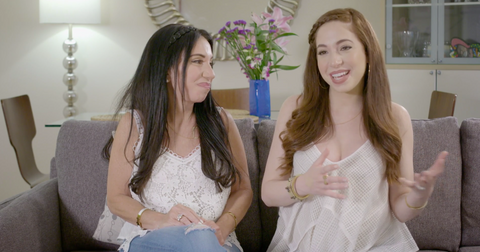 Cher and Dawn
If you saw Dawn, 59, and her daughter Cher, 28, you'd likely think they were twins before you figured out they were mother and daughter. "My earliest memory between me and my mom was always dressing alike," dating coach and nurse Cher says — and the duo still does. As Dawn recalls, "I knew from the day she was born that she was going to be my best friend."
Dawn's dream is that Cher will have a daughter and that the three of them can dress alike, get manicures, "shop 'til we drop," and all the other things best friends do. And she might be in luck; these days Cher is looking super pregnant with her husband Jared Gopman's baby!
Follow Cher (her mother isn't on social) on Instagram, here.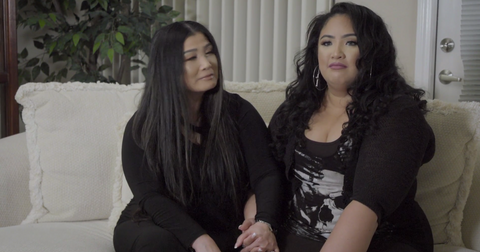 Angelica and Sunhe
"It wasn't just a mother-daughter relationship, ever," mother Sunhe, 50, says of her relationship with 30-year-old Angelica. "It was mother-daughter-best-friend." Angelica and Sunhe sleep in the same bed and share the same bathwater — if it's not too cold by the time the first person gets out.
"People on the outside think our relationship can be weird, codependent, that we're too close," Angelica says. Sunhe completes her sentence saying, "Maybe some aspects could be... Not weird, but just different, but in a good way."
Sunhe "could be completely happy without a man," if she has Angelica. Meanwhile, Angelica is trying to take the next step with her boyfriend — whom Sunhe doesn't approve of. Uh oh.
Follow Angelica on Instagram here.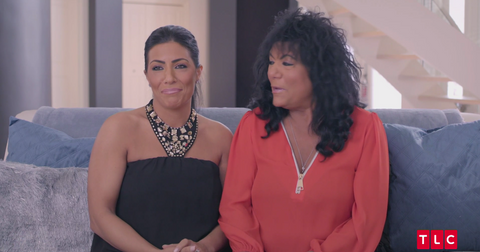 Cristina and Kathy
34-year-old Cristina isn't 60-year-old Kathy's only daughter, but she's certainly the closest to her mom. Like Cher and Dawn, these two can often be found in matching outfits. "We are together all the time," Cristina says of her relationship with her mom, who lives only five doors down.
But their extremely close relationship is igniting some jealousy in Cristina's sister and husband, who often feel left behind. "You guys are wearing the same sweater. Really? Seriously?" Cristina's sister asks the pair, while her husband sarcastically calls out her no-boundaries relationship with her mom. "You're right, I'm dying to be with my mother all day," he says.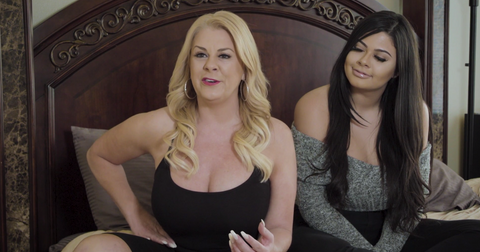 Mariah and Sandra
Sandra, 45, knew from the moment she was pregnant that she wanted a daughter. "I wanted to have a little mini-me," she says. "When my parents went through a divorce, I was my mom's only support system," Mariah, 21, adds.
"Outsiders wish they could be like us. They wish that their moms were like my mom," Mariah says. These two get their lip injections together, go on double dates, and even model similarly thotty pics on their Instagram pages.
Follow Mariah on Instagram here, and Sandra on Instagram here.
Smothered premieres June 9 at 10 p.m. on TLC and new episodes air on Sundays.