South Korean Protesters Wore 'Squid Game' Costumes to a Labor Union Rally
The K-drama global sensation galvanized labor unions in South Korea as protesters dressed up in 'Squid Game' costumes during a rally.
The widely popular, critically acclaimed Squid Game has infiltrated just about every facet of our lives. But on October 20, the distinct visual elements found their way into a South Korean workers' rally as thousands of protestors wore costumes from the hit Netflix show.
Article continues below advertisement
Squid Game follows a group of desperate South Korean citizens in dire financial straits. After being invited to participate in a mysterious series of children's games, 456 people end up fighting for their lives in a competition over 45.6 billion Korean won ($38.6 million).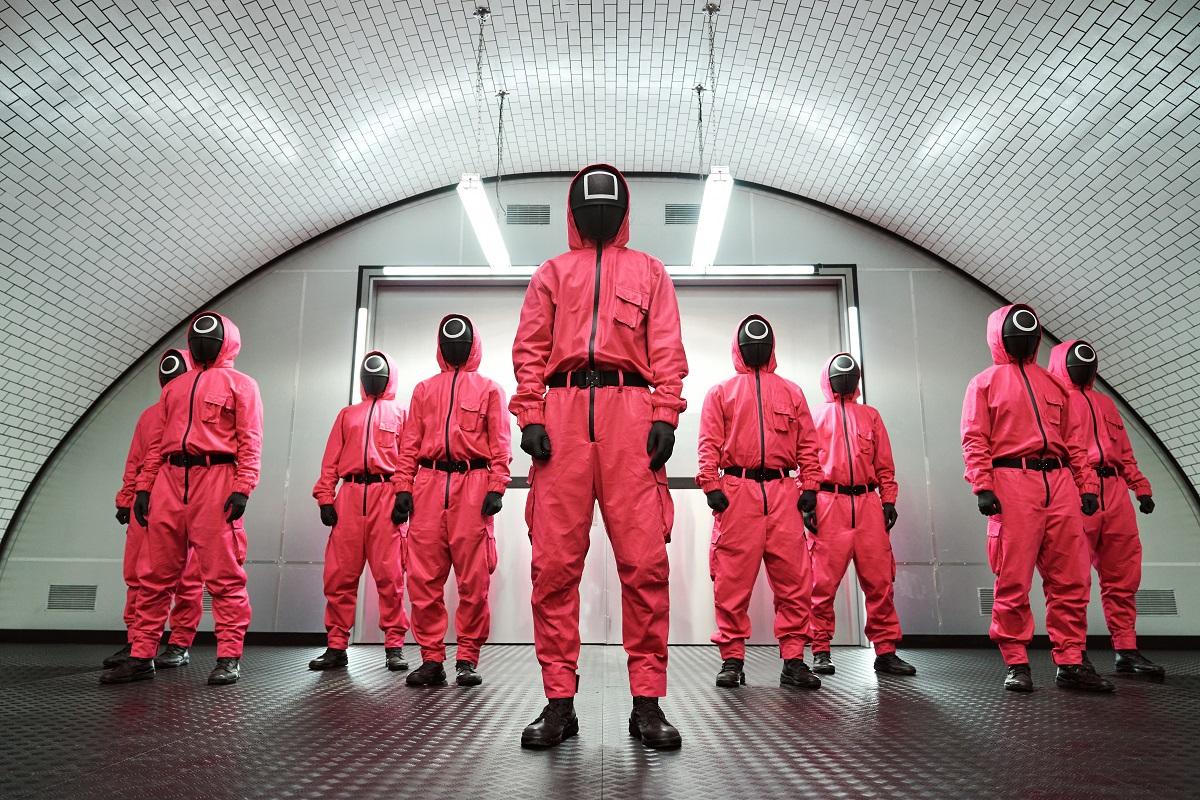 Article continues below advertisement
One of the most notable aspects of the show is the uniforms worn by the players and the workers who oversee the games' operation. The workers in particular are dressed in red jumpsuits with black masks featuring shapes that signify their rankings (circle is the lowest, triangles are the middle, and squares are the highest-ranked).
Why did protesters wear 'Squid Game' costumes?
Squid Game is nothing if not blunt with its social commentary on the economic turmoil in South Korea, as well as capitalism as a whole. Creator Hwang Dong-hyuk stated in an interview with Variety that much of the themes in the show can be traced back to his own struggle in the Korean economic system.
Article continues below advertisement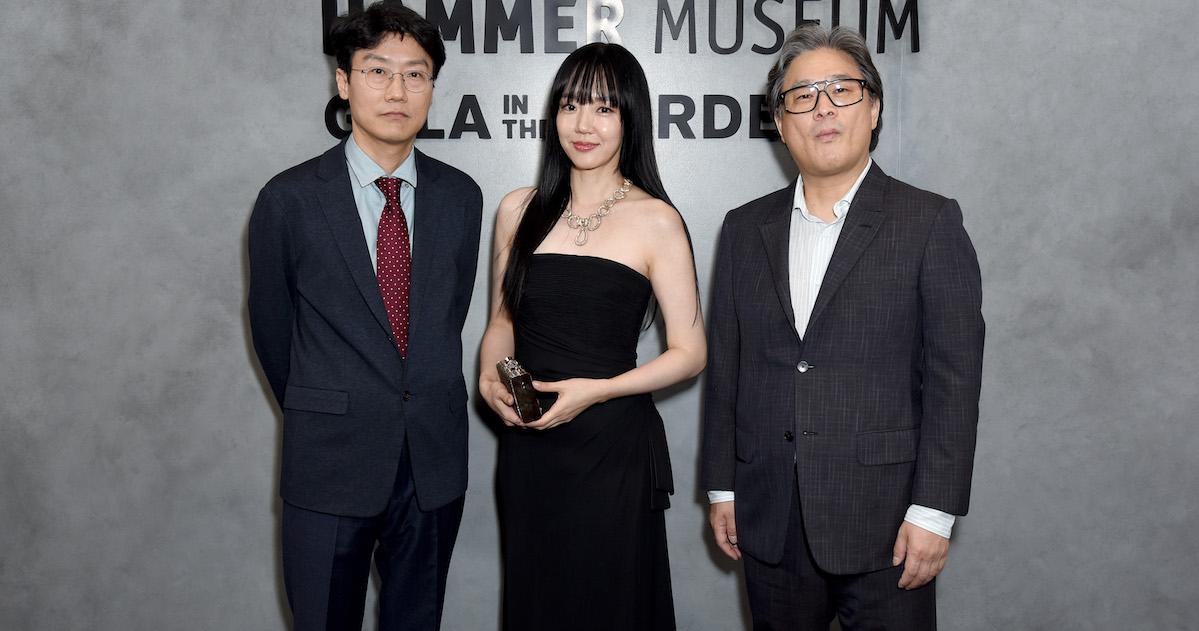 "I wanted to write a story that was an allegory or fable about modern capitalist society," Hwang told the outlet. "Something that depicts an extreme competition, somewhat like the extreme competition of life."
Article continues below advertisement
That message certainly resonated with protestors on Oct. 20. According to The Straits Times, over 550,000 members of the Korean Confederation of Trade Unions (KCTU) participated in rallies and demonstrations across 13 cities, many of them dressed as the masked, faceless game workers in Squid Game.
Labor union members flooded South Korean streets, demanding better working conditions for irregular workers and an increase in the minimum wage.
Article continues below advertisement
Reportedly, these large-scale rallies were in overt violation of COVID-19 safety regulations in South Korea, prompting police response. If nothing else, the choice to dress up as Squid Game workers is a practice in mask safety.
'Squid Game' has always been an allegory for this exact thing.
The Netflix K-drama provides a dark, satirical image of actual South Korean disparity and capitalism. Each of the players comes from situations of financial turmoil and is willing to do anything to escape their poor social standing.
Article continues below advertisement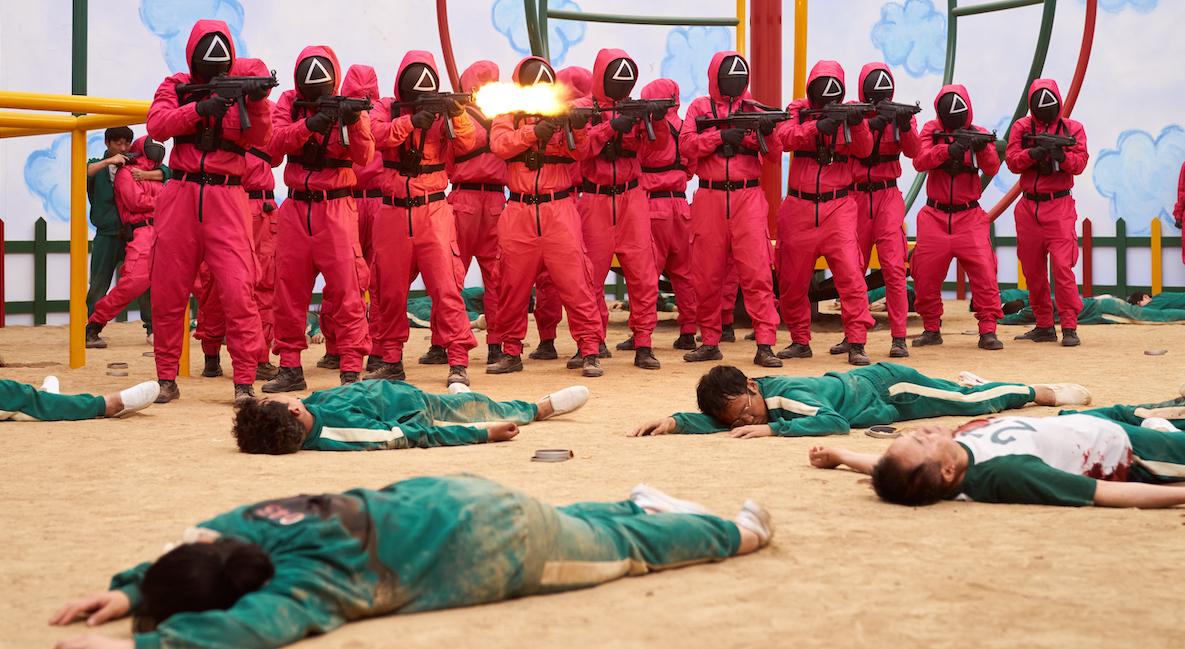 They are even offered the illusion of choice between living in squalor and crippling debt or competing in children's games where losing means death. Neither choice is desirable and both treat the participants as less than human. In the end, the players are forced to come to the conclusion that playing and possibly dying from a game of ppopgi is no different than living in fear of capitalism on the outside.
As for the workers, they are also under strict scrutiny throughout the show. After a day of violent children's games, each of them is confined to impossibly tiny rooms with little free time until lights out, and even less time to themselves upon waking before going back to work. The workers' human features are also completely obscured from view, and by the rule of the "Squid Game,", having your face revealed at any point results in death.