Influencer Starla Soloway Claps Back After Being Called out for Getting Braids on TikTok
In a viral post, influencer Starla Soloway responds to backlash from getting called out about getting braids on TikTok. Details here.
The Gist:
Influencer Starla Soloway was called out for cultural appropriation after showing off her new braids and speaking with a "blaccent."
Starla said she would be removing the braids but also escalated things by insulting people who had told her that her new look and sound was offensive.
We live in a time where original ideas — from hairstyles to fashion trends — are often stolen from the Black community and introduced to the masses by the next, without proper credit. A perfect example is Hailey Bieber's "brownie glazed lips" trend which consists of lining your lips with brown liner and coating clear gloss on your lips to give your pout a pop. However, Black women have been doing this "trend" since the '90s.
Article continues below advertisement
Not to mention, the Kardashian-Jenner clan has also been guilty of cultural appropriation in many instances including sporting braids without giving the proper attribution — from Kim's "Bo Derek braids" debacle to Khloé Kardashian's Bantu knots. With that in mind, folks have no qualms with calling out white people for cultural appropriation.
After all, when Black people don certain styles such as braids or long acrylic nails, it's deemed ghetto. However, white women who emulate the styles are praised for it.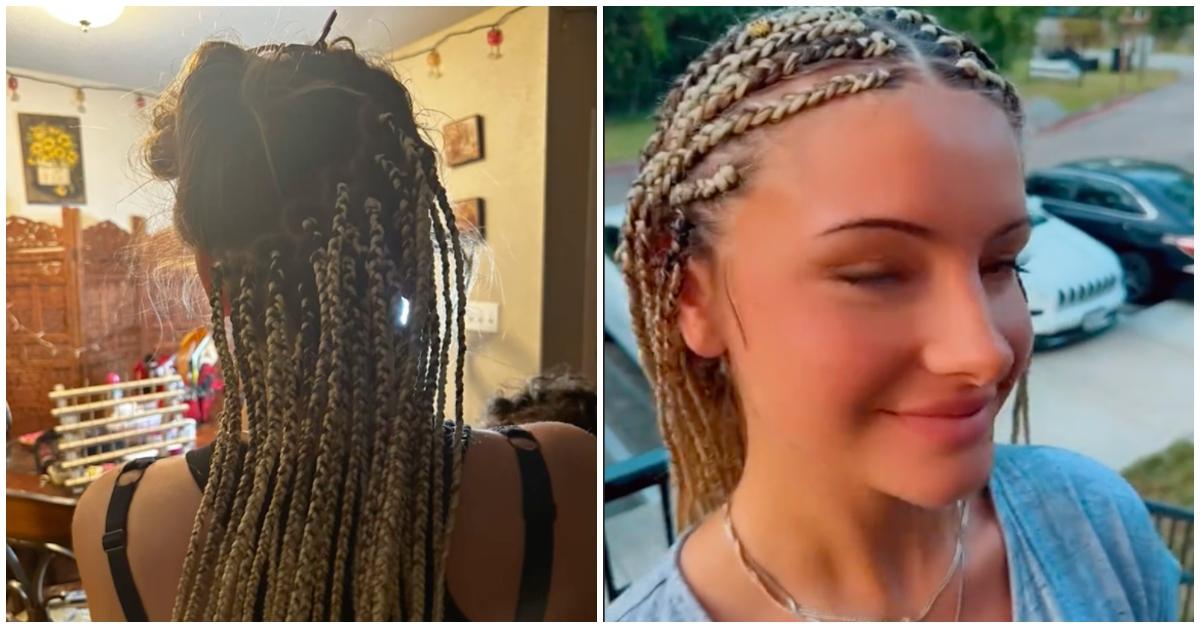 Article continues below advertisement
Keep in mind, there's nothing wrong with experimenting on the beauty and style front. However, it's important to always be yourself. So, when influencer Starla Soloway got called out for getting braids on TikTok, among other things including a "blaccent," social media erupted. Here's the 4-1-1.
In a series of TikTok videos, Starla Soloway responded to getting called out for having braids.
We all have to be held accountable. In a series of TikTok videos, creator Starla Soloway (@starlasoloway) shared reaction videos to folks who commented on her getting braids in an Aug. 10, 2023 post.
Article continues below advertisement
"The stylist will get that bag no matter what. She's getting paid to make white people look like a fool," one person commented.
Starla clapped back with a rather interesting response.
Article continues below advertisement
"To everyone that's so pressed because I have braids and I'm a white girl, I have one question for y'all. Do you believe that cultures should be shared? And if the answer is no, why do y'all believe in segregation?" Starla said.
In another comment, a user said, "Take them out now. Girl, what are you doing?"
And of course, Starla replied with another reaction video.
"I just wanted to come on here and sincerely apologize to everyone who is offended by me having braids. I didn't think anyone would care," Starla said. "But I decided to cut them out because I think it's really disrespectful."
Article continues below advertisement
However, Starla quickly changed gears and started shouting.
"Shut the f--k up. That's what y'all really wanted me to say, huh? That's how y'all want me to react to this s--t," Starla said while bending over to shake her derriere. "Kiss my white f---ing a--, b---h."
Article continues below advertisement
Interestingly, this video didn't go over too well as folks called out her accent change. In other words, folks believe that Starla is using a blaccent (speaking stereotypically like a Black person).
In another video, Starla stitched a user's reaction to one of her videos where she's wearing braids and went on to explain the backlash.
Article continues below advertisement
"These are the types of comments that are extremely unwarranted," Starla said. "And everyone wants to say that they'd be cool with me wearing braids as long as I'm educated and it's clearly not the case. There wouldn't have been such a reaction to me smiling and loving my braids if that was the case."
She went on to say that people on the internet feel comfortable speaking freely about folks without expecting anyone to clap back. Unfortunately, she clapped back to a girl who said she had a "bird beak" on her face. However, Starla responded by saying that she bets the girl has a "fat f--king nose." As a result, folks have called Starla racist.
Article continues below advertisement
TikTok users remain divided on the backlash Starla Soloway received about her braids.
On one hand, some folks have a problem with the fact that Starla's way of speaking changed once she got braids, basically with having a blaccent. Other people believe that there is no issue with Starla wearing braids because she's not being disrespectful to anyone.
Article continues below advertisement
In fact, when Starla shared why she clapped back and made fun of the girl's nose, a lot of people believed that her explanation showcased her true tone of voice, which makes the blaccent argument valid.
"Why does your voice sound different? I'm so confused," one person shared.
"Tone surely ain't the same as the other day," another user agreed.
Other folks also shared that Starla looked great in the braids. Truth be told, we can't tell people what to be offended by. So, if folks feel disrespected due to the blaccent, it's understandable. Not to mention, others believe that white folks should create their own styles as opposed to stealing and trying to emulate Black culture.
That said, we can all voice our frustrations without being disrespectful, which is seemingly difficult for folks to do.